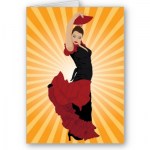 Ever been caught in a situation where you need to tell someone something that could embarrass them?  Did you take a moment to decide if you should say something, or did you just blurt out the obvious?
Excuse me, but you have something stuck in between your teeth.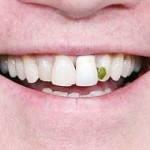 Whoops! You walked out of the bathroom with toilet paper on your shoe!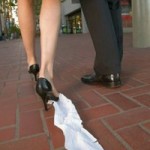 Um, let me help you with that wardrobe malfunction…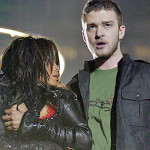 If you are comfortable speaking up, even if it means it may embarrass someone for a split second or two, it can be easy to tell someone the truth.  You simply state a fact, fix the issue and move on.  You'll know you did the right thing if the person thanks you for helping them avert a more embarrassing situation.  I'm sure people are relieved about being told about how the back of their skirt was tucked in after they used the bathroom, or that a noticeable booger dangling from their nostril was pointed out or that their overexposed cleavage needed to be tucked back in.  But, some people are afraid to speak up or call attention to what they feel could be a personal matter.  Hoping instead to shrink away, some people may not have the guts to say anything and will try to avoid the situation.
Who wants to draw attention to that booger?  Or a body part doing something it's not supposed to do in public?  Those types of moments are nothing compared to pointing out an obvious autistic feature that many of us easily recognize in other children.  It's obvious to us because of what we've experienced with our own child.  Just because we know what we know doesn't make it any less crushing to see what we see.  The child who flaps their hands.  The overwhelming OCD traits.  The spinning in circles  while struggling with language delays.
It's nearly unavoidable to not stare at the child on the playground who is socially years behind or at the one who is having a meltdown in a store or at the child who has the head the size of a melon accompanied with dark circles under his eyes while you're at a mutual friend's get together.  You know that child—the one where something is "off" and who is toeing the line with possibly a high functioning autism diagnosis.  While watching the child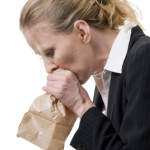 out of the corner of your eyes, hoping and praying it's nothing but knowing full well it's not, you start to watch their parents.  It's then when you realize that mom or dad hasn't put two and two together yet about their child's behaviors and those multiple red flags.  That's when you go from feeling crushed to feeling like you are being suffocated.
What can you do?  What should you do?  If you are the first to approach the unsuspecting parents, do you think mom and dad really don't know what is going on with their child?  And more importantly, do you think now's the right time to approach them about it?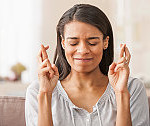 You know time is tick-tock-ticking away, and you know that how you approach the parents can get dicey.  If you say nothing, will you regret not giving them the tiniest bit of information?  We all know about regrets and how we wish we could turn back time for our children.
So, no time like the present, right?
If it is a good time, do you say something directly?  If you say anything, which clue will you give them?
You could give them a small clue that you see that their kid is having what could be issues with allergies or  asthma while they serve their little one only white, processed foods at this get together.  Maybe they don't know the self-limiting diet is contributing to some of those tell-tale dark circles under their child's eyes.  While you're at it, mentioning that quirky OCD the kid's got is nothing to laugh about as they share story after story of how the little guy cannot go to bed unless every shoe, stuffed animal, Match Box car and Lego Mini Figure is lined up just so and that his hand flapping and spinning in circles he's doing every few minutes is just not normal.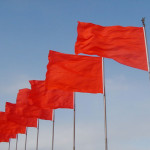 While you see that the autism red flags are waving so noticeably and wildly in the air, it could appear that mom and dad really have no clue.  Or worse.  That they are choosing to ignore the signs.  Stepping in may save this kid's childhood.
What's the next step?  You could say that you see the signs.  That you know them by heart.  That you could write a book about what to do and what not to do.  In a roundabout way, you can give useful information without pointing fingers directly at what you think is going on.  A gentle approach may keep the conversation going and give you a chance to mention those go-to websites where you send all new parents.  Dropping the bomb by saying, "Hey, your kid is on a slippery slope and about to plummet into the autism abyss if you don't wise up," is more straightforward.  Guaranteed either strategy will get mom or dad thinking about what you have to say.  Hopefully, the conversation continues and your words are listened to and later acted upon.
Even though a great many of us wouldn't wish autism on another human being, I wonder how many people have the guts to say what needs to be said to a parent who has yet to learn they are already walking in our shoes.  Are you ready to change the world as another person knows it?  Are you willing to be the one to bear the worst news imaginable?  Are you ready to catch this person when they fall?  If you've already jolted someone's world, how did you do it?  What did you say?  How did the other person take it, and where are they on the road to recovery today?
Whatever caught your eye, and whatever you felt the need to share, especially if the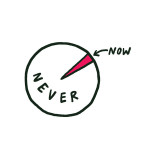 person is a stranger, saying anything is better than saying nothing.  Now or never.  Now because you may never see them again, and never because if you let them walk away from what you know and what you are honestly and terribly frightened to share, you may always wish you had been brave enough to speak up.
Autism Red Flags: http://nationalautismassociation.org/resources/autism-fact-sheet/
Helpful websites to check out:
~Mamacita
For more blogs by Mamacita, click HERE