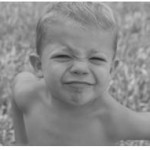 When I tell people of Mark's food allergies often they look at me in horror. "Oh my God!"  They say, "What in the world do you FEED that poor child????" or I hear, "That's terrible! He can't eat anything!"
Marks allergies are a hot topic with neighbors, friends and family. No matter what the conversation starts with it usually ends or is at least sprinkled with something about the food allergy. And I have to say when we got the diagnosis it was totally devastating. I was thinking "No really, what the hell are we going to FEED this kid?"
Let me back up. When Mark was a baby he was really fussy. Right around 3-4 months old he started getting horrible skin rashes on his face. I called it "Face Funk." He was strictly breastfed at that point, so (upon advice from the pediatrician) I took out dairy from my diet to see if that helped. It really didn't. I remember being in Maine to show off our new baby boy and Mark had a horrible rash on his face. We took him to a doctor in Portland and he told us to use Crisco and a mild steroid to clear it up. And it worked. Every time Mark started to get the rash on his face I whipped out the steroid cream.
I just thought Mark was a fussy, colicky baby. Looking back there were signs early on he was having reactions to food. It just took us a while to connect the dots. At about 9 months, after visiting the pediatrician who gave me the "all clear" to feed Mark egg yolk, one morning I did just that: I fed him scrambled egg yolk. I then proceeded to load him in the car, and off we went to my dentist appointment. Ten to fifteen  minutes into the trip I heard a SPLASH!!! I immediately pulled over and jumped into the back seat to see what had happened. He had puked everywhere. I thought, 'That's weird? He must be carsick."
At 10 1/2 months old Mark got invited to his first birthday party. He played with the other kids; we sang and danced and played games. And then the mom brought out the birthday cake. I gave Mark a tiny lick of frosting from my finger. Within minutes he was sneezing and his eyes were swelling. Hives were forming around his mouth. He was sneezing so bad he soaked through the cloth diaper I had been using as a burp cloth. Mike and I whisked him out of the party and called our doctor…who seemed unalarmed. "If he's breathing and just sneezing, give him Benadryl and watch him. If he seems like he can't breathe take him to the closest ER." That's when Mark projectile vomited all over me.
And then when Mark was 11 months old, on Thanksgiving morning, 2009 our world came to a screeching halt. There was something wrong with Mark. I mean really wrong. He was curled up screaming in pain and then either projectile vomit or diarrhea followed. We rushed him to the closest ER. They put an IV in and pumped 2 bags of fluid into him and he produced no wet diaper. They scratched their heads, talked amongst themselves and after nine hours of waiting with a very sick baby "they" finally transferred us to a hospital with a PICU. (Note: not all hospitals and doctors are created equal. The first hospital we went to had NO PEDIATRICIAN ON CALL. ALWAYS, ALWAYS, ALWAYS go to the hospital in your area that has a PICU or is a children's hospital.)
I remember calling my mom and telling her about the two bags of fluid and no wet diaper. I had no idea that was a major indicator of kidney failure. Needless to say she jumped on a plane and the next thing I knew she was walking through the door to his hospital room. We spent the next six days feeling completely hopeless and watching our baby boy in so much pain. Just thinking about it makes my heart hurt. I actually had the thought, 'I'm going to lose this baby.'
We didn't lose him, thank God. After days of waiting and not knowing anything we finally got an answer. Turns out he had a severe case of salmonella.  So severe that in a week Mark went from the 95th percentile in weight to the 1st percentile. But what was so surprising was the severity of the salmonella. It was as if Mark's body was unable to fight the infection. (It should be noted that Mark's play buddy came down with bad diarrhea the same week, but she bounced back pretty quickly.)
So why couldn't Mark's body fight the infection? After many, many follow-up appointments and more testing, we finally had an answer (sort of). After one simple blood test, our new* pediatrician told us Mark showed "sensitivities" to egg, wheat and peanut. (*We fired the old one for a variety of reasons but that's a whole different story.)
Upon hearing the doc read the test results my mind flashed to Mark's daily diet, which at 13 months consisted of chicken nuggets, Cheerios and an occasional fruit or veggie sprinkled in. I made his baby food from scratch but as he grew into toddlerhood we were starting to explore all "soft" foods. I steamed carrots and made him mashed potatoes and stuff but I had also given him cans of Spaghetti-O's and Ramen noodles. I had no idea I was poisoning him.
At first it was devastating to think about all the ways Mark wouldn't be able to eat what the other kids eat. Every birthday party, play date, family gathering, holiday party and school function from now until forever would be affected. Would he get made fun of? Would he grow out of them? Why was his reaction to the salmonella so severe? We had so many questions . . .
I tell you this story because Mark's diagnosis marked the beginning of our education on food and exposure to chemicals. It forever changed how we viewed food because we were forced to figure out how to feed Mark and not make him sick.
I will have LOTS more to say on this in the future but to answer the question, "What in the world do you FEED that poor child?"
The answer is organic whole foods.
Mark can eat as much fruit and vegetables and meat and cheese as he wants. What having a food allergy really means is he can't eat processed food. For anyone not dealing with food allergies that statement is scary because your pantry is stuffed full of processed food. It's what you feed your family every day. And honestly I'd probably be feeding my kids chicken nuggets, mac and cheese, peanut butter and jelly, and spaghettios IF Mark wasn't allergic. I mean, I'd like to say we'd be eating all organic but, truthfully, its not easy to do.
The other question I get often is "What do you think caused his food allergy?" I have a few theories . . . and I can tell you they all go back to the chemicals and unnaturally occurring food we expose ourselves to. I'll blog more about these "theories" in the future, but the point here is for us Mark's diagnosis was a gift. We had no choice but to examine the food we were eating and feeding to our family.
As we march down this path as a family, we continue to learn and are very open to sharing and hearing your stories and challenges related to food and clean living.
I look forward to starting a conversation with you.
~ Christy
I live in Cocoa Beach, Florida — the best place on planet Earth — in a neighborhood where I know my neighbors, and we all look out for one another. I am the oldest of four children. I think my mom was the perfect mom and my dad fought hard to provide a good life for us all. I try everyday to instill the values they taught me into my own kids. I've been married to my husband for 6 years, I've known him since I was 15 and we have three kids. I stay at home with my kids, write a blog about becoming a locavore, run a small business marketing company all while attempting to keep the house clean and my family fed. I try to be as 'green' as possible, except I drive an Expedition. We eat organic but I love junk food. I struggle to find balance. I'm exploring my spirituality. I sing. I yell. I'm not really crazy about my dog. I love being with friends. I love to laugh. I love to love. Mark, my oldest son, who is now four years old, has food allergies. He is allergic to eggs, wheat and peanuts.