There comes a time when, inevitably, we have to teach our kids about loss.  I'm not talking about a beloved action figure or that perfect pillow, although I realize the loss of those things can be devastating, but how do you explain to your kids about death of a loved one?
Our first experience with this was last year when we had to put our dog down.  We were completely torn up over it because we practiced our parenting skills on that dog and our ASD son grew up with her.  The first thing he'd do when he woke up or came home from school was look for her and play chase.  He'd spend hours in the backyard with her teasing her from the top of the clubhouse with one of her chew toys.  He'd laugh and laugh while she barked and jumped around trying to get it back.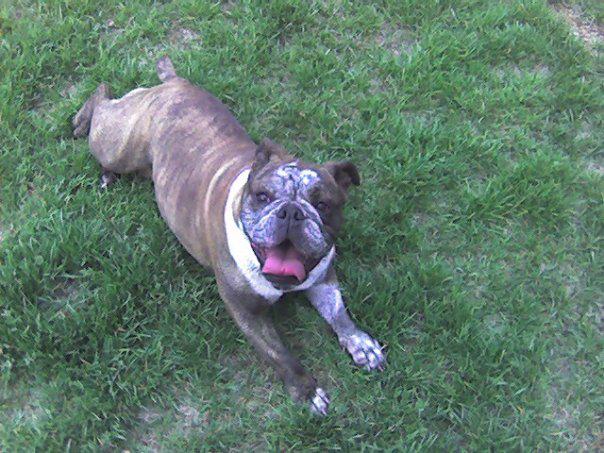 The boys were at my mom's when we took her to the veterinarian to be put down.  We were devastated about our dog, but the idea that I had to explain to my children that she was gone and not coming home was too much for me to bear.  We told them that she had gotten sick (she had dementia and would snap at us on occasion) and the doctor couldn't fix her so she died.  They asked to see her, which made me feel guilty that we couldn't afford to have her cremated.  I explained that we can't ever see her again, but that she's in heaven, happy and playing with other dogs.  That lead to the discussion of what heaven is.  Ugh!  I'm not really sure how our ASD son processed it all, but our NT son was devastated.  He couldn't sleep for weeks and kept telling me things like, "God can't have her…she's MY dog!"
We struggled with the idea that we didn't tell the kids the right way, that maybe we needed to be gentler about it with the 3-year old and more direct with the 8-year old.  Months later, when our youngest was mostly done grieving, our older son seemed to realize that his dog really wasn't coming home.  He walked up to me one day looking sad and said, "She died.  Dixie died." He sobbed off and on for days.  It broke my heart all over again.  I was happy that it clicked for him but crushed that he had to go through the pain of realizing that his dog was gone.
Fast forward nine months.  My aunt had been having some health issues and found out she had stage four lung cancer that had metastasized to the brain.  Now this was a confusing time for me.  The doctors were saying she could live 6-12 months but how soon do I tell my boys that?  In general, I couldn't believe this was happening to my aunt and was devastated that my cousin was losing her mom.  My aunt would spend many summers at our cottage helping my mom replant trees, tearing out landscaping and replanting other things.  My kids saw her a lot in the summers and my younger son adores her grandson.  I had no idea what to tell my boys, nor when to do it.
February rolls up and my aunt's hair began to fall out from the radiation.  My uncle came in from Omaha for my mom and grandmother's birthday with a freshly shaven head, and did the honor of shaving the rest of my aunt's hair.  She was so happy, full of life and seemed proud of her bald head.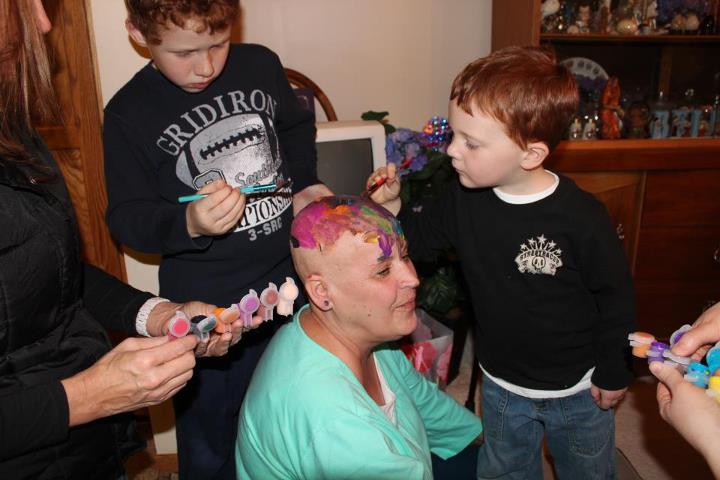 We had a get together for the birthday girls, and my aunt came with paint for the kids to paint her head.  Knowing she was going to be bald, I told the kids that she was sick and the medicine made her hair fall out.  Our older boy avoided her all night and refused to paint her head.  My younger son was a bit more serious than normal, but took great care when it came time to paint.  I was really pleased with how things went. My older son handled the chaos of a family gathering in my grandmother's small condo, but I was still worried about how he was processing it all.
In March my aunt had a setback, and I asked the kids if they wanted to make 'get well' cards. My older son, in his nervousness, declined.  We sent off a card from my younger boy while I spent a great deal of time juggling life; juggling everything except my kids' understanding of what was going on.  Between work, going to school, and driving between states to visit with my aunt, I hadn't sat down with them yet to tell them really how sick my aunt was.  It bothered me, but I guess I kept thinking I had more time.  By the time my aunt was released from the hospital, she was put into hospice care.
The weekend she passed, I happened to be in town at my in-laws without my husband or kids.  Instead of going home, I decided to go visit my aunt and to see my cousin.  I'm so glad that I did because she passed that next morning, about an hour after I left.  I guess now I really needed to sit down with the kids and figure out how much I want to expose them to death.  I explained that, like our dog Dixie, my aunt was too sick for the doctors to fix, so she died.  I explained about what the process was going to be, that we were going to the wake, and that she'd be there in a casket. We'd have to be quiet and there might be a lot of crying.  I also read the book I Miss You: A First Look at Death, by Pat Thomas and Leslie Harker, to them hoping that would help.
They did well at the wake and I didn't push them to approach the casket, but they did observe me go up.  Eventually my little one went up to say goodbye to her but my oldest still kept away.  He did ask at one point, where the "other" aunt was and thinking I knew the point of his question, told him that the other half of her (her soul) was up in heaven.  That's when my youngest chimed in "with Dixie".  My oldest eventually walked past the casket and looked at her; he did all right.  I was definitely proud of my boys that day, but so sad that it was over the loss of my aunt.
We chose not to bring them to the funeral thinking it was going to be too much to handle.  For me that is.  Later I realized that my oldest really wanted to go.  He seems sad about her passing and brings her up often.  So while we're in town for Autism One, we'll be sneaking away from the conference and visiting her at the cemetery with the boys.  Only time will tell how he is processing this, but I think that going through the process with our dog and my aunt gives them a foundation for the unfortunate time when we will have to go through this with someone they're truly attached to.  We just hope we did the right things, said the right things, so as to not add confusion to such a heady topic considering their age.  All things considered, I think we did all right, and am not sure what I would change.
~ Cupcake