July 13, 2016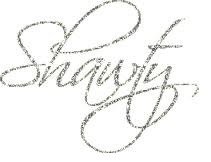 Real food. When people talk about eating real food, that brings many connotations to mind. Oftentimes people think of high-end stores filled with exotic sounding foods that cost a week's pay or local farmers' markets with bushels of fresh-grown produce. When I work with clients on transitioning to a real-food lifestyle, there are many considerations to be had. Availability of foods is a major one; budget is another. It would be nice to say "Eat organic all of the time!" That is neither realistic nor practical for a majority of the people. So what then? I am going to show you how to navigate everyday stores and get healthy options that fit within your budget.
First off, when we talk about organic we are focusing on natural foods that reduce your toxicity rather than adding to it. I love the "Dirty Dozen" and "Clean 15" list as a guide.
Dirty Dozen – Foods highest in pesticides and I always choose organic for these:
Apples
Celery
Cherry Tomatoes
Cucumbers
Grapes
Nectarines
Peaches
Potatoes
Snap Peas
Spinach
Strawberries
Sweet Bell Pepper
Clean 15 – Foods with lower pesticides levels and therefore okay to buy conventional:
Asparagus
Avocados
Cabbage
Cantaloupe
Cauliflower
Eggplant
Grapefruit
Kiwi
Mangoes
Onions
Papaya
Pineapples
Sweet Peas
Sweet Potatoes
These lists are handy to print and keep with you for shopping trips. Produce is a large component of every shopping trip. I focus on the foods closest to nature and work those into our diets in a variety of ways. Boosting these foods gives you a huge nutritional bang for your buck.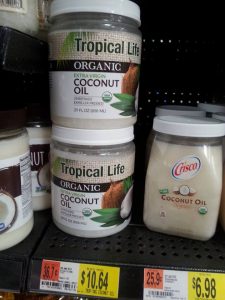 Do you think healthy foods can't be found at big box or discount stores? Think again! I was stunned when I walked into a Big Lots store locally and found many organic, non-GMO, and gluten-free options at a discount price! Bob's Red Mill gluten-free mixes, organic blue corn cereal, non-GMO and organic coconut oil all at bargain prices.
My local Sam's Club has started using green tags to note organic options. It makes it easy to glance down an aisle and check out their organic selections. I have begun to rely on Sam's for a large portion of our groceries each month. Buying in bulk means more savings compared to the local health food stores or high-end grocery stores with similar items. For example, they always have organic mixed greens. These are great for salads, smoothies and boosting nutrition in sneaky ways à la spaghetti sauce. They frequently have organic berries (they tend to have higher pesticides so I always choose organic) for a great deal. I buy my coconut oil, once ordered online through a specialty co-op but now I get it cheaper and easier! I also have organic coconut flour and organic coconut sugar which are used in my kitchen for many paleo, gluten-free baking recipes. I can also find non-GMO potato chips with healthier oils (i.e. not canola!) in larger sizes with better pricing than other stores. I can almost always find organic nuts, organic rice and even quinoa! They seem to add new things weekly so check back often.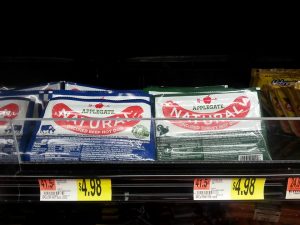 The Target store in my area carries Applegate Farms organic, grass-fed beef hotdogs at an amazing price. They also often carry Applegate Farms bacon and lunch meat. I try and combine sales and use their Cartwheel app to save even more. They also carry store-brand organic blue corn tortilla chips with healthier oils as well for a good price.
Walmart has really gotten into the gluten-free game, and I was surprised the last time I went through their aisles. Whether you need a gluten-free baking mix for cakes, brownies, cookies, or corn bread, they had options. They also had really improved their selection of organic produce, including organic strawberries for a great price. Walmart has recently started carrying Applegate Farms hot dogs as well! They don't have the organic grass-fed beef, but it is a start. They even carry coconut milk ice creams cheaper than some of the other stores.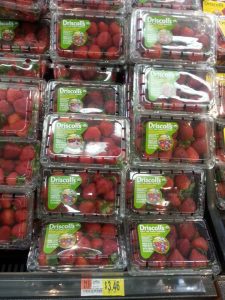 While we don't have Aldi's where I live, when I traveled to the Midwest a few years ago I stumbled across this store. I was impressed then with their selection and options when it came to gluten-free foods. And recently they announced their No-GM foods policy, I became an even bigger fan.
Other local grocery stores are widening their allergen-friendly and organic sections to meet consumer demand. I always walk through and look for what's new; sometimes you will be surprised at what a store has added and/or sale pricing. If something is on sale, I stock up as much as possible and store extras in the freezer. I think of it as money in the bank. Meats, gluten-free breads, even fruits and veggies can be washed, chopped, and stored in the freezer for future use.
No guide to eating healthy on a budget would be complete without mentioning that Costco has been selling so much organic food lately (recently surpassing Whole Foods in total sales) that farmers haven't been able to keep up with the demand. As a result, Costco has begun lending to farmers who will grow more organic produce.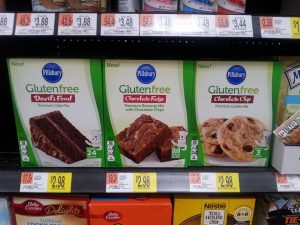 Eating real food can be easy and affordable. While regional stock varies, most managers are open minded about bringing on items when consumers request things. This rings especially true when more than one person is requesting. It may take a bit of leg work but the savings can be worth it. I usually have a rough idea of my normal cost for items and can compare when I see something at a different store. Eating healthy is not "all or nothing." The bottom line is you have to work with what you have locally and your budget.
What if your local stores don't carry these brands or much organic at all? Check around and find out if there are any CSAs in your area. CSA stands for community-supported agriculture and members will buy a share of local farmers' fruit and vegetables, and sometimes meat and eggs. Memberships allow people to have low-cost access to high-quality produce. Advantages to CSAs include knowing who you are buying from (you can meet your farmer(s) and maybe even visit the farm(s)), and convenience. Disadvantages include not necessarily knowing what you'll get week to week, and some farmers, while using responsible growing methods, have not gone to the trouble of being certified organic.
If there is virtually no local access to organic food at all, I try and focus on the Clean 15 list and work from there as much as possible. I also read labels religiously and look for items with the fewest ingredients. I avoid products with a long list of chemicals and additives. Sometimes the store brands have better ingredients than brand names believe it or not!  I see eating healthy foods as a foundation to optimal health, and with a few tips and tricks, you can make this attainable and affordable.
~ Shawty
Shawty is a proud mother of three children: two born to her and one she was lucky enough to get as a bonus gift through marriage.  Her son is recovered from autism thanks to some serious teamwork and the tireless help and support of her husband.  As a result of her journey, she works full-time in the autism world helping others in a way she never dreamed possible.  She is Co-Founder of Real Food Mum, a company that specializes in helping people transition to a real-food lifestyle. She also mentors and blogs in her "spare" time. She is obsessed with allergen-friendly cooking, meditation, natural healing methods, crafting, gardening, sustainability, growing as much food as she can, and just trying to keep up with her children, goats, chickens, and cats.  She's Wonder Woman with a generous helping of attitude and a dash of ghetto-fabulous!
For more by Shawty, click here.
For more Feed Your Children Well, click here.