Some people are capable of holding passionate emotions in check, while others express those feelings to anyone who will listen. Whether or not the emotions are expressed, the feelings are generally the same. I am one who used to wear my heart on my sleeve. I felt that talking about my issues or concerns could help me grow past them. I later discovered that at times this "sharing" would come back to bite me in my backside.
Right now, though, I have to speak up because I am angry! I am angry that society cannot pull their heads out of their backside long enough to hear what is being said. Sometimes I have to really bite my tongue when really all I want to do is grab the person I am talking to by the face and say, "Hello, is there anyone in there? Do you comprehend what I am saying? Are you capable of making a decision on your own, one that has not been conditioned into your mind?"
As children, we are taught that we are supposed to respect our elders, our teachers, our pastors or preachers, doctors, dentists, etc. When we are given direction as to how to handle a particular situation, we are advised to follow through with that direction. When we begin to grow, often there are times that we struggle with what society says is "right" or "wrong." Society may say that it is morally wrong for two men or two women to have a relationship together. But in our heads, we may have this little voice that says, Why? Why is it so wrong for two individuals who love each other to be with each other? How does it affect me personally? As we grow up we find out that many of the people we were taught to trust are not what we thought.  More questions go through our minds. Who can we trust?
Anger may not even be the correct term for what I feel. Betrayal may be a better term for it.
I have not always made the smartest decisions in life. I have allowed others to persuade me by using the same kind of conditioning I see happening with most new mothers. I was taught to believe that a doctor would have my best interest at heart, that he or she took an oath to treat a patient respectfully, while ensuring that the patient receives optimum care. It is crap! Not all doctors have an individual's best interest at heart. Some of them are trying to increase their bank accounts, while more and more patients are becoming sicker.  A vaccine or pill will not cure what damage has already been done. Often these same vaccines and prescription drugs are the root of the problem.  And that's the case with my husband.
My husband was very healthy when we met. If he got a cold, he was over it within 48 hours. He was exposed to whooping cough and he was fine. He was exposed to the flu, and his body reacted normally. The only time he ever got severely sick was when he spent 21 days in the field, and the temperatures were below zero.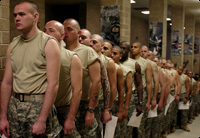 My husband was in the military. He spent five years in the National Guard before spending another 20 years on active duty. During this time, he was exposed to many things. The worst, I believe, being the vaccines he was given starting in 2001. As he prepared to deploy to Bosnia for a peace-keeping mission, he stood in a single-file line that wound through an obstacle course of cubicles. I remember him receiving a combination of yellow and typhoid fever vaccines along with an anthrax vaccine. That night as he lay in bed, he shook from fever. He was down for the weekend due to these vaccines. Was this a "normal" reaction? We thought it was possible, especially given that he had never received these types of vaccines before. We dismissed it and spent the little time we had together before he left.
When he came home, the process went like this: be at XYZ location at _______ time in order to get your boosters. Boosters? Why would he need boosters? He was not being exposed to these infectious diseases at home. These vaccines were not recommended for the general population. The other men who deployed with him did not do so unvaccinated. So tell me, who and what was he being protected from?
All of these vaccines were given on top of the mandatory vaccinations, you know: MMR, hepatitis B, and influenza to name a few.
In 2006, he would deploy again.  Somehow the individual administering the previous vaccines failed to write them down in my husband's records. In order to have a "deployable" status, he was required to be revaccinated. He had the anthrax vaccine twice in less than a week. He was also given the smallpox vaccine. The funny thing is the doctor told him that he was not allowed to be around infants or pregnant women after having this "safe" vaccine.
He was on a 15-month rotation and, as a military family, we were advised to give him time to reintegrate when he returned. The days, months, and years went by, and the person who stepped foot on that plane was not the same one who returned. Although he tried to control his outbursts, there were times that he was incapable of doing so. There are times now, although they occur a lot less frequently than they did then, that he reminds me of the Incredible Hulk. I wait to see if he is going to turn green and rip his shirt off. He is not the same. He will never be the same.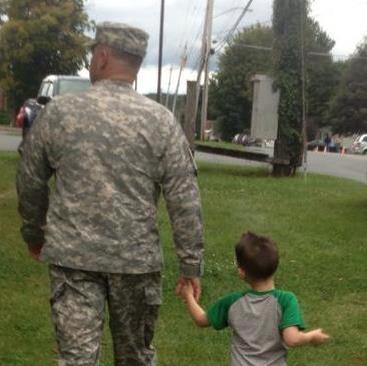 As the years and the deployments came and went, his body began to shut down. While on the last deployment, he was prescribed medication to help "prevent" malaria. After extensive research, it was revealed that the medication was doing more harm than good. He went to his physician and expressed his concerns. They were dismissed. Not only did he suffer from night terrors, irritability, and psychosis, but it also led to him thinking that perhaps life would be better without him. This from a person who felt that taking one's own life was a coward's way out of things. Something triggered him to rethink his decision. When he came home, he was very quiet. Getting him to express how he felt was like pulling teeth with rusty pliers. Today, the medication has had the time to run its course, but his body is left compromised from a need to over-vaccinate.
After the last deployment, he knew he was done with the military. It was just a matter of finishing his enlistment and waiting for his retirement. He thought, What will I do after I am done? And the first thing that came to mind was continuing his education. He spoke with an academic advisor who told him he would need a series of vaccines or proof of immunity. He thought with all the vaccines that he had received that there would be no issue, right?  WRONG!  The results come back that he was no longer immune to rubella. How is that even possible? How do we go about vaccinating and getting boosters only to learn that our bodies are compromised and we don't even have immunity?
He was sick of the vaccinations and tired of feeling miserable every time he received a vaccine. The influenza shot no longer was effective. He suffered more from the vaccine than if he had the flu. You see, my husband is growing sicker and sicker. The colds that once began as a two-day stint started lasting between four and five days. Then he would be miserable for a week. Now a common cold can keep him out of commission anywhere from ten to sixteen days before he recovers. The recovery phase is kind of a joke, as it does not last long – if he's lucky, two weeks.  In the last six months, he has been sick approximately eight times. EIGHT TIMES! Yet, his records at the VA state that he is a healthy white male. It also indicates that he should be capable of performing any given task. What they do not want to hear is that he has significant "unexplained" memory loss. He is not capable of remembering what is supposed to happen later in the afternoon, much less what he is supposed to do next week. It is as if he is experiencing the onset of Alzheimer's.  Recently we went to the hospital because he had the flu. The nurse there said, "I hope that you have had a better experience at the VA than I did, because they treated me like crap."
Individuals should not be forced to have whatever vaccines that the government sees fit. I realize that there are many people who do not believe in vaccine damage, and that is their right as individuals. However, they should not have the right to force vaccines onto those of us who believe our children and spouses are sick because they have become the guinea pigs for our government. Unfortunately, many Americans, especially soldiers, sign over their rights when they take the oath to serve their country. These individuals are no longer considered human in the eyes of the government; instead they belong to the United States military. If they refuse to receive these vaccines, they are faced with punishments like being extra duty, being demoted, fined, or jailed, or even dishonorable discharge.
Like many others in the military, my husband spent his entire career wanting to fight for justice. Now that he is out of the military, there is no justice for what has happened to him. I am not anti-vaccine; I am pro-rights. If individual can make a decision to serve their country and be competent enough to do so, then they damn sure should be capable of making the decision on whether or not they want to receive vaccines that they are not required to receive in the civilian world.
I am losing faith in a society who is making our children and soldiers sicker in an effort to fill the pockets of multi-million dollar corporations.
~ Elisha G.
Elisha G. and her husband of almost 16 years have four children.  She loves writing, cooking, baking, photography, and take care of others by lending a hand to those in need.