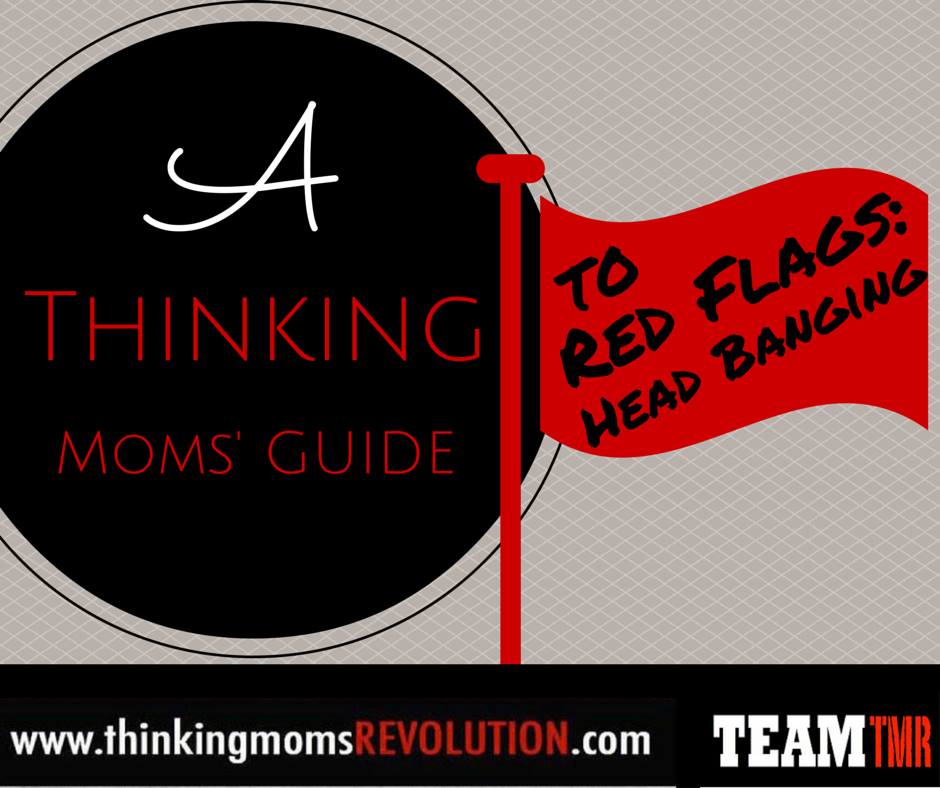 Is it normal for an infant, toddler or preschooler to bang his or her head on a hard surface?
It seems like a straightforward question — even as my mother's instinct is screaming, "No, it's not normal; something is wrong."
However, it turns out the answer to this question depends on who you ask!
The popular baby books will tell you it is normal.
Like hair twirling, rocking, and other self-comforting activities, head banging is a way for your toddler to release pent-up energy and tension at the end of the day.

It can be pretty terrifying to watch, but this is not unusual for toddlers (and his skull is actually tougher than you think).
Many doctors will tell you it is normal (mine did!)
If your child is normal and healthy and only shows these behaviors during the night or at naptime, you should not be concerned — these are common ways for children to fall asleep. They are seen in many healthy infants and children beginning at an average of 6-9 months of age. These behaviors typically subside by age 2 or 3, and by age 5 are only still seen in 5 percent of normal, healthy children.
And this:
Although head banging appears alarming, the child seldom inflicts significant damage to the head. The physical examination in children who are head bangers is usually normal. Laboratory investigations are generally not indicated. The appropriate treatment of head banging is to offer the parents a supportive and reassuring explanation that brain damage is unlikely and that the child will outgrow the problem.
Many friends will tell you not to worry; it is normal (because their kids did it and are fine):
He would literally make his forehead bleed from hitting it hard enough, even on carpet. As painful as this was to watch, I learned that it was totally normal. And he learned too that some surfaces hurt more than others, though sometimes in a total meltdown, he'd forget that cement was especially painful and he'd end up with small marks on his forehead. Poor guy.
BUT . . . I have to interject!
Head banging is not normal, and for our family it was a huge red flag that everyone kept telling us to ignore.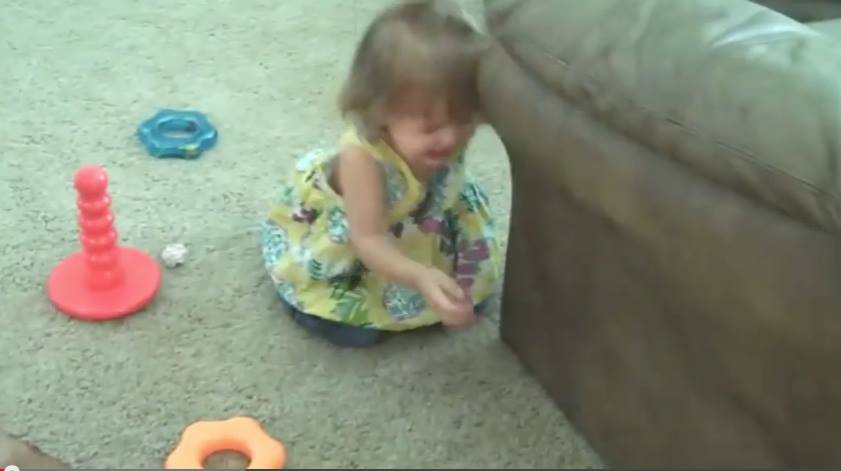 Our family's experience with head banging began when our daughter was around 14 months old. Unfortunately, this was not our first red flag. In the previous year she had colic, diarrhea, allergic shiners, w-sitting, and failure to thrive, to name a few.  It was a just few weeks after her MMR vaccine, and we were instructed by a gastrointestinal doc that we needed to get her off my breast milk (he was confident that was the cause of all her issues), and put her on cow's milk. Within a day of introducing two ounces of cow's milk into her diet, she began the head-banging behavior. It was awful, absolutely horrendous to witness my child try to harm herself. I cried tears of agony and fear as I held her day after day in a bear hug as she thrashed, trying to keep her safe, attempting, in vain, to soothe and calm her. I made repeated calls to the doctor and was told: "It can't be the milk," "Head banging is normal,"and "She is nearing two, and that is what the 'terrible twos' looks like."  At the time, I hadn't a clue what was going on in her little body, other than the growing sense that something was very wrong.  We removed the milk from her diet, and slowly over the course of two weeks the head banging faded away. Fast forward to now, and I know so much more about what was more than likely was happening to our sweet baby girl. Today I share it with you in hopes that no other mom has to walk in my shoes.
Head banging is classified in the medical literature as a self-injurious behavior (SIB) and can also be classified as rhythmic movement disorder (RMD). One medical journal noted that "The impact force of SIBs as a percentage of body weights are near the low end of forces generated in boxing blows and karate hits." Here are some things that head banging can indicate and why you should be concerned if your child is exhibiting this behavior.
Head banging can be associated with:
My question to you, Thinking Mom, is how do you know your child is not suffering from one of the underlying conditions above if you are told it is normal and you ignore it without further investigation, testing or attempt to intervene?  Can you tell if your child has an uderlying neurologic, psychiatric, or cellular condition just by looking at him or her? No! 
Even this article that maintains that head banging is a normal activity for some children says that underlying pathology should be ruled out before "reassuring" the parents:
Headbanging is a rhythmic motor activity that may occur in normal infants and young children, as well as in children with underlying psychiatric or neurologic disease. Once underlying pathology has been excluded (emphasis mine), parents should be reassured about the benign nature of the activity.
What can you do about it?
Express your concern to a doctor.  If you are told it is normal, bring information substantiating your concerns (linked above).  If your doctor will not look into it further, find a doctor who will and ask that things like ear infection, seizures, deficiencies and developmental delays be investigated and ruled out as the cause, especially if the behavior continues or worsens.
If there have been vaccinations given in the preceding hours, days, or weeks (up to three to six months) prior to the onset of any self-injurious behavior, encephalopathy should be ruled out, especially if there was a sudden onset of the behavior.
Keep a journal, and note when the symptoms started. Note when the child was last vaccinated, had any new antibiotics or medication, and what new foods were introduced.  Do a trial elimination of a specific food that you feel may be suspect (e.g., milk or wheat) to see if the behavior lessens or worsens.
If the behavior worsens or intensifies and you fear for your child's safety and health, do not hesitate to take your child to an emergency room and request an MRI. If your child is experiencing any type of encephalopathy, this may be the only way to verify and record that information while it is occurring.
Keep in mind every behavior is a form of communication for pre-verbal or marginally verbal children, so head banging cannot be just dismissed as "attention seeking." If you had no language and your head hurt intensely, what might you do to communicate this to those around you in order to get help?
Consider what veterinarians are telling pet owners to do when their dogs and cats do this behavior they call "head pressing," and what it means:
The term "head pressing" is actually pretty descriptive—the affected pet stands close to a wall or other hard surface (furniture, the corner, etc) and literally presses the top of her head against it. It almost always signifies significant illness.

Many diseases can have head pressing as a clinical sign, but most often we associate it with hepatic encephalopathy, a condition that occurs in pets with liver disease. The liver is meant to remove toxins from the blood stream. When it doesn't function properly, ammonia and other toxins build up and create this neurologic syndrome of head pressing.
What do you think it means when your toddler does it? I recommend seeking medical attention ASAP.
~ Beaker
For more by Beaker, click here.