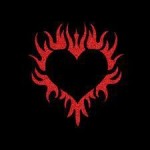 This is an autism mom. She is an incredibly loving mother, a truly talented artist, and a magnificent soul.
This week, this is how she Lights It Up Blue.
In her own words:
"It only barely crossed my mind not to post this as my 'Blue Awareness' status. My son ended up at an adolescent behavior hospital for 11 days in February. There, of course, they put him on pharmaceuticals. He is only on Depakote now, but I still HATE it.

My son is a sweet, intelligent, fun 15-year-old with an amazing sense of humor, intense empathy at times, and no friends whatsoever, except for his 11-year-old sister. He has had (what often seems like random) intense meltdowns from the very first day of his life, thanks to Rhogam, dental amalgams, the hepatitis B [vaccine], and the MTHFR [gene mutation]. Though his behavior has been better since he's come home from the hospital, he had a breakthrough violent episode when his sister had thrown his phone in the bushes. I got between them, and in one blow he knocked me down, leaving welts on my eye, a bruise on my elbow, and broken glasses."
Let's work together to make sure fewer moms Light It Up Blue, by choosing to LIGHT IT UP TRUE.
~ Blaze
For more by Blaze, click here.