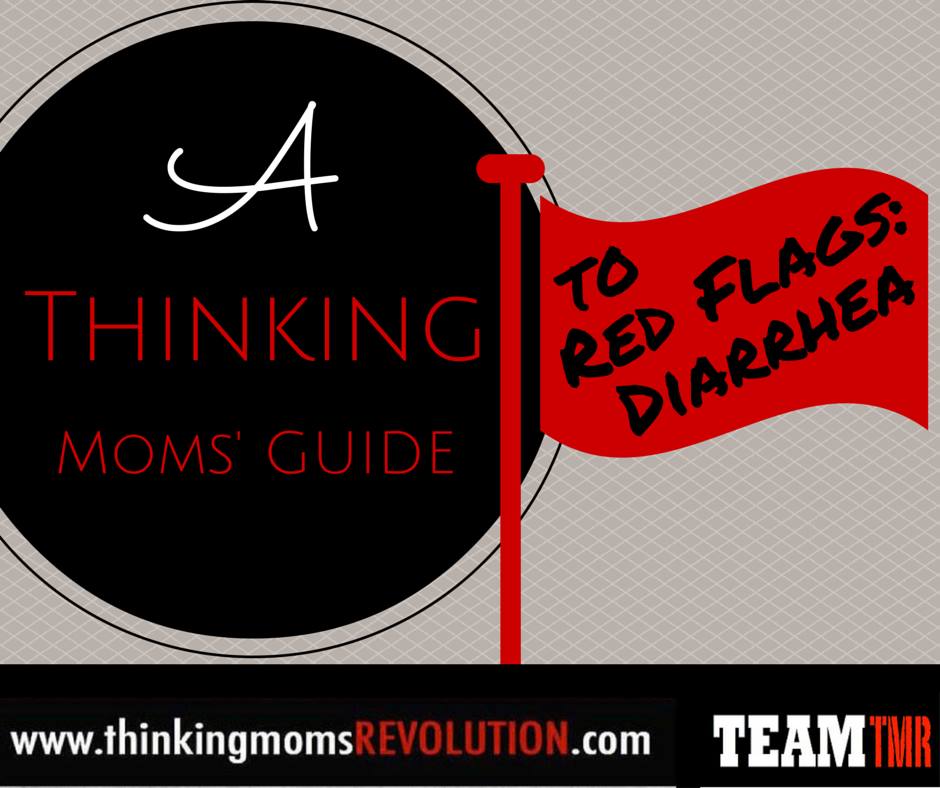 This week in our Red Flag series we bring you diarrhea.
My son had chronic diarrhea beginning at 13 months.  When I first brought it up to our pediatrician, he dismissed this red flag, telling me it was only "toddler diarrhea" and that it was perfectly normal at that age.  There was not as much information available online then as there is now, and I didn't know anyone who had experienced this with their child. So we listened to our doctor and did nothing.  At 15 months my son was diagnosed with a global developmental delay and was having three to four massive and explosive diapers every day.  His stools were not liquid, rather mushy and runny with undigested food particles in them.  They were acidic, and no amount of stain remover could get the stains out of his clothing.  I securely wrapped him in three diapers at a time, and still I could not contain his poop.  I carried extra pairs of clothing for him and an extra pair for myself everywhere I went.
Over the next several months, our pediatrician maintained his position that this was normal.  At 19 months, my son was diagnosed with autism, and I asked our doctor if the diarrhea could be connected to the autism.  He told me absolutely not and that I should focus all my time, money and energy pursuing therapies instead of medical treatment.  It took persistence on my part to get him to finally refer us to a pediatric gastroenterologist — and he did so reluctantly, telling me there was nothing a specialist could do for us.  This specialist who was the "expert" agreed with our pediatrician that there was nothing he could do.  Mainstream medicine did not yet acknowledge gastrointestinal disorders in children with autism.  My son appeared to be in excruciating pain around his bowel movements, and we were told there was nothing we could do to help alleviate his pain.  After several months of 25 hours a week of Applied Behavioral Analysis (ABA) and Occupational Therapy (OT), as my son's sensory dysfunction continued to decline further, I decided to do my own research and find answers.
What I can tell you now, four and a half years after our initial diagnosis, is 1) as Hippocrates so brilliantly taught – and we've obviously failed to digest – "all diseases begin in the gut," and that includes autism. Studies have shown more than 70% of children with autism have underlying GI disorders, of which diarrhea can be a symptom.  And 2) chronic diarrhea is never normal.  There is ALWAYS an underlying cause that needs to be addressed.
What is Leaky Gut?
Chronic diarrhea is a symptom of a more fundamental problem: leaky gut.  A large percentage of your digestive, nervous, and immune systems reside in your intestines.  When you have a leaky gut, small perforations in your small intestinal lining can release undigested food particles, bacteria and toxins into your bloodstream.  This leads to malabsorption and can also trigger an overactive immune response, which will produce inflammation all throughout your body.   The body begins to reject the food it is supposed to get its nutrition from, and food sensitivities develop.  My son had 25 food sensitivities before we started healing his gut.
There is always an underlying cause when a child with autism — or any child — has chronic diarrhea.  I would recommend finding a MAPS doctor, functional medicine doctor, or homeopath and do a comprehensive digestive stool analysis (CDSA 2.0 by Genova Diagnostics) that can evaluate digestion, absorption, gut flora and the colonic environment and address the possible overgrowth of bacteria, yeast and parasites.  An IgG food allergy sensitivity test (ELISA) can determine food sensitivities, which may be causing low grade inflammation, which in turn may be contributing to bloating, gas and diarrhea.
REMOVE
The first step to healing diarrhea is to remove what is causing your gut to be out of balance in the first place.
Food – Take out all processed foods, sugars and grains and food sensitivities that are contributing to inflammation in the gut. You can ask your doctor to do a IgG food sensitivity blood test.
Infections – Have a doctor do a stool test to determine which pathogenic microorganisms and parasites may be contributing to the problem, and then treat them. If treating with medication, it is helpful to combine an antifungal with an antibiotic initially so that bacteria and yeast stay in balance.  It is helpful to follow up with a good homeopath to more completely heal these infections.  A parasite cleanse will treat parasites.
Medications – Consider stopping all vaccines and antibiotics. Remove all over-the-counter medications, including Children's Tylenol which depletes glutathione needed to rid the body of toxins.
Toxins – Take a look at your environment for possible molds, heavy metals and other harmful chemicals. Research what you are putting on your child's hair and skin.  Harmful chemicals and toxins included in toothpaste, shampoo, body wash and lotions are being absorbed by the skin and bloodstream.  Original Sprout is a clean brand developed for children.
Stress – Stress can physically alter the nervous system, cause leaky gut and alter the good bacteria in the gut. If you are able to, take your child outside or to the park to get some exercise every day.  This can be calming to the nervous system and help with digestion.  Rhodiola is an herb that can be helpful for stress management.
REBUILD
The next step is to add back in the nutrition and supplements needed to replenish the body with overall good gut health.
Diet – Move to a Paleo, Specific Carbohydrate (SCD) or Gut and Psychology Syndrome (GAPS), or Body Ecology diet with 100% organic non-genetically modified foods. Fermented foods such as kefir and sauerkraut can also be added back into the diet slowly as you begin to heal the gut.   It is helpful to keep a food journal to track diarrhea as well as other physical and behavioral symptoms as you are removing and adding foods into the diet.
Probiotics – High-dose probiotic supplements are needed to rebuild healthy gut bacteria. (Bodybiotics SBO Probiotics Consortia with Prebiotics, Culturelle (treats clostridia), Klaire Labs)
Digestive enzymes – Broad-spectrum digestive enzymes can be helpful.  Signs of malabsorption include undigested food in the stool. If you are lacking digestive enzymes in the gut, you cannot properly convert food into the raw materials needed for good overall gut function.  (Enzymedica, Houston Enzymes, CREON Pancreatic Enzyme Replacement Therapy)
Omega-3 supplements – A daily concentrated fish oil supplement will help lower inflammation in the gut. (Green Pastures Fermented Cod Liver Oil, Nordic Naturals Cod Liver Oil, krill oil)
Glutamine and zinc – These supplements can help repair the lining of the gut so it can return to normal function.
Replace medications – Add in herbs, homeopathic remedies and essential oils.  It is helpful to work with a good homeopath.  (Herbs: Gaia; Homeopathic remedy providers: Washington Homeopathic, Boiron, Dr. King; Essential oil providers: Young Living and DoTerra)
Detox – Epsom salts and baking soda (gluten-free) baths for 20 minutes every other night can help unload daily toxins.
Exercise – If you are able to, try to take your child outside or to the park to get some exercise every day.  This can be calming to the nervous system and help with digestion.
Note:  If your child has a distended belly, he or she may have stool that is impacted and be constipated in addition to the diarrhea.  You can ask your doctor to do an x-ray.  (See last week's Red Flags for Constipation.)
A few tips:
Focus on one or two areas at a time so that you do not get overwhelmed.
Consistency is important.
It takes several years to completely heal the gut and for most of the kids, it may not happen overnight.
Don't give up.
Today, my son is recovering and doing amazing.
~ Rocky
For more by Rocky, click here.
Additional Resources:
Evaluation, Diagnosis, and Treatment of Gastrointestinal Disorders in Individuals With ASDs: A Consensus Report, Official Journal of the American Academy of Pediatrics
Gastrointestinal flora and gastrointestinal status in children with autism — comparisons to typical children and correlation with autism severity, BMC Gastroenterology
GreenMedInfo:  Leaky Gut, Diarrhea
TACA:  The Poop Page
Nutrition:  Nourishing Hope
Homeopathy:  Alan Freestone
Homotoxicology:  Mary Coyle
Detox:  IonCleanse