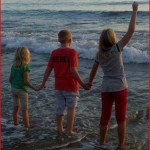 April is designated as Autism Awareness month. With the current CDC autism rate of 1 in 68, what is even more vital than awareness is ACTION. Direct help for families and individuals with autism is severely lacking. Insurance companies are not required to cover most treatments associated with autism, which can be devastating to families — not only for the hefty financial burden, but also because of having to forgo treatments entirely because of the cost.
That's where TEAM Thinking Moms' Revolution comes in! We are a 501c3 not-for-profit, all volunteer organization, and we are all about taking ACTION! Our grant program provides financial assistance to families to help defray the costs of treatments associated with autism and other developmental disorders.
In our first year as a non-profit organization, TEAM TMR has been able to provide direct financial assistance to 20 families with close to $20,000 through our grant program. We couldn't have done it without the generous giving from our supporters. In an effort to help even more families, TEAM TMR is excited to announce our First Annual Online ACTION Auction! The auction will begin June 22, 2015 on the eBay Giving Works platform for non-profits.  As with all money raised by TEAM TMR, 100% of the proceeds go directly to the grant program.

Here is how YOU can take ACTION:
 Consider donating a tangible item, event tickets, or service for the ACTION auction! It's tax deductible! If this is something you'd like to do, please send an email with your contact information to: [email protected] and we will send you an auction donation form and answer any questions you might have.
You can always make a tax-deductible cash donation anytime through our website www.teamtmr.org!
Help spread the word! Share this information with friends and family!
Thank you so much for your continued support of TEAM TMR 501c3 non-profit. Together we can turn awareness into ACTION!
~ Frankie
For more by Frankie, click here.