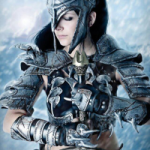 Last year, I had the honor of reviewing Marcia Hind's book, I know You're in There.  Since then, Marcia and I have talked frequently on Facebook.  We share a common bond that most of us autism moms share.  It's easy to find that support in one another when you are living similar journeys.  One day, while talking with Marcia, she recommended I review another book.  Ironically, the book she recommended, Healing Without Hurting, by Jennifer Giustra-Kozek, LPC, NNC, was already on my Amazon order.
Jennifer's book is about treating ADHD, autism, apraxia, and the like using a natural approach versus medication.  Jennifer is a psychotherapist who wrote her book based on years of experience treating patients with ADD, ADHD, autism, OCD and other diagnoses, in addition to the journey of her own son Evan, born in 2006.
As a psychotherapist, Jennifer has firsthand knowledge that she shares with us of the negative effects that medications can have on some children.  Because of those negative effects, she wanted to explore all other available option for both her patients and her own child.  Thus began her journey to find healing without hurting.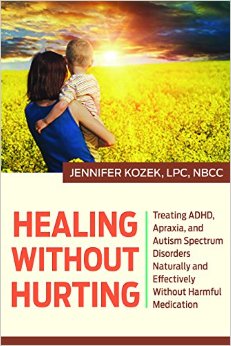 The first three chapters of the book recount Evan's birth and the five and a half weeks he spent in the NICU as a preemie.  Jennifer writes poignantly about the many illnesses Evan had as a baby.  As I read through those pages, I thought of our TMR red flag blog series.  Evan had red flag after red flag, including chronic ear infections, bronchitis, sinus infections, fungal infections and sleep issues.  In addition to the medical red flags, Jennifer writes about the behavioral red flags that also began popping up.  Like so many of us, she worried about her child and wondered what could possibly be going on with her son.
Chapters 4 and 5 detail Jennifer and Evan's journey to diagnosis: moderate to severe apraxia, pervasive development disorder, ADHD and sensory processing disorder.  It also discusses the many co-morbid conditions that frequently accompany the neurological diagnoses.
Chapter 6 outlines commonly used medications. As a psychotherapist, Jennifer has been working with clients on stimulant drugs for approximately 15 years now. However, when Evan received his diagnosis, she found herself in a professional/personal struggle. All that she had encountered in her professional world, told her that "non-medicated" children faced additional risks if their needs were not addressed. The mother in her struggled with what she had been taught professionally. She did not want to medicate Evan. Her maternal instincts kicked in, and she was determined to listen to them, alternatively finding other treatment for Evan, all the while feeling that although medication may be necessary down the road, she needed to exhaust more natural options for treatment first. Within this chapter, she discusses a number of frequently prescribed medications and what these medications are intended to do when prescribed to treat ADD, ADHD, aggression, anxiety, OCD, etc. She includes information on MedWatch which was created by the FDA to alert consumers of potential side effects of medication.
Chapter 7 describes the road to alternative treatments.  Many of us have chosen this road.  Understandably, many of us want to exhaust all other possible avenues before having to put our five-year-olds on medication for sleep issues and/or aggressive behaviors – often "for life."  Jennifer's book discusses other possibilities.
Chapter 8 explores possible genetic mutations that may be underlying our children's conditions and explains to find out if your child has one or MTHFR gene mutations.  Healthy gut flora, vaccines, excessive ultrasounds, viruses and bacterial infections are all discussed within the pages of chapters 9 and 10. General anesthesia can be a trigger for many of our kids. Jennifer discusses Evan's history of going under anesthesia many times by the age of four and the possible contribution that had on his developing immune system. She goes on to further discuss how NAET (Nambudripad's Allergy Elimination Technique) helped to determine Evan had developed a sensitivity to the anesthesia that needed to be addressed.
Chapters 11 and 12 discuss the all-important gut-brain connection and the malabsorption problems.  Research has shown that gut issues are widespread in children with the "psychological" diagnoses of autism, ADHD, OCD, etc. Jennifer goes into detail, describing numerous nutritional supplements and what their roles are in supporting our children's bodies.
Chapters 13 and 14 discuss Evan's personal journey with alternative protocols.  Chapters 15-18 cover topics that are important for every family with a child with ADD, ADHD and/or autism: food sensitivities, processed foods, and GMOs.    Jennifer provides a detailed checklist for possible signs of gluten and dairy sensitivities.  I cannot stress enough the importance of  these chapters.  Understanding the effect that food has on our children's health, what food sensitivities are and what they can do to our bodies, and understanding how to eliminate those sensitivities can be crucial for restoring the health of our children.
The more I read, the more excited I got about the chapter titles.  I remember thinking to myself, WOW, Jennifer managed to get it all into her book.
Chapters 19 and 20 discuss neurotoxins, heavy metals and neurotransmitters.  Neurotransmitters are important to understand because they tell us why our kids go into the fight or flight response.  If your child has aggression issues or emotional outbursts, read these chapters.
Chapters 21-23 discuss the use of supplements and non-traditional therapies such as neurofeedback, chiropractic care, horseback riding (hippotherapy), and even essential oils!  There are so many options to choose from when navigating through the alternative route of care.  So many of us have done traditional therapies in addition to different modalities for healing our kids.
Jennifer's book closes with chapters on prenatal health, infant health, Evan's journey continued, and a call to action.  With Speech therapy, OT, PT, diet restrictions and addressing underlying nutritional deficiencies, Evan has improved in all developmental domains. His teachers reported he was listening and participating in class. His expressive speech has progressed as well as his sense of humor. Overall, his anxiety has decreased, and his self esteem has increased. Evan's understanding of social situations is remarkable. By the writing of this book, Evan is eight years old and doing fabulous. Jennifer continues to utilize a naturopathic physician for acute health concerns. Evan attended a summer camp with his sister. The counselors were unaware of his diagnosis until Jennifer shared it with them. They were surprised Evan was on the spectrum. Jennifer's call to action discusses the need for collaboration between western medicine and eastern holistic treatments. Jennifer recognizes the need for medicine but she also emphasizes the need to treat the root of the illness. Included in the back of the book are a Q&A and a childhood development guide.
As a 10-year veteran of this journey, I was not disappointed by this book.  Jennifer addresses so much within the pages of her book, it is valuable beyond words — a resource to have within your library of "go to" books when you are looking up something for the first time or if you are needing a refresher for the 18th time.
Jennifer has given TMR a copy of her book to give away.  Please comment below for a chance to win a free copy of Healing Without Hurting, by Jennifer Giustra-Kozek.
Both Jennifer and Marcia will  be at the AutismOne Conference in Chicago at the end of May, 2015 in the TMR lounge signing copies of their books.  So, when you are relaxing and visiting with us in the TMR lounge, don't forget to stop by and meet Jennifer and Marcia.  Their journeys are inspirational, and they would love to share their inspiration with you.  Luckily for me, I have firsthand experience of that from both of these lovely ladies, and I can't wait to share that inspiration with them in May.
~ Guardian
For more by Guardian, click here.