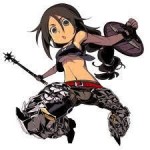 As you know, fresh, organic whole foods are important to us here at the Thinking Moms' Revolution.  We believe that not only are they nutritious and great for our overall health, but buying organic food helps farmers who are committed to conserving our soil and not contaminating it with Monsanto GMO poison.  So Mama Mac thought it would be a great idea to have a "TMR Cook-Off Challenge" between Poppy and myself. We wanted to promote fresh organic food and to be able to show all of our readers that cooking with organic whole food is quick and easy and more cost effective than ordering fast food.
In order to do this challenge right, we enlisted the help of our friends from Box Organix (http://www.boxorganix.com/).  If you've never heard of this awesome company, click here to check them out.  Box Organix is a company that provides a low cost alternative to high retail organic food prices.  There are no minimums you have to buy and no commitments.  You can order what you want when you want it.   The best part–it's shipped right to your door!  How great is that?
We contacted Curt Linderman of Box Organix to create 2 "Cook-Off Challenge" boxes–one for me and one for Poppy.  We didn't know what we would be getting.  The only rules were to use the ingredients contained in the Box Organix boxes to make some fantastic and healthy meals!  (We were allowed to use our own pantry ingredients as well to create our mouthwatering dishes!)
Poppy created some awesome dishes with her box of goodies!  Ground bison, red potatoes, GF cinnamon raisin bread, mixed salad greens, and fresh rosemary.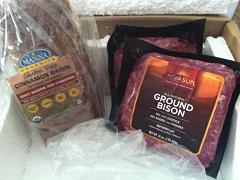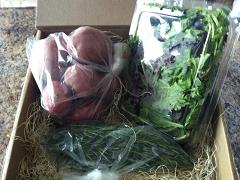 #1  A salad with mixed greens from Box Organix with chicken strawberries goat cheese and balsamic vinaigrette.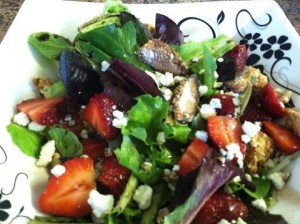 #2  Mediterranean bison balls with feta, heirloom tomato, greens dressed in lemon olive oil and homemade GF pita.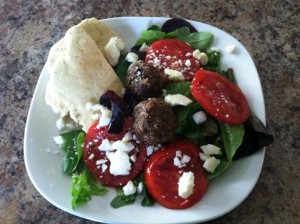 #3  Bison balls with fresh marinara and GF pasta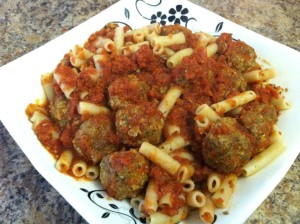 #4  Box Organix filet with roasted red potatoes, sauteed greens, and fried eggs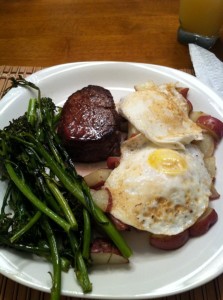 #5  Filet with blue cheese, heirloom tomato and arugula. Stuffed mushrooms with spinach and twice baked stuffed potato with bacon & broccoli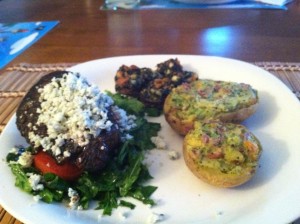 #6  French Toast with golden flax using organic GF cinnamon raisin bread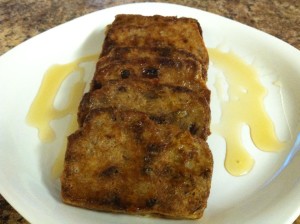 Next up, the delicious meals created by Savage!  My box contained chicken breasts and thighs, gold potatoes, GF Original Bread, baby spinach, and fresh thyme.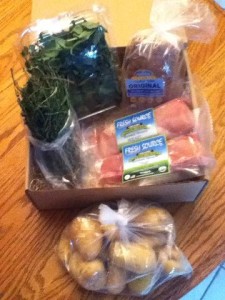 #7  Breaded chicken with cranberry balsamic sauce, spinach and garlic smashed gold potatoes, and a spring lettuce mix/spinach salad with gala apples and raspberry vinaigrette. With all the food in my box, each serving figured out to a cost of only $4.48! Amazing, right?!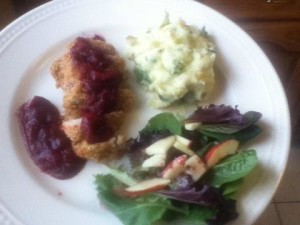 #8  Potato Leek and Mushroom soup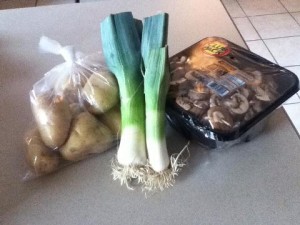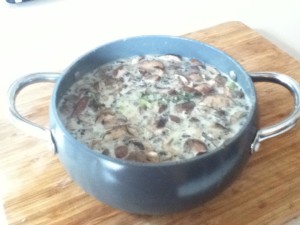 Who do you think won the First Official TMR Cook-Off Challenge?  *Poppy is an amazing chef, so I won't be upset if you all vote for her–her stuff is beautiful and tastes delicious :)*
Vote in the comments section under the blog or on our FB page, please include what number recipe you are voting for.  The winning recipe will be featured in an upcoming TMR newsletter!
Bon appetit!!
~Savage