Just about this time last year, when Harry was four, we got our first consistent word. Fast-forward to now, and a year of intense healing gone by, and we finally, finally, have two words together.  At five.
I deliberated and debated typing that sentence for the past few days for fear the moment I typed it, the words would disappear.  He said, "Mama, HA!" (for help) the past 6 days.  I know he said "help" because he has needed help and has signed help while saying it each time.  And even if it is not toally clear, I'm counting it.
Today he wanted to play with the DVD player.  I keep the stack of movies up high and out of reach  because he doesn't like to pick one and watch it.  He likes to pick one, put it in, make me press the menu button on the dvd remote, take a lightsaber and point to what he wants (trailers, sneak peeks, bonnus features) on the menu.  The DVD player sits on a bank of built-ins, and he is just little enough that if he presses the remote, the player does not sense it.  So I have to do it.  This can go on as long as you let it.  It gets old.  Fast.
Today I told him we were not going to do movies, but to instead play with cars or blocks.  He grabbed my hand, pulled me to the shelf where we keep the movies, signed "movie" while he said, "MMMMM" and then pointed up to the shelf with the DVDs, and said "UP."   As in, PICK ME UP AND LET ME PICK A MOVIE ALREADY!
Well, OK then, I guess  you can have your movie, since you're going to talk and all.
This went on for about a half hour, and each time he said "help," or "up," or attempted the M for movie, I followed his directions.  And as over the moon as I am that he is finally, finally, finally (dare I say it?) starting to speak (please please please do not let this week be a fluke), and I much as I want to scream this major accomplishment as I have wanted it for so long, what I have wanted and wishedhopedprayedlonged for was nothing compared to the look of satisfaction on his face.  I never contemplated that.
I can see that the connection—that speech is important; why speech is important-is finally there.
He finally, totally gets it.
All the words he can read, all the directions he follows, the amazing receptive gains he has made are all about to be unleashed on the world.  As as I much as I cannot wait for this, to see what gains his fifth year brings, I think there may actually be one person that wants it more than me. And maybe, just maybe, that will make all the difference.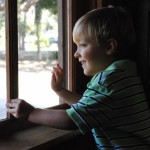 ~Goddess