Dr. Scott Goldstein: "Infants are born with fully responsive immune systems. There is no benefit in delaying vaccinations."
Dr. Goldstein: "Infants are born with their mother's immune systems.  Not for several months do they develop their own.  Which is why some vaccines are given later in life."
:::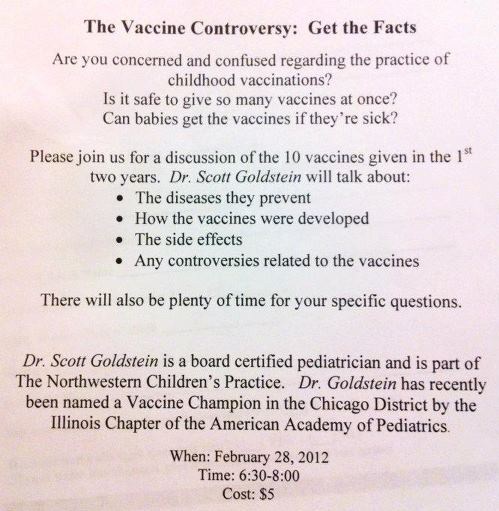 Facebook.  Yes. The flyer my friend Megan emailed me definitely needed to go on Facebook.  Other friends with vaccine injured children would be all over it.  And indeed, their response was swift and immediate. Within an hour of posting, there were over 100 comments. We would go, they chorused. We would pay the five dollars and go, armed with stories, with questions, with science and facts, sit among the audience sure to consist of new and expectant moms. We'd call the good doctor to task. We'd encourage the other moms to do their own research.
By the next morning, an Occupy Goldstein group was formed. Excitement radiated. After researching vaccines for years, reading PubMed, getting to the truth, we knew exactly what we would ask.
Our questions would expose whether he truly understood vaccine science, like we do. If given the chance, we'd tell the room how our children were harmed—harmed by reassuring words we wanted to believe when they were delivered by a white coat.  Our lives changed forever because we simply did not do our own research.
Sit by and allow other children to be harmed? No. Not this group. Not in our town.
:::
Dr. Goldstein: "There is no good reason to 'stagger' shots.
Dr. Goldstein: "There might be a safer vaccine schedule.  Just because we haven't found a better way of doing it is not to say there isn't one."
:::
Megan and I watched other parents file into the auditorium. Many were there for the same reason we were—to understand just what made Dr. Goldstein the Vaccine Champion, a man who charges $5 to listen to his practiced reassurance that everything's going to be okay. Some people were there for exactly those words.
A woman, a grandmother, stepped up to the podium to introduce the Champ. She informed us she'd run right out for her pertussis vaccine the moment her granddaughter was born. We'd each been given index cards so that we could write any questions down for the doctor to answer after his lecture.
"There will be no debate tonight," she said.  They were aware of a "secret Facebook group" that formed and certain members may be among the crowd.  If we were there to cause trouble, she said, we were not welcome and if we wanted a debate we would need to schedule it on our own time and in our own venue.
Just then, a walkie-talkie crackled behind us, and we turned to find a security guard a few seats away. There were others, too, I now saw, arms crossed, surveying the crowd. Megan was pretty sure she tipped them off when she was handed her index card when we walked in.
"Do you want my question now?" she asked.
The lady paused. "You can listen to the presentation first," she said gently.
Eleven of us from the group were there and perhaps 50 total in the room.  We had no intent to cause trouble, certainly not the kind the good doctor would need a half dozen muscly bouncers to handle.
:::
Dr. Goldstein: "Every ingredient in vaccines needs to be there, there is no way to 'Green the vaccines.'"
Dr. Goldstein: "In an ideal world, there wouldn't be aluminum in vaccines."
:::
He told us of his credentials, explaining that "Unlike Dr. Sears" he was a "real vaccine researcher."   He was a pediatrician and a dad. It seemed to us, though that Vaccine Champion was quite a title.
It became clear that he had to allay a lot of fears brought by parents in his office, about, you know, "The Link."
"Possible reasons for rise [in autism]," he said, flipping slides of his PowerPoint presentation, "calling one diagnosis another, changing criteria for diagnosis, better awareness, social acceptance, over- and mis-diagnosis."
In other words, it's not really happening.  But he didn't stop there.
"Any 18-month-old without a nap could be diagnosed with autism.  It's just becoming a very popular diagnosis."
It was the kind of comment he's probably made dozens of times to anxious parents, an attempt at humor to diffuse tension. And now he'd said it to us, parents of kids with autism.
But beside me, I saw Megan flinch.  We would talk about this comment more than once in the coming days.
"That's a punch in the gut to a mother of an autistic kid," she said.  Actually, that was the mildest thing she said.
:::
From Dr. Goldstein's handout: "A court compensated the family of a girl diagnosed with a rare medical disorder with symptoms similar to autism saying that it was possible that vaccines exacerbated the disorder – NOT that vaccines cause autism!"
The exclamation point is his.
Many of our friends in the room have autistic children with the very same "rare" mitochondrial disorder.
So maybe he's right.  Maybe vaccines don't cause autism. Maybe autism isn't on the rise. Maybe vaccines trigger mitochondrial disorders and mito disorders are on the rise. Ah, yes! Maybe the headlines should read "1 in 81 Diagnosed with Mito Disorder." Maybe then they would listen?  Or maybe the smoke and mirrors would just shift direction.
:::
Dr. Goldstein: "We don't know what exactly causes Autism, but vaccines have been extensively studied and shown not to be the cause."  (1)
Dr. Goldstein: "No studies say that those who are skeptical of vaccines are absolutely wrong."
:::
To his credit, he did take our questions, collected by the grandmother who'd had her pertussis shot.
He read mine directly from the card.
"My daughter has allergies. I heard that our immune systems work in a balance and vaccines modify it in order to work. By causing an under-response to viruses, the balance shifts toward an over-response to allergens. Do you think vaccines could be contributing to the increasing rates of allergies and asthma?"
"I think," he began, "that with all the things that are in vaccines when compared to the world at large it is unlikely that the increase in vaccines could lead to allergies."
His answer, not at all related to what I asked, proved he'd be an excellent politician.
He went on to say that the only way to tell would be to study two groups of kids—vaccinated and unvaccinated. But, he said, "people would be very reluctant to be in the unvaccinated group," meaning the study could never be done.
Give me 24 hours, I thought. I guarantee I'd fill the unvaccinated group.
And that was it.  Nothing in his answer indicated he understood the question.  I would have expected the workings of the immune system to be more top of mind for a vaccine champion.
I thought he'd know that by their very nature, vaccines are designed to decrease our response to viruses.  In so doing, they increase our response to allergens and make us more autoimmune.  (2)
It's how the immune system works.  So if he wasn't aware or didn't want to answer the question, how could he be a Vaccine Champion?  Because the letters M and D follow his name?
:::
Many people, including myself (before I began to research) think that if a person advises on vaccines, they must be well educated on the topic.
They don't realize that pediatricians are humans too. They have busy practices, families of their own.  Are they up on every study? Do they do their own research? And really, who does?
I'll tell you who, the parent of a vaccine injured child.  A parent who saw their child's "light go out" following vaccines.  A phenomenon that Dr. Goldstein told us "he has never seen."  And yet, I have friends who have seen just that, the light going out.  They're told that vaccines simply could not be related.  When parents begin to get nervous and start asking about spacing shots further apart, they are reassured, just as Dr. Goldstein reassured us.
 "There is no difference," he said, "in immune response to a vaccine if it is given alone or in combination with other doses."
I could see the Occupy Goldstein members shifting uncomfortably in their seats and breathing heavy sighs. How could that be true?
After all, there has NEVER been a single study of the combined vaccine schedule. Never, ever, EVER.  (3)  How then, could he know there's no difference in immune response? How could he stand up and preach these confounded statements to parents trusting him with the health of their children? All of it spoken with the confidence and authority of an M.D. to make it all the more believable.
:::
Dr. Goldstein: "There is a system in place, VAERS, where any patient or clinician can report concerns about vaccines."
Dr. Goldstein:  "You really can't believe anything specific you read on VAERS, a lot of it's clearly made up."
:::
So many of us trusted blindly. Because the other option is scary. Unpopular.
Megan's question was about her son's regression following a flu shot.  Loss of language and eye contact.  Behaviors she hadn't seen in years.  She is always being told that her son needs one because he's in a high-risk population, but is reluctant to ever give him another flu shot ever.
"I don't blame you," Dr. Goldstein said, after reading the card front and back. "That should be reported to VAERS."
:::
The ingredients in vaccines were covered in under two minutes flat.
"Thimerisol – not used in vaccines that kids under 2 receive anymore (except some flu vaccine). "
"Aluminum – There is way more aluminum in formula and breastmilk then there is in vaccines."
"Formaldehyde & MSG – no concerns for bad effects"
Untrue.  Unrelated.  Irresponsible.  If I were more prepared, I would have brought a printout of "Vaccine Ingredients – A Comprehensive Guide" to leave for him on our way out.
:::
Dr. Goldstein continued along his handout, skipping over the section in his handout about HPV and Gardasil.  I was disappointed.  Many of us have friends with children injured by Gardasil. My daughter's therapist is among the victims.  Countless females, all complaining of debilitating autoimmune and neurological problems following the vaccine. (4)  A vaccine that was "fast-tracked" to make it to the market in under 2 years. (5)
:::
Dr. Goldstein:  "Vaccines are tested rigorously before being introduced.  It will be the late 2020's before a new vaccine could be approved. They aren't released until their safety is proven."
Dr. Goldstein:  "We have seen how quickly vaccines are pulled when true concerns arise."
:::
The invitation to the discussion told us he'd address whether children can be immunized when they're sick.  And he did.
"Kids are always sick," he said. "If we don't immunize when they have a cold, they'd never get their shots."  Yet, later in the evening he mentioned in passing, "Chicken pox and MMR are likely to harm children with compromised immune systems."
And around and around and around he went, saying everything, saying nothing, finally landing on a slide showing two children. They were sitting on the ground and seemed to be sharing either end of a straw.  These were his own children, he said. Two blond, perfect, neurotypical children. He said that he uses this picture to illustrate how glad he is that they've had all their shots. They can suck on straws from the ground at will.
He advised that children take Tylenol with their shots, OMG Tylenol, and bid us goodnight.
From my notes:

Even most mainstream doctors don't recommend Tylenol with vaccines anymore.  It impairs the detoxification system and increases the chances of vaccine injury. (6)
I shook my head and gathered my notes, disappointed in him again.  Vaccine Champion, indeed.
:::
Megan and I filed out in silence. No one rushed the stage, no one started shouting.
But they were right to be concerned about us, though not for the reasons they thought.
They should be concerned because nothing is more powerful than a mother, a mother determined to protect or fix or understand.  
A mother determined to help fellow mothers.
We don't get it embroidered on white coats.
But maybe we should.
A mother determined.
That's the real MD.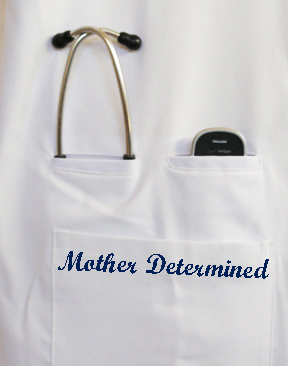 ~Mentos
(1)    No evidence of any Link 
(2)    Vaccines and the Immune system… say it isn't so
(3)    Conflicts of Interest in Vaccine Safety Research
(4)    The Great Gardasil Vaccine cover up
(5)    Gardasil: Problems of the FDA Fast Track
(6)    Did Acetaminophen Provoke the Autism Epidemic?