I usually dress the kids. Until recently I hadn't even considered that my son might be able to choose clothes for himself because last year, the one time he tried, he picked out his Superman pajama top and matched it with the tuxedo pants from the very back of his closet (yes, the ones he wore at my brother's wedding the previous year). And to go with this adorable ensemble, he had picked the flip flops. Only it was February. We live in Canada. And negotiation didn't stand a chance. Needless to say that day was a disaster.
Fast forward a year. About a month ago, as my husband and I were discussing our plans for the day, I didn't notice that the kids had gone upstairs. They do that lately, hang out together. My son is enjoying the company of his little sister more and more, and my daughter (four going on thirteen) is just so happy she has someone to boss around! Although she is four, her play skills are much more advanced then those of her brother, and she is actually turning out to be a wonderful play therapist for him.
So that day. . . if we parents know one thing, it is that when the house gets too quiet, something's up.  As soon as we realized it was too quiet, my husband and I froze, jumped out of our chairs and flew upstairs to find D's entire closet, shoes, socks, underwear, books, toys scattered all over his room, his sister by his side. They were quietly waiting in the middle of this mess staring at us with their "we did not do this" expressions, sitting on the bed that had also been stripped of covers.
BUT… to my great surprise, D was all dressed: color matching, socks and shoes for the right season. All of it, thank you very much. I couldn't believe it.
The entire scene was so amazing, so unusual for our kind of reality. SO TYPICAL!
Not only had he listened to our conversation and understood we were going out, but he had gone up on his own, planned ahead, chosen his clothes and gotten dressed.
All. On. His. Own.
It hit me that day, at that moment, there are so many things we take for granted; we trust, expect, anticipate, assume and believe certain things will happen when we do this or that or when we do nothing at all.  Big things like: turn the key and the car will start; punch a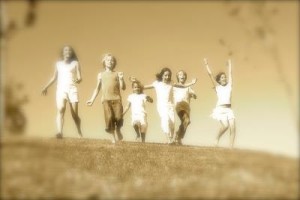 number on the the smartphone and you will be connected. But then there are the smaller, more subtle things — the things that are such big challenges for special-needs kids. There are things about our children that unless you live it you may never understand. Most people really don't understand how our children need help with the simplest tasks like brushing their teeth, washing themselves, getting dressed or undressed, general hygiene, homework. Those little things that most people take for granted mean the world to a special-needs parent. The past year has taught me to never take for granted the things my child has overcome. Every meaningful look, smile, giggle, question, transient neurotypical moment. I soak them all up and hope they stay.
And even with so many obstacles to overcome, our children work day in and day out and they never give up. So why should we? I know we still have a long way to go but I will never EVER give up on him.
And as I watch my son slowly come out of his shell, and come into his own, I never forget that some of you out there are still waiting for the first "mama," the first step, or the first look, because I too was there. And I don't take any of it for granted. This journey has taught me a lot about appreciation for the little things and to celebrate each small victory knowing how precious they are.
In this video, parents, friends, cousins and siblings share a message about the things we don't take for granted.
~ Prima
For more blogs by Prima, please click here.