I am grateful that I had the opportunity to debate Dr. Koren Boggs and represent The Thinking Moms on The 504 Show in New Orleans last week. I was shocked that someone who has no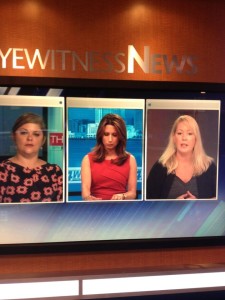 background in vaccines or the biomedical treatment of autism accepted this challenge. Due to the time constraints on air, I was unable to expand on all the misinformation presented by Dr. Boggs. Luckily, the autism community's own Ginger Taylor has decided to set the record straight. I said what I could in the time constraints that I had, but here, Ginger refutes what was left unsaid. – Blaze
Dr. Koren Boggs Is An Idiot
by Ginger Taylor
It's harsh… I know… but I can't take this crap anymore. She should know better. It has been NINE YEARS since my son regressed after DTaP, Hep B and three other shots, while I have to hear the lie that, "there is no association between vaccines and autism," repeated over and over and over and over… That made me nuts back when there were less than ten research papers that showed a link, but now there are at least 70, including one that showed that our own federal government has paid at least 83 autism cases from the Vaccine Injury Compensation Program, while also pretending that vaccines could not possibly cause autism. I just can't stand the deceit any more.
So when I saw Kim's debate with Dr. Koren Boggs, I got so angry I had to stop halfway through and take a long break just so I didn't have a neurological event. Then I just needed to rant
If you are having trouble viewing this video click here, or cut and paste this url into your browser: http://www.youtube.com/watch?v=O_GrCAzpA_0&feature=youtu.be
You can see why the seasoned Pharma/Public Health talking heads never agree to be in a debate with any of us. They can't get away with the usual BS talking points.
The list of research is growing steadily. As more people see it and send me studies that I have missed, these links will be updated regularly. You can view it on my blog,  on my Facebook page, or share in a Word doc. Please spread them around any time you hear the lie that "the vaccine/autism causation theory has been debunked because it is based on one retracted British study and the opinion of a Playboy model and that there is not one study that supports the theory that vaccines cause autism." In fact, share them right now. Then share this video. Here is the information on Rep. Bill Posey's bill to force the vaxxed/unvaxxed study that CDC still won't pursue after thirty plus years. Call your Congressman and ask him to be a co-sponsor. Do it. And then share it too.
Now on the Japan study… she is referring to Honda's study, "No effect of MMR withdrawal on the incidence of autism: a total population study." If you read the abstract, which I have linked to, it gives the impression that this is a study that compares kids who got the MMR to unvaccinated children, to see if there was a difference in autism rates: "The MMR vaccination rate in the city of Yokohama declined significantly in the birth cohorts of years 1988 through 1992, and not a single vaccination was administered in 1993 or thereafter."
However, when you read the actual study itself, you find that the study was done when Japan (which was using the MMR with the Urabe strain Mumps vaccine) realized that it was causing meningitis and yanked the vaccine. They replaced it with the single-dose version of the Measles vaccine, the Mumps vaccine and the Rubella vaccine: "However, due to a high frequency of reports of aseptic meningitis, a suspected side effect of the mumps vaccine (Urabe strain), the program was terminated in April 1993. Subsequently, only monovalent vaccines were administered. Following a reform of the Immunization Law in 1994, measles and rubella vaccinations were each specified for children between the ages of 12 and 90 months (the measles vaccine was recommended between 12 and 24 months of age and the rubella vaccine between 12 and 36 months). The mumps vaccination was voluntary and aimed at children one year of age or older who had not contracted mumps. It was also stipulated that an interval of at least four weeks separate administration of vaccinations." So this not a vaxxed v. unvaxxed study, this is a vaxxed v. vaxxed slightly differently study. The way this study is done, it actually asks the question, "is the MMR that Japan was using the SOLE cause of autism?" Not one person in the debate thought the MMR was the only cause of autism at the time. In 2005 when the study was published, David Kirby had just written Evidence of Harm, parents were trying to find mercury-free vaccines and as we know, thimerosal was never in the MMR. If anything is to be gained at all from this study, it is evidence that splitting up the MMR vaccine into individual shots may not be of any help in avoiding an autism regression. We can see that from her poor understanding of the Honda study, Dr. Boggs either ONLY read the abstract and made some assumptions, or someone just told her that this was a vaxxed/unvaxxed study and she didn't bother to check for herself. (Likely the same person who told her that there is no research that supports the vaccine/autism causation theory.)
Here is CDC's MMWR on the chelation deaths. One boy with autism and one girl with lead poisoning were both accidentally given Na2EDTA instead of the appropriate drug for them, CaEDTA, with which they had both been treated successfully prior to the drug mix up. A third woman died, believed to be using the same version of EDTA, and all three deaths were associated with hypocalcemia (basically the Na2EDTA pulled all the calcium out of their blood.) In talking with docs, it is my understanding that Calcium EDTA is now
becoming the standard drug for chelating both adults and children. We chelated our own son with IV CaEDTA with wonderful results and no side effects.
So, to Dr. Boggs… Kim said you were wrong, and as we see here, you were wrong. Thimerosal has never been in the MMR, vaxxed/unvaxxed autism research does not exist per CDC's own testimony under oath only eight months ago, and more than 70 research papers show not just one, but MANY links between vaccines and autism. We await your formal letter retracting your false claims, and I believe it would be most appropriate for you to send the letter to Ms. Hebert and to The Thinking Moms' Revolution so it may be read on her show, "The 504," where you disseminated your errant information in the first place.
Because it is all about the science… and the children… right?