June 16, 2016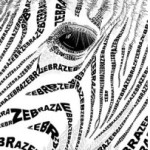 In April, I eagerly anticipated the opening of Vaxxed: From Cover-up to Catastrophe at the Tribeca Film Festival, riding that three-day roller coaster of excitement and disappointment. Later, like the majority of our community, I was geographically challenged with regard to Angelika Film Centers, Laemmle theaters, and the various film festivals. Watching the Q&As after each screening was as close to being there as I could get — for the foreseeable future. As I watched, I visualized this huge bees' nest being poked — the CDC nest being disrupted by their own worker bee. Once the public sees the documentary, the buzz will change the vaccine-autism argument forever. The public will no longer accept the lies.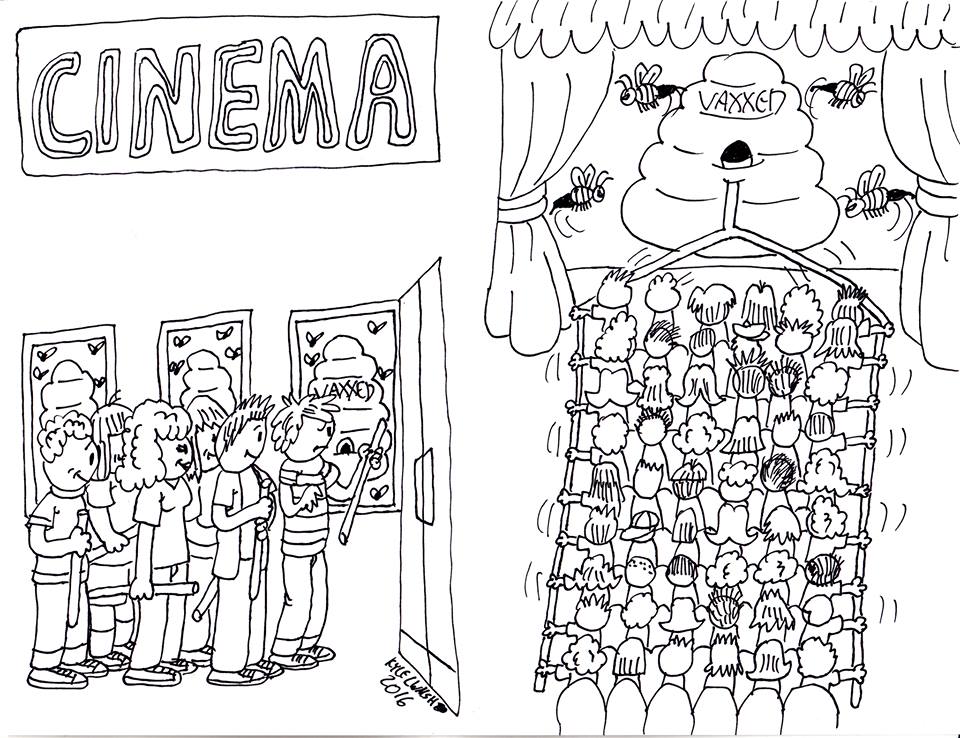 (Shoutout to Kyle Walsh for his custom drawing showing bee's nest being poked by the public and a long line of people waiting their turn! Find more of Kyle's cartoon drawings at: The Campus Voice: Kyle's Corner.)
Vaxxed is about corrupt vaccine science at the CDC. So what doesn't the CDC want to reveal, hiding among the studies doctors trust? Maybe the single biggest question to be answered when a Congressional investigation occurs  is "How wide is the scope of fraud at CDC?" I cannot believe the 2004 MMR study the film is about is an isolated incident. The practice of "desired conclusions" must be close to standard operating procedure with willing, or perhaps more coerced, participants like Dr. Thompson and Dr. Zimmerman. Everybody's doing it, so it must be okay? Dr. Brian Hooker addresses the culture of deception and contempt for the American people at the CDC with a plethora of data gleaned from Freedom of Information Act requests and Dr. Thompson himself in these AutismOne 2016 presentations: Dissecting the CDC Whistleblower Documents: A Study in Corruption and Further Adventures at the CDC.
The film suggests that testing of vaccines is not what we think it is. We tend to think they are rigiorously tested with double-blind placebo-controlled trials, when in fact it is extremely rare for a vaccine to be tested against a true placebo. Vaccines are categorized as "biological products" not "phamaceutical drugs." As such, their testing criteria is quite different. During a Q&A session Dr. Wakefield was asked about how vaccine safety studies differ from that of substances categorized as pharmaceutical drugs. He used measles as an example explaining the World Health Organization criteria, at the 21-minute mark. The indignation in Dr. Wakefield's voice makes it clear what he thinks of these "safety studies."
Organizations Responsible for Bringing Vaccines to the World
Today the vaccine market is in the $40 billion range worldwide. The report titled "Global Human Vaccines Market 2016-2020" gives an "in-depth analysis" of the possible revenues and "emerging market trends" globally. The global human vaccines market is expected to grow at a compound annual growth rate of 11.69% during the period 2016-2020. The motivation for protecting the vaccine market is clear, and these are the organizations involved in doing so:
The GLOBAL Protector: The United Nations role: The Charter of the United Nations was signed on June 26, 1945, in San Francisco at the conclusion of the United Nations Conference on International Organization and went into effect on October 24, 1945. The United Nations is an intergovernmental organization created to promote international cooperation, in areas of peace and security, economics and social issues, studies and information for topics, and justice between member nations.
The GLOBAL Promoter: United Nation's World Health Organization role: "Our primary role is to direct and coordinate international health within the United Nations' system. These are our main areas of work: Health systems, Promoting health through the life-course, Noncommunicable diseases, Communicable diseases, Corporate services, Preparedness, surveillance and response. Coordinates a Global Vaccine Action Plan (GVAP) for all 194 Member States as assessed by Strategic Advisory Group of Experts (SAGE)."
Perhaps, the UN-WHO shouldn't be involved in vaccines, given this 2016 story: The new and improved polio vaccine could "accidentally ignite an outbreak of the type of polio caused by the vaccine," when switching out the old vaccine for the new. Has the old vaccine been responsible for thousands of cases of polio?
United States Department of Health and Human Services, Federal Drug Administration's role: "Vaccines, as with all products regulated by FDA, undergo a rigorous review of laboratory and clinical data to ensure the safety, efficacy, purity and potency of these products. Vaccines approved for marketing may also be required to undergo additional studies to further evaluate the vaccine and often to address specific questions about the vaccine's safety, effectiveness or possible side effects." The FDA forgot to mention that vaccines are biological products, not pharmacological drugs.
FDA's Center for Biologics Evaluation and Research (CBER) regulates vaccine products; specifically, gives manufacturers the license to produce and market a vaccine. The FDA rules and regulations are outlined in Staff Manual Guides, which number close to 10,000 individual sections. Volume IV has sections 4000-9100 on Agency Program directives, including 9003 Policy for Responding to Allegations of Misconduct. You can request sections not listed using a Freedom of Information Act request.
United States Department of Health and Human Services, Centers for Disease Control and Prevention's role: "CDC works 24/7 to protect America from health, safety and security threats, both foreign and in the U.S. CDC increases the health security of our nation. To accomplish our mission, CDC conducts critical science and provides health information that protects our nation against expensive and dangerous health threats, and responds when these arise."
CDC's Pledge to the American People:
Be a diligent steward of the funds entrusted to our agency
Provide an environment for intellectual and personal growth and integrity
Base all public health decisions on the highest quality scientific data that is derived openly and objectively
Place the benefits to society above the benefits to our institution
Treat all persons with dignity, honesty, and respect.
It may be surprising to know that the #CDCWhistleblower is by no means the first scandal the CDC has endured. Besides Dr. Thompson, as Dr. Hooker discussed in the videos above, the CDC  employed fugitive Poul Thorsen, who has been indicted for fraud, and Thomas Verstraeten, whose study on Thimerosal was riddled with ethical violations. And let's not forget Julie Gerberding who left her role as the head of the CDC to head up Merck's vaccine division. In fact, CDC history, as well as other branches of the U.S. government, especially perhaps the military, is peppered with medical experiments with questionable ethics (many of which are outlined here). The pretty words above notwithstanding, anyone who is paying even a smidgeon of attention knows that the CDC is failing utterly on every single point of their pledge.
CDC's National Center on Birth Defects and Developmental Disabilities (NCBDDD) role: Created in 2000, the mission of CDC's National Center on Birth Defects and Developmental Disabilities (NCBDDD) is to promote the health of babies, children and adults and to enhance the potential for full, productive living. NCBDDD fiscal year (FY) 2015 appropriation includes $131.781 million for Child Health and Development, Health and Development with Disabilities, and Public Health Approach to Blood Disorders.
The mission of NCBDDD's Interagency Autism Coordinating Committee, created in 2000, is to
Provide advice to the Secretary of Health and Human Services regarding Federal activities related to autism spectrum disorder.

Facilitate the exchange of information on and coordination of ASD activities among the member agencies and organizations.

Increase public understanding of the member agencies' activities, programs, policies, and research by providing a public forum for discussions related to ASD research and services.
The estimated annual cost for operating the Committee, including compensation and travel expenses for members but excluding staff support is $881,096. The estimated annual person-years of staff support required are 4 at an estimated annual cost of $501, 914.
Manufacturers' role:  The Secretary, Department of Health and Human Services (HHS), and by delegation the Director, Centers for Disease Control and Prevention (CDC), are authorized under Section 311 and Section 317 of the Public Health Service Act, [42 U.S.C. §243 and 42 U.S.C. §247b], as amended, to assist states and their political subdivisions in the prevention and control of communicable diseases; to advise the states on matters relating to the preservation and improvement of the public's health; and to make grants to states and, in consultation with the state health authorities, to agencies and political subdivisions of states to assist in meeting the costs of communicable disease control programs.
Manufacturers' role (limited scope of discussion copied from WHO 2004 directives): Conduct Preclinical and Clinical trials. Phase I studies are primarily concerned with safety in small groups (e.g. 20). Phase II studies involve larger numbers of subjects and are intended to provide preliminary information about a vaccine's ability to produce its desired effect (usually immunogenicity) in the target population and its general safety. The Phase III clinical trial is the pivotal study on which the decision on whether to grant the license is based and sufficient data have to be obtained to demonstrate that a new product is safe and effective for the purpose intended. The vaccine's clinical trial summary is published online and on package inserts that accompany the vials, from the manufacturer. There are 271 new therapeutic and preventative vaccine categories in development pipeline.
Congress's role, Oversight & Government Reform Committee: As chairman of the House Oversight & Government Reform committee, Representative Jason Chaffetz, UT has the power to call a Congressional hearing, subpoena Dr Thompson and other authors, potentially triggering an international investigation in other countries blindly following CDC's purported fraudulent science. No wonder he hasn't subpoenaed Dr Thompson; the number one industry in his campaign's top five financial contributors is the Pharmaceutical/Health products industry.  
Medical Care Provider's role: Provide Vaccine Information Statement — a limited fact sheet on diseases, not exhaustive of vaccine risks. Answer your concerns and questions truthfully with the ultimate medical decision made as a team with parents, not for parents. They track the type of vaccine, lot date, and location of each vaccine given. They should report adverse events to VAERS (Vaccine Adverse Event Reporting System) in a timely manner. However, many providers simply do not do report. If yours does not report an adverse event, do it YOURSELF.
Your role: THINK for yourself and your family. Ask questions: Why is each vaccine offered? How long does the protection lasts? How does the injection affect your community (viral shedding)? Does the vaccine prevent disease or minimize symptoms (polio, pertussis, tetanus, diphtheria)? Know about the Vaccine Adverse Event Reporting System, and the Vaccine Injury Compensation Program. Know that you have a limited time of three years from injury to file a claim. Know that the CDC-recommended vaccine schedule has never been tested as a whole, and currently includes 69 doses of antigen over 18 years. Know there are 270+ vaccines in development for adults and children. Know you can file an exemption to school vaccination "requirements" in all but three states (West Virginia, Mississippi, and California. There is no federal requirement for informed consent relating to immunization. For state and local regulations, check with state health department or our friends at NVIC.org.
Viewers of Vaxxed are already asking on social media:
"What is it with our world?"
"Why all the media attacks on Vaxxed?"
"How many mainstream media channels are out there interviewing people on what they learned from the movie?"
A Vaxxed review by an adult with an affected extended family member: "Someone with a great deal of money and influence doesn't want you to see this, so it's important that you do.
Since I wrote my chapter in TEAM TMR – Evolution of a Revolution, genetic testing has revealed a de novo mutation linked to autism in my son. The mutation is listed as moderate to severe, affecting protein function. He did not inherit the change from either parent. His autism journey would not have been different, despite the 2004 study that didn't link the MMR to autism. But had I known the real results when Thompson and his colleagues first discovered them, not to mention when Verstraeten first discovered the Thimerosal link, I may have considered a different choice from birth and avoided a stroke and seizures. That is what "they" are afraid of – their lies transforming into involved, informed decisions. Vaxxed brings the scientific fraud, on which hundreds of thousands of parents like myself based their children's healthcare decisions, to the front page. With the film arriving in theaters nationwide, the discussion IS happening. No wonder "higher powers" are trampling the First Amendment. But Vaxxed is very close to being seen nationwide at Regal Cinemas, the second largest theater chain. Thankfully not everyone is BOUGHT.
~ RogueZebra
For more by RogueZebra, click here.