July 15, 2019
Last week we asked you to called the leaders of the Congressional Autism Caucus to add the Autism Policy Reform Coalition  (APRC) Amendments (click here for text of Amendment 1 and Amendment 2) to this year's reauthorization of the Autism CARES Act.
Thank you for all the calls!
But, unfortunately, the amendments are not yet part of the bill. This week we need to get the House Health Subcommittee to understand how important these amendments are to effective national autism policy.
PLEASE CALL YOUR REPRESENTATIVE AND AS MANY OF THE FOLLOWING SUBCOMMITTEE MEMBERS AS YOU CAN.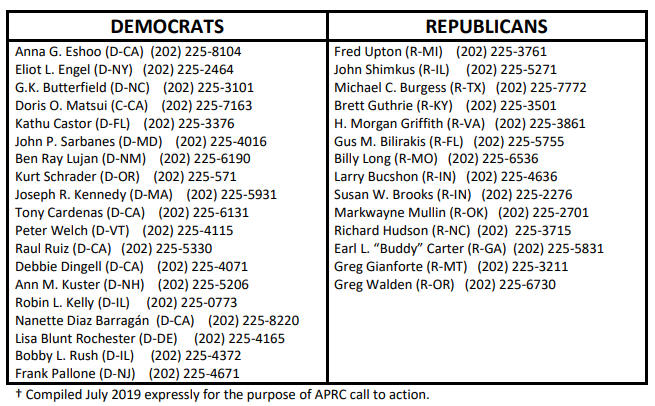 USE THE FOLLOWING MESSAGE:  

Please include the proposed APRC amendments in the Autism CARES Act reauthorization bill. The current language does not work for us as well as it could. The amendments are important to me because ______________. 
---
IMPORTANT TIPS FOR CALLING:
1. Representatives of BOTH parties need to hear from us! The APRC amendments are non-partisan.
2. A rare few people have time to call all representatives. Please call as many as you can.
3. Do not call representatives in the order listed; select them randomly if you can't call them all.
4. To better distribute the calls, consider calling Democrats if your representative is a Democrat and Republicans if your representative is a Republican.
5. Do not forget to call your own representative, even if not listed here.
---
We understand the deep frustration in the autism community, but please be civil with the Congressional staff we are asking for help.
Do not hesitate to call them. They work for YOU!
---
This alert does not expire until passage of the bill with the amendments.
Image credit: Alpha Stock Images – http://alphastockimages.com/