July 26, 2019
On July 21, 2019 the UK news organization The Guardian reported
Technology used to counter violent messages online from Islamic State and the far right is being adapted to counter the spread of "anti-vax" conspiracy theories.
TMR's Crush said what a lot of us were thinking.
---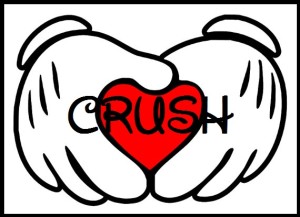 Wow. We must be doing something right.
So let me get this straight . . .
Apparently we are a gang of extremists and terrorists who are so dangerous that we need to be lumped in with Timothy McVeigh and ISIS. I'm pretty impressed considering a few years ago they used to say we were a small minority that wasn't worth even acknowledging and certainly not any threat.
Yes, we look very different; our plans look more like trips to visit our representatives to ask for vaccine inserts to be given to parents, letters to Congress to demand they investigate claims within the CDC of manipulated science, Facebook messages, too, for gluten-free recipes and shared stories of the heartbreak of watching a child seize after their vaccines.
But don't be fooled. We are clearly a threat.
Sometimes, when we are losing our Constitutional rights, we get really feisty and wear matching T-shirts and carry signs that inform the public about the actual reasons we are vaccine-hesitant. And, yes, we even gather together after we have gotten all those pesky permits in place and make sure our signs are the right size to protest legally.
We "arm" ourselves with copies of peer-reviewed studies, load up our minivans with things to keep the kids occupied, and we drive for three hours so we can sit patiently waiting for our allotted two seconds to speak about why we support or oppose a bill.
Our gangs gather on the playgrounds and in Whole Foods just to make sure we can blend in. We devise devious plans to take over the world through encouraging breastfeeding and plotting to make titers and testing for susceptible populations a thing.
And all those pictures of our kids on Facebook slamming their fist into their heads or covered in rashes, obviously a code. It signifies uniting and writing some serious letters to the editors.
You have to look beyond the aborted cell lines, and the faked MMR efficacy, and the billions pharma pays to cover up their lies to see that it's really not about making vaccines safer, recognizing those sacrificed already, or talking about mitochondria, this is really all about trying to blame the poor government agencies–when clearly there is nothing to be bothered by, other than the 1 in 2 children who now hold a medical and/or psych diagnosis.
No big deal.
Sure, our Facebook posts are alarming what with calls to sign another petition, and our Twitter accounts are worse with those sneaky little links back to PubMed where people can read for themselves.
And don't believe we aren't really plotting during karaoke night at our closest autism conference. We totally are! Our goal: Terrorize you into asking questions before you agree to medical procedures. Some call that informed consent and believe it to be part of all those world wide agreements on experimentation, but we just think it's fun to make doctors do their jobs.
I'd keep going because this is rather amusing, but I have to go off to my ten-dollar-an-hour job today because obviously the "empire" isn't as well funded as they proclaim.
Don't worry, after that, it's back to world domination. Get your spy gear in motion Moonpeeps, I'll be back.
Happy Friday, friends. Keep going.
~ Crush
P.S. It's not misinformation when it's the truth.