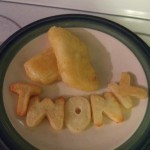 So the other day I'm sorting through the friend requests, adding people who don't look too much like paid pharma trolls, when I come across a picture slogan.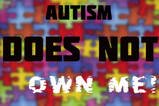 Catchy!  I like it, of course. It screams to me over the rim of my venti sized coffee cup.  Strong!  Defiant!  Determined!  Too bloody right autism doesn't own me.  I'm my own person.  I have my own interests and sense of identity.  Autism DOES NOT own me!…
I mull it over a little more as I glance through the morning edition of the Jellyfish Times, and by the time I've through the latest articles from Age of Autism and VaxTruth I have decided to adopt it as my new life motto.
"AUTISM DOES NOT OWN ME!"
YEAH!
I lay out the supplements in the seven day sorter and put together my youngest son's GFCFSFEF lunch before going upstairs to run him a bath and scrub the excrement from his bedroom walls and floor.  Then I load up the six changes of clothes and underwear, the 'just in case' packet of pull ups, baby wipes, electronic communication device, and volumes of data sheets and set out for therapy.
(Worthless trivia… between home and the therapy clinic we can listen to Send Me On My Way by Rusted Root exactly nine and a half times).
"AUTISM DOES NOT OWN ME",
….I chant under my breath as I smile sweetly at the girl who fed him PINK and PURPLE the week before in the form of jelly beans she had found abandoned in a drawer.  Don't dwell.  Let it go.  What's done is done, and besides…
"AUTISM DOES NOT OWN ME!"
does it.
After three hours of therapy it's time to visit the dentist.  I use my iPhone to keep him calm and distracted as the nurse straps him to a body board and wraps him in velcro.
Things start out relatively well…
"No flouride. Yes I understand why you think it's necessary. No I still don't want you to use it on my child. I have read up on it, thank you",
as always, but generally end the same…
"Yes, he is unnaturally strong.  I have no clue how he wriggles free.  Honestly, he's usually very passive.  No, I don't think you should get a tetanus shot…."
Then back home for ABA, featuring my favourite song…
The A says Ahhh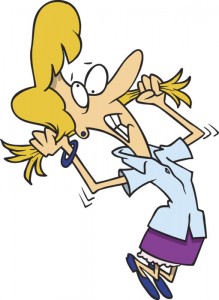 The A says Ahhh
Every letter makes a sound
The A says F**KING AAAHHHHHHGGGGG!!!!!!!
After three hours the therapist staggers to the convertible she purchased as a reward to herself for sticking with such a demanding job.  She's 29 years old and has a bucket list and symptoms of a mid life crisis.  I'm 40 years old and have a F**K IT list and symptoms of early menopause, but it's ok….
AUTISM DOES NOT OWN ME!.
Dinner is a marathon of sensory issues, food allergies and plain old don't like it with two kids who will barely eat and one who would happily chew the legs off the table.  Conversation consists of King Julian impersonations interspersed with random inappropriate dance moves to I'm Sexy and I Know It.  It's the same every day, but the two 'older' boys have mastered the art of loading the dishwasher.  Win!  In your face Autism!!!
And at last there's just enough time to have another quick glance through my Facebook notifications before I open my laptop and as the screen comes to life I see the picture which started my day…
AUTISM DOES NOT OWN ME!
But now it's way past midnight and the night is filled with shrill screeching as he stims alone in his room.  The other two boys are in my bed in the hope of stealing some sleep away from the disturbance.  As I navigate away from my new life motto I think to myself
Who am I kidding? I'm going to need a bigger coffee cup.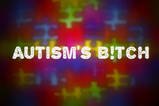 ~ Twonk

* For more blogs by Twonk, please read Do You Remember?