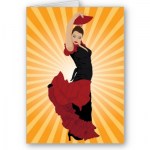 "One downside to being a Thinking Mom: every tiny health problem sets off alarms for huge health issues in our heads. Catch your kid giggling = OMG YEAST!!! Kid pitches a fit from nowhere = clostridia or strep?! Somebody gets tired faster than you think they should = could it be MITO!? One dot on the back = chickenpox/ shingles/eczema/or food allergy??? ARRGG!!! Can't a spot just be a spot? An illness an illness? I'm tired. ~ Blaze"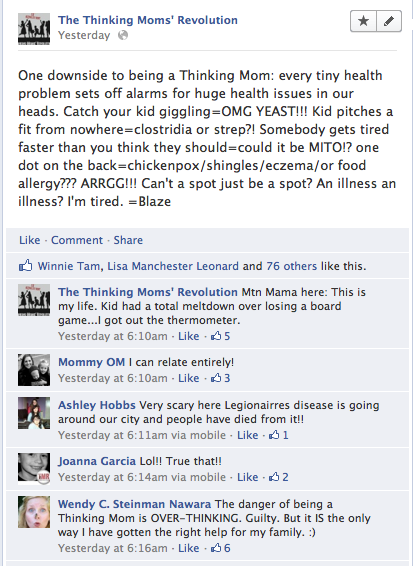 This was posted on The Thinking Moms' Revolution Facebook page Friday night.  How I can relate to what Blaze is saying!  Since my son is still very delayed, I watch his every move.  I don't mean to be such a stalker waiting in the shadows, but I feel like I have to do this.  It's become a habit since he started to slip away and before I was taken seriously by his medical team.  Since I had more of a clue than some of the doctors we saw, stalking my son's development became a habit.  I don't think that habit will break anytime soon because my son hasn't regained enough of his vocabulary back to speak for himself.  I have to stay close by ready to use my words and abilities to help him.  I think every parent, special needs or not, does this.  It's not a bad thing; it just carries a more hypervigilant aspect when the child being watched has autism.
I often stand ready to jump in to assist my son with his feeding, clothing, bathing or toileting needs.  When it's not a physical issue he needs assistance with, and instead an oncoming illness he's about to suffer, I scroll through what feels like pages of an encyclopedia I have stored in my head.  I not only look at what could be bothering him when he's not feeling good, but I also discuss the issues to myself.  Now I'm a walking, talking stalker speaking to no one in particular.
It's not just my son's needs that I stalk. Other areas of his life are being scrutinized, analyzed and discussed in my thoughts. I stalk the phone waiting for it to ring: when is the doctor going to call me back with the lab results?  How long is it going to take to get into that specialist's clinic?  Do I have time to deal with another unpaid insurance claim right now?  I want to be able to concentrate once the phone does ring, but I become pretty much useless to everyone until the call does come in.  I want to be able to ask all my questions AND get every one of them answered.  I need that doctor to give me every detail so I can understand what to expect next. I hope to politely hang up the phone after talking to the insurance company instead of feeling like poking my eyeballs out with a dull pencil. It takes a great amount of patience when dealing with those parts of life.
When I'm not trailing my son's behaviors and conditions in the privacy of our home I take to the streets.  I used to never notice how affected another child was unless he or she was physically disabled.  You can't miss a wheelchair, crutches or an ataxic gait.  People with conditions warranting assistance from medical equipment pepper our society.  But, I'm now on the lookout and see children who suffer allergies, asthma, autism and attention disorders.  They are now everywhere.  I see those children at the public library, at Target and at the park.   Kids covering their ears or having meltdowns in the grocery cart.  They shriek that undeniable shriek that sends every nerve of my body into a tizzy.  Yes, the children who suffer as my son does are cropping up everywhere.
Another place I come face-to-face with how stalking autism has become part of my life is the waiting room.  Any waiting room.  EVERY waiting room.  Even waiting rooms that I sit where patients with autism or learning disabilities are not being serviced.  Doctors' offices I go to for my own health needs – yes, parents bring their children there, too.  I see the dark circles under their eyes.  I witness the sensory issues.  You know those.  They used to be just a little bit quirky but now inhibit typical function.  Other behaviors are rampant in the waiting rooms – ADD, ADHD, impulsivity, defiance. Some of these behaviors occur because the child has lost the ability to control himself while excessively consuming goods pumped up with antibiotics, arsenic and food-dyes in GMO products passed off as food. Yes, I don't have to go too far to see all of this.
With stalking comes the decision:  do I do anything about what I see, or do I slink away?  Do I approach parents who might not have discovered why their child is in pain or why his or her behavior is off the wall?  Do I say something that calls attention to their child's behavior that mirrors what my child displayed in the past?  Do I hope they've read a thing or two about natural living, organic eating and greener cleaning?  Or do I let their thoughts and problems leave my mind and return to focus on my own?
 Every day is full of questions.  Every day brings new concerns while old ones fade away.  I keep an eye out for what my son needs and honor what I can.  I haven't been able to solve all the problems my child has, and I surely don't wish to carry those of another person's child, but I can't help but see how so many children today are affected.  They are affected by what they eat, by what has been injected into their bodies, and by what has been deemed 'consumable' or 'safe and effective.'  Since it's up to parents to keep the children safe, whole and alive until they can do it on their own I will continue to look around and note what I see. Stalking a child's development sounds so negative, criminal even.  Call it whatever you want — lurking, inspecting, investigating.  However it's termed, I just know that I have to be several steps ahead of what my son is going to need so I can provide care, support and resources suited perfectly for him.  So stalk I must, and stalk I will.
~ Mamacita