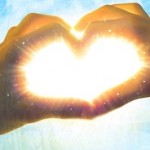 Every school year I go into my son's class to read to the kids. The topic? Autism. When he started elementary school, I hadn't planned on doing this at all, but early on in his kindergarten year, I witnessed an incident that made me take action.
While we were at the book fair one evening, two boys from Rob's class came up to him and kind of got in his face and it happened. They started making the noises that Rob makes. They ran away, came back and did it again. All of this took place right in front of me and his brother. I gently told the kids that it seemed a little like they were teasing and they stopped. We left, and for the rest of the evening I had a hollow empty pit in my stomach. If this was happening right in front of me, what was going on during the school day?
That night I really thought about the situation. These weren't bad kids and I just couldn't believe that they were intentionally being mean. I thought about the WHY of it all instead of what happened. Were they trying to play with him? Was this the only way they knew to engage him? One thing was very clear. They didn't understand him, and I knew then and there that I had to explain to the kids what was going on with Rob. We made the same decision to talk to Rob's brother about autism when he was three, so he understood why his preschool friends played with him and Rob didn't. This was no different.
Once I relayed the incident to his kindergarten teacher and asked permission to come in to read, I had to come up with a book. There are a lot of books out there, but most that I found were very sibling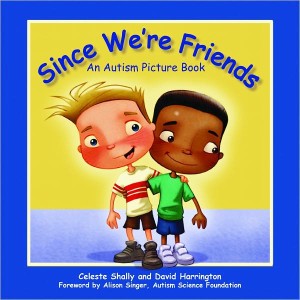 focused, or too lengthy to read to a group of kindergartners. Finally, I settled on the book Since We're Friends, by Celeste Shally. It was exactly the right length and had a simple message. It is about a boy and his friend with autism who lives across the street. The book explains why certain situations are tough for kids with autism, and how someone can be a friend and help when these situations arise.
As I read to the kids, I also explained that Rob likes all the things that they like, and that he feels all the things that they feel and that he sometimes acts different because his brain works in a different way than theirs. I told them that he experiences the world differently and that sometimes he gets overwhelmed by sounds or lights. I told them that he has chores at home just like them, and that he likes to play and swing and run just like them.
I watched it happen while we were sitting there talking. They finally understood. They had no idea why Rob didn't respond when they talked to him. They didn't understand why he covered his ears, why he made noises and jumped, why he didn't play with them in typical ways. They asked questions and I answered. They talked about how much they liked Rob, and how they wanted to invite him to their birthday parties. It was a nice visit with the class, but what was even better was what happened afterwards.
One day at school, another mother from my son's class said to me, "My son talked about the book you read at school. He has done a total 180 with his attitude toward Rob because I think he understands him now. Thank you for reading to the kids."
After that visit to the classroom, the kids became Rob's allies. They helped him, they looked out for him, and most importantly they respected him because they understood his differences but also recognized their similarities as well.
Fast forward to now. Fourth grade. I was asked by his teachers to come in again and read to the class. I had selected different books in previous years, but this time we had to shift the focus a bit. You see, the kids help Rob a little too much now. They care about him, and want to help him, but independence is always a goal. I went back to the old stand-by and read about the boys that live across from each other and talked about ways that they can help Rob without doing things for him. The kids were amazing. Their suggestions were nothing short of perfect (show how to do things, reminders instead of telling him what to do, asking him to join in) but their questions were even better:
Why does Rob's brain work differently?
How do you get autism?
Was he born this way?
Can people with autism get better?
Do you ever wonder what Rob sees and thinks about if he sees the world differently?
Their comments were priceless:
You know, Rob talks to me a lot more and plays with me sometimes.
I think we are more the same than different.
I always look out for Rob to make sure he doesn't get bullied.
Are you going to come in and read to us again sometime?
But my favorite . . . the best thing I have ever heard come out of anyone's mouth is this:
You know what, I think we just need to always believe in our friends. Believe that they can do things.
I am crying a bit just typing that out. Children are just brilliant. They are filled with so much love and compassion, they just need to understand what is going on.  The students don't just need to learn about autism but about all students with special needs.  The kids in Rob's class asked about the students in school that wear hearing aids, what Down Syndrome is and about physical disabilities. The more information they have, the better they can understand, relate to and empathize with their peers. If I had left them to come up with conclusions about Rob, who knows where they would have arrived?
He doesn't like me because he doesn't talk to me.
He is just weird.
He isn't nice because he doesn't say hi.
He ignores me.
We would be looking at an entirely different social situation for him if that is what the kids believed. I am so happy that I decided to open up the dialogue with these students five years ago. This amazing group of kids has added so much to Rob's life, and I hope he has to theirs.
I had the privilege of reading this story to the entire school during full school morning meeting a few years ago.  My neighbor was kind enough to film the reading for me and the questions that followed.
If you are unable to view the video, please click here. Alternatively, copy and paste this url on your browser http://youtu.be/P-e7weNazL0
~ Sunshine 
For more blogs by Sunshine click here.