Bio-Botanical Research Inc. creates professional-grade botanical combinations which may be used as nutritional support associated with intestinal ecology, systemic wellness, and detoxification. They use synergistic combinations of botanicals chosen from healing traditions worldwide for their specialized formulations. There are no artificial ingredients, preservatives, colorings, additives, or common allergens used. Organic and ecologically wild-crafted sources are used wherever possible.
Dr. Rachel Fresco, L. Ac., Ph. D. is founder and President of Bio-Botanical Research, Inc. Since it's inception in 1989, Dr. Fresco has utilized her background in medical Herbology, Naturopathy, and Functional and Integrative Medicine to create natural products that have a significant impact on health and wellness. Her products, such as Biocidin®, have helped thousands of children and adults with chronic and difficult-to-treat infections. Many noted authors, physicians, and laboratories recommend the formulations Biocidin.
Biocidin® by Bio-Botanical Research, Inc. is a potent Broad-Spectrum Botanical and Essential Oil Combination which addresses the G.I. tract and supports a healthy and balanced intestinal ecology. Biocidin assists in addressing yeast, bacteria, viruses, and parasites. It can be used along with any other treatment protocol and may help them work better by breaking down Biofilm and preventing resistance.
In addition to G.I. uses, it may also be used as nutritional support for systemic wellness.  Biocidin® is recommended by leading physicians in the field of Functional and Integrative Medicine who are faced with complex and chronic clinical presentations, including Lyme Disease and Autism.  It provides excellent support in addressing Biofilms. It is well tolerated by children, and it tastes good.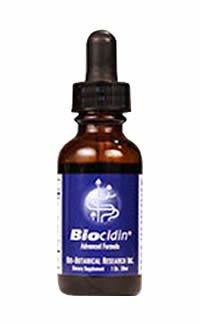 Feedback from parents and doctors indicate Biocidin can be helpful for kids with PANS/PANDAS.
Case 1: Dr. Volpe, Metropolitan Optimal Wellness, NY
6-year-old male with PANDAS, rapid improvement with Biocidin & GI Detox use. Only 4 weeks on the products so far, most of which spent titrating up to maximum children's dose. GI Detox only 3 days out of the week to date.
Tics completely gone. Stool stabilized. Behavioral symptoms largely resolved. Patient's mother wrote to Dr. Volpe to report success. Patient (child) asked Dr. Volpe if he could use GI Detox every day since he feels so much better on those days. She called to confirm. 
---
Case 2: Julie's story
In the summer of 2011 my daughter, Sophia, had an acute onset of PANS. Our pediatrician didn't know what it was, but he prescribed Azithromycin.  My husband and I saw gains, but every time she went off the antibiotics it would come back and often times worse than the initial onset.  Sophia was on and off antibiotics for ten months, and I was in constant fear she would always need them.
In the beginning of 2012, we got the lab results and Sophia was formally diagnosed with PANS by a top PANDAS doctor, Tanya Murphy, MD. At the recommendation of our doctor we continued the antibiotics but added Biocidin.  After a couple of weeks we were able to stop the antibiotic and just continue using Biocidin.  For the first time in eleven months she didn't regress back into PANS.  From that point on, we give Sophia Biocidin if she is exposed to strep or sick.  Knock on wood, PANS has never come back!
---
The Thinking Moms' Revolution is grateful to Biocidin for their Gold Sponsorship of our upcoming FREE online conference PANS/PANDAS: Comprehensive and Novel Treatment Approaches to Heal the Microbiome on April 5th, 2017 9 a.m.– 5 p.m. EDT.
Register for the online conference HERE.
Watch the conference LIVE for a chance to win one of 12 bottles of Biocidin!
Thank you,
~ The Thinking Moms' Revolution
For information on all the sponsors of our PANS/PANDAS eConference, click here.