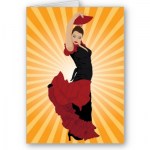 Have you been bullied into getting vaccines?  Cat Jameson, known here at TMR as Mamacita, had a chance to talk about vaccine bullies with Dr. Mayer Eisenstein and Alan Phillips from the Know Your Rights Hour radio talk show. 
I was asked to be on the radio show soon after I wrote an article on how to handle a vaccine bully.  The article, originally posted on Age of Autism, came about after several friends reached out to me for advice.   "I get several phone calls and emails every month from parents asking for help when they see similar headlines in the news.  I get questions like:  What can I do when my doctor isn't listening to me?  Why is my doctor bullying me about this?  What do I say if I don't want all those shots?  What should I bring to the appointment to prove what he's saying about vaccines and autism is wrong?  I let parents know that the best thing that they can, and should, do is to learn as much as they can.  I tell them to be ready to speak up when it's time and to never forget it's their child — not the doctor's, that they are bringing into the exam room.  I also suggest to these parents to read.  Read. Read. Read. Read. Read.  And then read some more.  Knowledge truly is power, and applying that knowledge can be very powerful."
One of our missions here at TMR is to remind people to research as much as they can, to question what needs to be questioned, and most of all, to think.  I relayed those concepts both in the article and on air, doing so in the hopes that the information shared can help people to know their rights.
If you missed the show, find a cozy spot and give it a listen.  Let us know if you've gone face-to-face with a vaccine bully and how you handled t.  Also, if you have some of your own tips that you'd like to share, we'd love to hear them.  Feel free to leave them in the comments section below.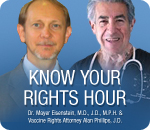 Listen to Mamacita on the Know Your Rights Hour.
In health,
~ Mamacita
Click here for more by Mamacita.