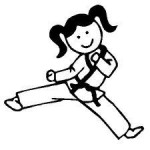 This is a really hard post to write.  Quite honestly, I don't want to write it.  I really don't!  It's likely going to be a controversial post and I could potentially lose friends over it.  It may even be a little over-the-top as far as my Thinking Mom friends go, because it is aimed at a very specific group of people.  I want to specifically talk to my fellow Christians here.  Other people might get something out of this, and I don't want to discourage anyone from reading.  But I am writing this because this is who I am and where I am, and these are the experiences of my personal journeys and life lessons. Please just remember that I am only one of the Thinking Moms, and that the views I express here reflect my personal views and experiences, and are not necessarily the views of the entire TMR family.
It would be putting it lightly to say that I have been through many trials in my life.  I guess you could say that my life is pretty much one giant trial! Losing my parents, my son's autism, my personal breast cancer journey, and my mother-in-law's recent illness and subsequent death are the ones that come first to my mind.  Life can be extremely tough!  But I can say that through each and every trial in my life, the Lord has been with me, and during each trial He has had something to teach me.  First and foremost, He has taught me to depend on Him, and that He gives me strength through every difficult circumstance that I face. He never leaves me! That is by far the most valuable lesson I have learned through my trials.
But there are other things that He has been teaching me. These things are harder and more painful to learn.  They are lessons that I could only have learned through these specific painful experiences and they are lessons that seem strange and are unconventional, especially to my fellow Christian brothers and sisters.  And they aren't very popular in the modern world today.
You see, God has been teaching me some very harsh truths about modern medicine.
Some of you readers out there may have learned these truths without having to have endured the trials.  My hats off to you!  But before my son's autism, I was a hard-core believer in the system… the medical system, that is.  I believed in vaccines.  I believed in doctors.   I believed in the CDC.  I believed in Tylenol.  I believed in prescription meds.  I believed in it ALL.  I trusted in doctors and vaccines to protect me before — so I didn't get sick — and I believed in doctors and prescription medicines to make me well when I actually did get sick.  I believed that pretty much everyone in medicine, from the top researchers, to pharmaceutical companies, on down to the receptionists at your pediatrician's office, wanted to make us all well and keep us all well.  It was all about health and wellness.  And so, I trusted them.  I believed them.  And I handed my child over to them without even thinking about it.  And, appallingly, I handed him over without even praying about it.
It didn't even occur to me not to.
But when my son got sick, that started off a chain of eye-opening events in my life that I believe are God's ways of showing me what is really going on in our world today.  And why I believe it is important that Christians need to take an interest in these things.   First of all, before believing or trusting in anything I say, ask God to give you wisdom and discernment about these things.  James 1:5 says, "If any of you lack wisdom, let him ask of God, that giveth to all men liberally, and upbraideth not; and it shall be given him."  If you want to know truth, if you SEEK truth, God will give it to you.  I have heard Christians say, "Well, I asked God if vaccines were okay, and He told me they are."  To be honest with you, I think that those people are seeking God's affirmation and not really seeking wisdom.  They don't WANT to know the truth about vaccines. They really only want God to tell them that they are okay.  When you seek wisdom from God, you need to be prepared that He might tell you some things that you really don't want to hear.  They might be not only unpleasant but also a big inconvenience for your life.  When you seek wisdom, you have to be OPEN to it.  You might also have to do some research!  In my experience, when I am researching information to make a decision, the Holy Spirit uses that opportunity to either affirm or dismiss what I am reading.  I call those my "lightbulb moments."
Recently, the pastor of my church gave a sermon that was a huge eye-opening experience for me.  The Lord really used the sermon to show me where we, as Christians, are going wrong in our journey to wellness.  Now, I can only imagine my pastor's surprise if he knew the Lord was using him in that way.  His sermon was actually about politics!  He was troubled because so many Christians he meets are looking to politicians to make our country better, and to solve our problems.  Instead of praying and asking God to help us, we are handing things over to men to handle it.  We think if the right man gets the job, our problems will be over.  Man can fix things!  Man can do it! We have dethroned God, and exalted man.  One of the major problems with that is that when we put trust in men, we get only the best that man can do.  If we trusted God, we would get God's best.  Why are we settling for man's best?
Can you see the parallels here?  Here is what the Lord showed me in how this relates to our modern approach to healthcare.  We are given an amazing gift:  a beautiful, usually healthy baby.  God's best, made in HIS own image, created according to His plan.  Genesis 1:27 affirms that we are "created in His own image."   Wow.  Beautiful.  We hold our newborn babies. We coo and ahh over them; we count their fingers and toes, and talk about how perfect and beautiful they are.  Then… we hand them over.  We hand them over to the nurses and we say, vaccinate them.  Go on: inject them with aluminum, formaldehyde, whatever.  (For the CDC's list of vaccine ingredients, click here.) We trust you, you are the experts.  And thank you.
Huh?
Let me ask you a question.  If we are truly created in God's own image, do you not believe that we are given the immune system that God wants us to have?  Do you not believe that He perfectly planned the human immune system?  Or do you think that God was "holding back" on us?
When we vaccinate our children, we are attempting to improve upon the immune system that God has given us.  Plain and simple.  We are trusting that man knows better than God how to keep us healthy.  Therefore, we get only MAN'S best instead of God's best.  So where is that getting us?  We are trading diseases that we once had that were TEMPORARY, such as measles, mumps, chicken pox, rubella, etc, for diseases that are usually PERMANENT, such as autism, ADHD, allergies, asthma, and the countless number of other chronic illnesses that we see today, including increased rates of childhood cancers.  And as the number of vaccinations that each child receives grows, so does the number of chronically ill children (and adults).
What in the world are we DOING?
This problem extends far beyond vaccines.  When we get sick, often the very first thing we do is go to the doctor.  We don't even question it, and when a doctor tells us we need a surgery, or a specific medicine, or procedure, many times we do not even pray about it.  We trust that our doctor knows best and comply without question.  After all, they are the experts, right?
What we are doing is WRONG.  We have lifted the title of "doctor"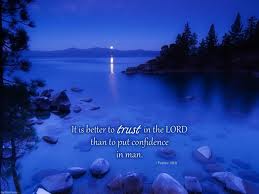 up to a god-like status.  Most times we seek to follow our doctor's recommendations without even knowing if they are a Christian or if they even believe in God.  We trust in the MD, the CDC, the FDA, the AAP, without even considering that anyone could be wrong or could make a mistake.
We live in a FALLEN world, a world full of evil and sin.  Don't believe me?  In Job chapter 1, God asks the devil, "From where do you come?" and the devil replies, "From roaming about on the earth and walking around on it."  I don't know about you, but that reply gives me the heebie-jeebies.  But that is the harsh reality of the world we live in.  The devil is walking around the earth like crazy.  Now, lest you think you can identify him by his horns, pitchfork, and long tail, 2 Corinthians 11:14 tells us that "even Satan is transformed into an angel of light."  Oh CRAP!!!   What does that mean?  That means that Satan is often hiding in things that appear to be good.  Things like tasty food, "life-saving" vaccines, and "healing" medicines.
Just as we live in a fallen world, our medical system has fallen.  Our doctors today are not practicing the same kind of medicine as Luke the physician did in the Bible.  In the early 1900s, our medical system was corrupted by the Rockefellers, the Carnegies, and others who discovered that there was much money to be made from medicine.  They made it their goal to make allopathic medicine the only acceptable medical treatment, and to shut down any natural or alternative treatments that were available. Their goal was to keep people dependent on allopathy and drugs — the big money makers.  A short video I am including here describes briefly what happened.  It's most interesting to note that while this was going on, John D. Rockefeller was putting all of his money into allopathic care, while seeking only homeopathic care for himself.
Please don't misunderstand me.  I know a lot of amazing people that work in our healthcare industry.  Amazing doctors, amazing nurses, and I know there are some amazing medicines that do a lot of good.  I have some great Christian friends that are nurses whom I love dearly.  They are in healthcare for the right reasons.  There is a time and a place for seeking medical treatment and hospitals are indeed necessary in our world. God CAN use medicine to help us.  What I am saying is that we have got to stop blindly trusting the medical industry, and start praying for wisdom and discernment when seeking medical care.  We have to stop reacting in FEAR and start dropping to our knees in prayer and trusting God fully.  We need to actively pray for God to open our eyes to what truly is good for us and bad for us and stop believing that things are good just because the CDC or the AAP say that they are.  The Bible says that all men are liars (Psalm 116:11 and Romans 3:4); so why are we trusting that we are always being told the truth by the "experts"?  Are we blindly trusting in "science" without realizing that behind "science" is a scientist who is also a fallen, imperfect human being?
One of the Ten Commandments is , "You shall have no other gods before me" (Exodus 20:3).  In the Old Testament, you see the Israelites worshipping false gods in many ways. In one way they call out to their false gods to save them in times of trouble.  What I submit to you now is that we have lifted up modern medicine to the status of a god.  That is something we need to repent of, and ask forgiveness, and ask God to show us how to trust him more fully with our health.  When we get sick, pray first, seek wisdom, do some research into some alternatives, pray again, and then go where HE leads you.  And stop blindly trusting fallen man to save us.
That's something only God can do.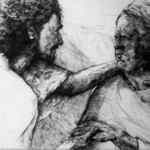 Love,
B.K.
P.S.  For more biblical reasons not to vaccinate, please click here.  For information on aborted fetal cells in vaccines, click here.
For more posts by B.K., please click here.