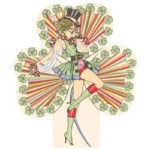 I was never much interested in presidential debates. Four years ago, I was still in the dark about my child's "autism" and didn't see how politics could have an impact on his life. No need to comment on how dumb that was; let's just say things have changed. This year, I find myself texting the babysitter to make sure she is recording them – in HD! I am no longer in the dark about "autism." I am now fully awake and immersed in the fate of my son and his future.
During the second Republican debate that took place Wednesday night, we had our eye on Donald Trump, a "vaccine-aware" candidate, and Dr. Ben Carson, who is on the record as being in favor of vaccine mandates without any personal belief exemptions. The debate was very spirited, entertaining even. Then, right at the end, something happened that no one saw coming – and I mean no one, least of all Jake Tapper the CNN commentator who prompted it: Dr. Carson let the fricking cat out of the vaccine bag.
We have to assume, since we're talking about CNN, mainstream media's lord and master, that the question Tapper posed to Dr. Carson, "Should he [Trump] stop saying that vaccines cause autism?" was meant to derail Donald Trump's assertions with a slam dunk annihilation by Dr. Carson. I mean, who better qualified to dismiss Trump's crazy notion that vaccines and autism are linked, than Dr. Carson – a pediatric neurosurgeon! (Dr. Carson can also be considered an expert on vaccines having just recently resigned from the board of directors of Vaccinogen, which plans to use vaccines to treat cancer. That's a little out of my area of expertise, but I think it's safe to say he knows a few things about the topic.) That wasn't what happened, however. Dr. Carson didn't issue the denial Tapper so obviously desired. In fact, he seemed to be supporting the wisdom of questioning the current vaccine program. The most important thing he said, and the only thing that will be remembered due to the surprise it engendered was this:
This was something that was spread widely 15 or 20 years ago, and it has not been adequately, you know, revealed to the public what's actually going on.

Vaccines are very important. Certain ones. The ones that would prevent death or crippling.

There are others, there are a multitude of vaccines which probably don't fit in that category [like rotavirus, rubella, varicella, mumps, hepatitis B, hepatitis A, and influenza], and there should be some discretion in those cases.

But, you know, a lot of this is – is – is pushed by big government. And I think that's one of the things that people so vehemently want to get rid of, big government . . .

It is true that we are probably giving way too many in too short a period of time. And a lot of pediatricians now recognize that, and, I think, are cutting down on the number and the proximity in which those are done, and I think that's appropriate.
CNN was quick to jump into damage control mode in the hours that followed, only posting clips of his very first statement:
Well, let me put it this way, there has – there have been numerous studies, and they have not demonstrated that there is any correlation between vaccinations and autism.
They seemed to assume, mistakenly, that this was vindication of the vaccine schedule as is, and there would be no reason to worry about the rest of Dr. Carson's expert opinion – incidentally just heard by 23 million people. But, you see, "not demonstrated" does not mean that "the science is settled"; it just means that those studies didn't demonstrate it. There is a difference. Dr. Carson is a smart guy; he meant what he said.
This didn't stop Dr. Sanjay Gupta from attempting to "fact-check" Dr. Carson's comments away, talking about how "dangerous" Dr. Carson's remarks are for the general public. He attempts to expunge them from our minds by opening with a statement said r-e-a-l-l-y   s-l-o-w-l-y so we stupid people can understand – chillingly reminiscent of Elizabeth Cohen's "Some people don't hear this well" response to the CDC whistleblower story in 2014:
There is no connection between vaccines and autism . . . and I'll just pause there for a second . . . because I don't want anyone to think that there are any strings attached to that statement . . . It simply doesn't exist.
Dr. Gupta refers back to his "lower antigen" theory wherein he explains that, because the antigen in many modern vaccines has been reduced to lower levels than that of previous versions and yet autism rates continue to rise, there is no correlation between vaccines and autism. He then quite vehemently says; "In fact, it's the exact opposite correlation."
However, as we previously tried to inform Dr. Gupta via social media during the media measles frenzy last February, this theory (and it is only a theory) is fundamentally flawed. It is well known that when you reduce the antigen, you need a higher dose of adjuvant (a toxin) in order for the vaccine to prime the immune system sufficiently. So I guess you could say that Dr. Gupta is actually providing a good case for correlation between the toxic adjuvants in vaccines and autism.
Also, CNN has conveniently forgotten Dr. Gupta's very receptive interview with another doctor of neurology, Dr. Jon Poling, regarding the government's concession of his daughter Hannah's autism vaccine injury case. For those that are not up on Vaccine Injury Compensation Program lingo, that means that the U.S. Department of Health and Human Services admitted that, yes, vaccines did indeed contribute to Hannah's autism and compensated the family accordingly.  (Hannah Poling was originally part of the Omnibus Autism Proceeding, and you can read a little more about the history of the OAP and the Polings role in it here.) Dr. Gupta could not have been more interested in the details of the causative factors between vaccines and autism in that case, a mere seven years ago.
In the hours and days following Wednesday's debate, the whole (vaccine propaganda) world has gone into a media-frenzied overdrive trying to cover up or erase what Dr. Carson said or discredit his medical credentials and reputation. Seems a bit harsh, doesn't it? A quick read of the American Academy of Pediatrics' (AAP) response the following day gives us a hint at how serious a snafu Dr. Carson created. The AAP went so far as to claim that Carson made "false statements," stating categorically that it is "a danger to public health" to make such claims. They confidently declared that there is "no alternative vaccine schedule" and that "vaccines work, plain and simple." Okey dokey, then! Guess Dr. Carson should go back to medical school, or vaccinology school or something.
There were also a slew of published media reports online, not least by the New York Times who published no less than three rebuttal articles to the Carson Crisis in one day – here, here and here.
No need to analyse those (though for fun, you  could check out Professor's comments on the "bullshit" being spread by the New York Times on TMR's Facebook page); more fact shaming, more "debunking," more incredulity at the remarks of this now-famous pediatric neurosurgeon. Unsurprisingly, Dr. Paul Offit, the vaccine industry's favorite apologist, was yet again rolled out to comment. Usually I'm really irked at articles where he is quoted (because it's usually the same deliberately misleading opinion points), but this time it seemed like he was really scrambling to defend his idolatry of the vaccine industry – to a pediatric neurosurgeon who had doubts about it – and I found it highly entertaining. But that's just me.
Last week's debate elevated our community once more to the consciousness of the masses. It reminded us to check in with our SB277 warriors to see how they are holding up. It reminded us to get back in touch with our reps to remind them about the CDC whistleblower and the congressional hearing we're waiting on. It reminded us that the fight is still worth fighting, and we are not giving up.
Levi Quackenboss summed it up perfectly  in a rebuttal to the Huffington Posts' "If you even talk about the vaccine debate you give it credence" article:
It has never– ever, ever, ever— worked in the media's favor to shove vaccine propaganda down readers' throats.  Each time you run vaccine propaganda disguised as news even more eyes are opened to why this is even a debate in the first place. . . .  So you, Arthur Delaney, are just as guilty as the CNN moderator, and for that I want to thank you.  You are your own biggest enemy.  Keep up the good work.
To Dr. Gupta and anyone else listening, I say
. . . and I'll just pause here for a second . . . because I don't want anyone to think that there are any strings attached to this statement . . .
We will not relent.
Hear this well: We will not give in.
We will always be here protecting our children from the will of Big Government – because we believe in the freedom afforded to us by the Constitution of the United States of America that the next President, whoever that may be, will be sworn to uphold. Plain and simple.
~ ShamROCK
For more by ShamROCK, click here.