January 18, 2016

It's been so crazy around here, we didn't even get a chance to properly publicize our own book release! But here it is (two days late), the hardcover release of TEAM TMR's Evolution of a Revolution! 
Rebel, one of the book's authors, had a few words to say about what writing this book meant to herself and the others whose stories are contained within it and what she hopes it will mean for other parents of children with neurological disorders.
---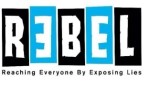 It has been such a privilege to be a part of a group of autism moms who share the same passion as I do. We all come from different autism journeys, and the information we have been able to share with each other has been invaluable. Writing this book has given us the confidence to share the TRUTH about vaccines. We have been able to brand ourselves, which has led to many more opportunities to grow our movement and recover our kids.
With the rerelease of our book, many more parents will be given hope that their sons' and daughters' developmental delays can be addressed. They will learn the what, why, where, and how of our movement. The connection of the immune system, gut, and brain will made.
YES, WE CAN!
~ Rebel
For more by Rebel, click here.