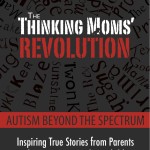 A non-practicing doctor for over a decade continues to call herself an OB, cherry picks, misrepresents, and maligns an excellent book (The Business of Baby) and author, Dr. Jennifer Margulis.
Why do I care? My daughter is adopted. I don't have a personal stake in the right to home birth discussion. But any time a woman tries to take choices away from other women — reminiscent of Phyllis Schlafly — we Thinking Moms should all be concerned. And we should collectively respond.
You may know who I'm talking about:  Dr. Amy Tuteur (retired). Yes, most physicians put retired after their name to indicate that they no longer have a practice in order to alleviate confusion. Dr. Amy Tuteur (retired) refuses to do so, but Thinking Moms who research credentials will not be misled by egocentrism.
Dr. Tuteur (retired) is a former obstetrician who let her license lapse in 2003, according to Slate. This is important since renewal for obstetrics is rigorous, and Dr. Tuteur (retired) has not practiced medicine in over a decade.
There have been many clinical trials published and medical advancements since Dr. Tuteur (retired) stopped practicing. It appears that instead of taking up a hobby like golfing, Dr. Tuteur (retired) spends her twilight years trolling the Internet leaving nasty comments on other people's blogs. Due to the prolific number of posts and how quickly she is able to respond, there is considerable conjecture that Dr. Amy Tuteur's posts may not be from just one person (Editor's Note:  Sound familiar?).
Dr. Tuteur (retired) has cast her eighth-grade rudeness in such a wide net that anyone who disagrees with her paternalistic view of allopathic medicine is open to insult and ridicule. She attempts to discredit anyone who suggests that women should have a choice on where to give birth to their child. She slams Thinking Parents who choose to delay or forego vaccines. "There is no debate; there's only pathetically ill informed people vilifying the greatest public health advance of all time," Dr. Tuteur (retired) wrote in one typically hyperbolic and inflammatory blog post, calling people who delay or forgo vaccines "killers."
There are so many smart, well-educated, thoughtful, hard-working, interesting people on Mrs. Tuteur's most recent hit list that to be attacked by Tuteur is becoming a stamp of approval. (Editor's note:  Again, sound familiar?) On Friday she decided to go after award-winning journalist Dr. Jennifer Margulis.
Books by Dr. Amy Tuteur (retired): 1. Written in the last century. With three Amazon reviews.
Books by Dr. Margulis (edited, co-edited, authored, co-authored): 5.
Amy Tuteur puts having an undergraduate degree from Harvard to shame. Instead of arguing the issues, Dr. Tuteur (retired) resorts to name calling and smearing other accomplished women.
I take exception to her calling Dr. Margulis an "anti-vax clown." For one thing, Dr. Margulis said publicly just a few weeks ago on NPR that, though she has deep reservations about the current vaccine schedule and there is a growing body of scientific evidence that America's vaccine schedule is harming our children, she is in favor of vaccines, has herself been vaccinated, and has chosen to vaccinate her children.
Dr. Margulis is a magna cum laude Phi Beta Kappa graduate of Cornell University. She was accepted for graduate school at Harvard University and the University of California at Berkeley (she turned down Harvard to go to Berkeley). After earning a Master's there, she spent three years doing development work in West Africa and worked in corporate philanthropy in the United States. As the small-project coordinator for Africare/Niger, Margulis built a hanger for handicapped artisans, directed an off-season gardening project with hundreds of rural women, spent two weeks in the bush interviewing very poor women about their health and the health of their families for a needs assessment, and worked on a child survival campaign. She was invited to speak live on prime-time TV in France to talk about the problem of child slavery. Her writing has appeared in so many magazines and newspapers that I couldn't list them all, including the New York Times, the Washington Post, and on the cover of Smithsonian magazine.
Jennifer Margulis is also a former Fulbright Scholar, one of the most prestigious award programs in the world.
Oh, and did I mention Jennifer Margulis has a Ph.D.? From Emory University in Atlanta. And four children? And is part of an astonishingly intellectual family that includes at least one Nobel Prize winner (her uncle), a microbiologist who changed our understanding of evolution and whose name is in every Biology text book in the world (her mother), and the former head of the Math department at MIT, who solved several unsolvable problems?
So why does Amy Tuteur think Jennifer Margulis should be included in the "natural childbirth hall of shame?" Her biggest indictment of Dr. Margulis is that Dr. M has no credentials (see above). Her second reason for freaking out? The Business of Baby received two bad reviews.
Cherry-picking her information and ignoring anything that does not fit her point of view — as Amy Tuteur does every time she writes about childbirth, vaccines, and even breastfeeding ("There are real benefits to breastfeeding, but they are tiny," Mrs. Amy wrote on April 6, 2012) — Tuteur does not point out that the majority of the reviews of The Business of Baby have been excellent. (Of the 94 reviews on Amazon, 56 are 5-stars; 28 are 1-star — many of which were written at Mrs. Amy's request to her blog readers. One such 1-star review reads: "Best use for this book? Shred it and use it for your hamster.")
Holly Scudero of The San Francisco Review of Books gave the book five stars:
This is a book that more people need to read, whether they have children or not. Knowledge is power, and it's only through more people knowing the things detailed in The Business of Baby that anything will ever change.
Steve Weinberg of The Houston Chronicle:
Investigative journalism is, by its nature, about findings that go against conventional wisdom. Many investigative topics, however, are unsurprising. Do greedy entrepreneurs run filthy nursing homes for the elderly? Unfortunately, and unsurprisingly, yes. Do factories that turn cattle and chicken into meat for supermarkets use adulterated products, unclean equipment and underpaid, undertrained labor? Unfortunately, and unsurprisingly, yes.

Much of Dr. Margulis' exposé, though, feels surprising.

Pregnancy and childbirth and infant care seem like they should be out of bounds when it comes to greed and corruption. There is no harm in physicians and hospitals and providers of baby products earning a profit. But unconscionable profits, particularly when the health of the unborn, infants and mothers might be harmed?

In addition to its investigative aspect, "The Business of Baby" qualifies as a parent guide. In easy-to-read, nontechnical prose, Dr. Margulis shows how to avoid safety traps and greedy sales mongers.
Dr. Margulis was recently in New York City. Why? Because the very same book that Dr. Amy Tuteur (retired)'s followers want you to shred for your hamster cage was nominated as one of five finalists for the prestigious Books For A Better Life Award.
Why was it chosen out of 500 submissions, I wonder?
Maybe because The Business of Baby is a book that will change your life. For the better.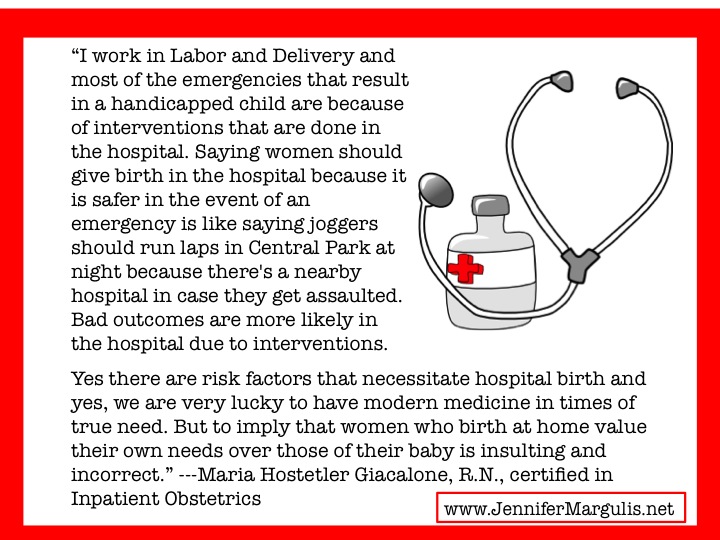 Dr. Margulis really seems to have gotten Dr. Amy Tuteur's (retired) goat. AT concludes her nasty blog with: "Jennifer Margulis has gone from journalist to joke, because of her endless stream of nonsense. Perhaps if she spent more time learning science, and less time worrying about me, she wouldn't be one of the leading candidates for a spot in my Natural Childbirth Hall of Shame."
I snorted my herbal ice tea out my nose when I read that. In fact, it is Dr. Tuteur (retired) who needs to spend more time in the actual field of science and less time personally attacking accomplished women who are working hard to make positive changes, to promote safe childbirth, and to champion safer childhood vaccines.
I could not find any clinical trials that Dr. Tuteur has conducted.
She is not affiliated with any medical institution.
She is no longer even practicing medicine.
I could not find any peer-reviewed journals that show how she has arrived at her bogus "scientific" conclusions (that breastfeeding is of little benefit, that home birth is unsafe, that women who have drunk too much are at fault for being raped.)
Luckily, Thinking Moms are not so easily duped. We research, we study, we read extensively, and we educate ourselves beyond our degrees to become the best moms we can be. We live in the real world, not on the Internet.  We make informed choices, beginning with choosing where to give birth, and we recognize that the decisions we make for our children determine how healthy they will be, and what type of people they will become. Nice try, Amy. But we will not be subjugated, intimidated, or made to feel disempowered by a schoolyard bully.
This particular schoolyard bully and her minions are strangely obsessed with Dr. Margulis. It appears that Dr. Tuteur (yes! retired) is everywhere all at once on the Internet (even trolls need a potty break and time under their bridge). (Editor's note:  Again, sound familiar?) She lurks on Facebook pages then posts blogs when she gets a tasty morsel to chew on.
Spit it out, Dr. T (retired)! I eat trolls for breakfast.
Jody McGillivray is a Thinking Mom dedicated to providing the best care possible for her daughter diagnosed with autism. She is a former K-12 foreign language educator and a volunteer autism legislative insurance reform advocate. She connects with families in states that do not yet have autism insurance mandates, especially for Applied Behavior Analysis, the most research based and effective form of autism treatment.