As some of you may know, I recently wrote about my experience at the Super Spartan race. I spoke of how I thought of each of you who walk in my shoes. I thought of our children and all they endure. It was the strength I needed to get through the physically exhausting race.
On October 20th, I entered my second challenge. I was a participant in the Tough Mudder challenge. It is a twelve mile obstacle course where you are not only challenged physically, but also forced to overcome the mental aspects of the race. 
The Tough Mudder supports the Wounded Warriors cause, and much of the course was designed to resemble the conditions that our military men and women face. As I approached each obstacle, I thought of how difficult this must be for them. After all, I would complete this challenge after 12 miles and then be able to put on dry, warm clothes, get a nice hot meal and laugh with my friends in safety and comfort. They don't get that option. They must go on. 
As before, each obstacle reminded me of something I had to overcome after hearing of Nicky's diagnosis. I crawled through muddy water and was electrocuted. I thought of the shock to my system and the jolts of pain I felt when he had a seizure. It was as if I was convulsing with him. Every muscle in my body was tight and exhausted. I thought of my baby feeling scared and helpless and it helped me to push through. 
I ran until my body was hot and sweaty and then dove into an ice filled tank. It was as if someone hit me in the chest with a sledgehammer. I couldn't breathe. I was suddenly sitting in the hospital chair again as the pediatric neurologist said, "Your son has autism". Same feeling. Same pain.
I scaled the walls and pulled my tired legs out of thick mud that was up to my knees. I was sinking. Sinking like I had once sunk in despair. I pulled and crawled and fought to get to solid ground again. I thought of my journey to stop the self pity and fight to help my son.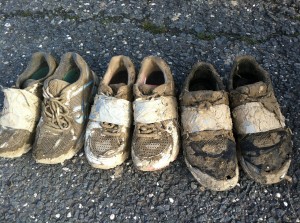 My greatest challenge was to crawl through a tunnel (a very narrow tunnel) underground. I slid in and at that point there was no turning back. The only way to get out was to crawl forward. Let me quickly tell you all that I am EXTREMELY claustrophobic!!! The second I slid in, my body tightened, my heart started racing, and the walls of the mud tunnel started to close in. I started to think of how I focused on the light at the end of the tunnel when it came to Nicky's recovery and I quickened my pace. My breathing became heavy as I clawed my way towards the light. HOLY SHIT!!!!! …..a turn. There is not light in sight. It reminded me of each setback. It reminded me of that awful feeling like I was lost in the dark. I began to panic and the tears were now rolling down my face. I began to scream "Please get me out of here…..please". I felt helpless. I felt trapped like our babies are trapped in their bodies. I heard a man's voice behind me, "don't look back sweetie. Close your eyes and just keep going. I'm right behind you." This was a stranger. It was a man who sensed my fear and panic and offered support. I thought of my TMR family and crawled faster. Another F'n turn. SHIT!!! Please no more!!!! I was in full panic mode. He just kept reassuring me. "It's ok. You're almost there. The end is in sight. See the light?" At that point, I rounded the last bend and saw the sun shining about 25 ft away. I clawed and pulled and made my way through. I thought about what this stranger said, and it couldn't have been more fitting for what we fight for each day. The end result…….the light at the end of the tunnel…..what motivates us each day to move forward and never look back……we fight and crawl to get to recovery. When I emerged, I sat in the mud and sobbed as my friends, the stranger, and some Mudder staff gathered around me to slow my breathing. I was hyperventilating and uncontrollably sobbing. I pulled it together and moved on. That obstacle made everything else seem easy.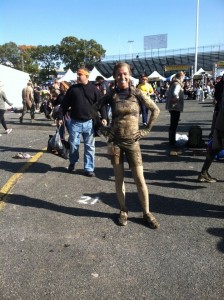 A part of the challenge included "the mud mile". It was set up on a dirt bike race course, so it was hills and lots of ditches filled with mud. It was very difficult physically. Climbing up the slippery mountainside and then falling into cold muddy water only to, once again, have to crawl out, made this challenge difficult to finish alone. It was all about teamwork. We helped pull each other up. Once you made it to the top, you would turn around and reach for someone behind you and pull them up. They, in turn, would then do the same for someone else. It was beautiful to see strangers helping each other. It made me think of all of you. The parents who read our blogs. The parents we may never meet, but are with us on this journey. The parents who refresh my faith in humanity. 
As I was running over a hill, I looked to my right and saw a group of six men pulling their friend through the mud. They pulled, lifted, pushed and fought to move him inch by inch. They were amazing. You see……their friend was in a wheelchair. They were completing the challenge with their paralyzed friend. I was completely overcome with emotion. The look on his face was of both despair and appreciation. A look of helplessness but also hope and determination. It made me think of our kids. They count on us to pull them through. They are counting on us to keep fighting for them and tell them there is NOTHING that is impossible. I then looked at his friends again. Their eyes were bright, bodies exhausted as the sweat was pouring off of them. I thought of my friends….my family….my Thinking Moms and I was proud!!!!!!! We do that every single day. We help pull our kids out of the thick mud that is autism. We fight for our kids and nobody will ever be able to convince us that we can't cross the finish line. We will prevail!!!!!!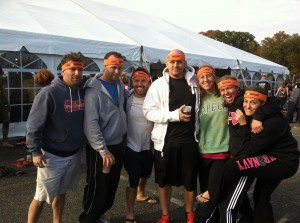 One of the last challenges was "carry your fellow warrior". How fitting. My friend had been cramping badly for the last 2 miles. "Hop on Shar," I said to her as I carried her on my back. Again, I thought of all of you. I thought of how we carry each other when someone is feeling like the journey is too much to bare. We carry those who are in need at that time. I walked with her clinging on to me and then saw a sign that said "switch." Again…how appropriate. We switch all the time. Today I may carry you……tomorrow you may carry me. We are always there when the chips are down.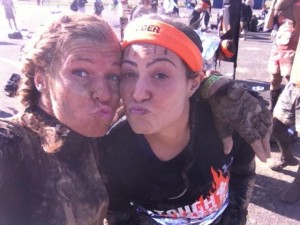 I ran through the finish line and once again felt like I had pushed myself to the limit. I felt one step closer to the ultimate finish line….the finish line to recovery. I can see my son standing there…smiling…waiting for me as I run faster and faster towards him. I'm coming Nickybear. I'm coming!!!!!!!!!!!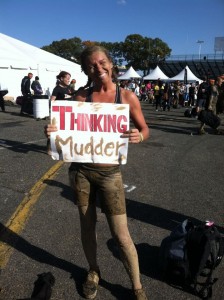 Love,
Mamabear
To read more blogs my MamaBear, Click Here.