February 5, 2017
Hello, my name is Lucia Alonso. I am the mother of a child who is 11 years, full of life and dreams that I, as his mother, have taken as my mission in life to make a reality.
My son was diagnosed with autism at the age of two. With that autism diagnosis came many things, many questions and many obstacles we have had to find our way through. For many years I have been praying for my son to find his way in life, to find something that he could be passionate about, something he was willing to work hard for and, most of all, enjoy. This blessing finally came in the form of swimming.
Alex Discovers the Joy of Swimming
I still remember the day I wrote the Special Olympics to ask if he could join their swim program. Boy was I sweating and shaking writing that email. I was terrified to even go near water with him, but I decided to take a leap of faith and see what could be possible. Walking into the swimming pool that first day I felt my heart rising faster than ever. It was something so powerful and scary all in one. My son was very nervous too–and scared. Water before that day was not something he wanted to be near. We both cautiously walked around the pool to join the other children and instructors. As we walked I cried and prayed for a miracle. A few moments later the kids were paired with an instructor, and they had to walk into the pool. It took my son what seemed an eternity to put one toe in the water. I cried as I watched and kept praying that he would give the water a chance; 15 to 20 minutes later, the miracle I had prayed for became a reality. He walked into the water and never looked back.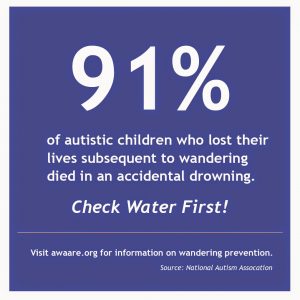 I watched in disbelief, in tears with my heart trembling with joy, immense pride, and a peace of mind knowing my son would now be one less child with autism who could potentially lose his life to drowning–as we have all watched happen time and time again.
The six weeks of the program flew by in no time. I was eager to sign him up for his second season only to find out the Special Olympics only has swimming for one season. And now we were standing there wondering what's next for our son. We had finally found something besides electronics that our son is passionate about and we had to continue to pursue is, but where was the question. That following week I called every swimming pool in our area to see if they had any classes starting soon.
Finding a New Swim Program
I must have called over 20 places until I found one that seemed perfect for us, the Aquatics Center at Mt. Hood Community College. As I spoke to the woman on the phone I couldn't contain my excitement, I told her all about the Special Olympics and how my son had conquered his fear of the water and was now loving learning to swim and had dreams of becoming a diver and going to competitions. She walked me through the registration process and my son was to start a group class that following week. We wrote his new swimming schedule on his calendar and eagerly waited for Monday to come.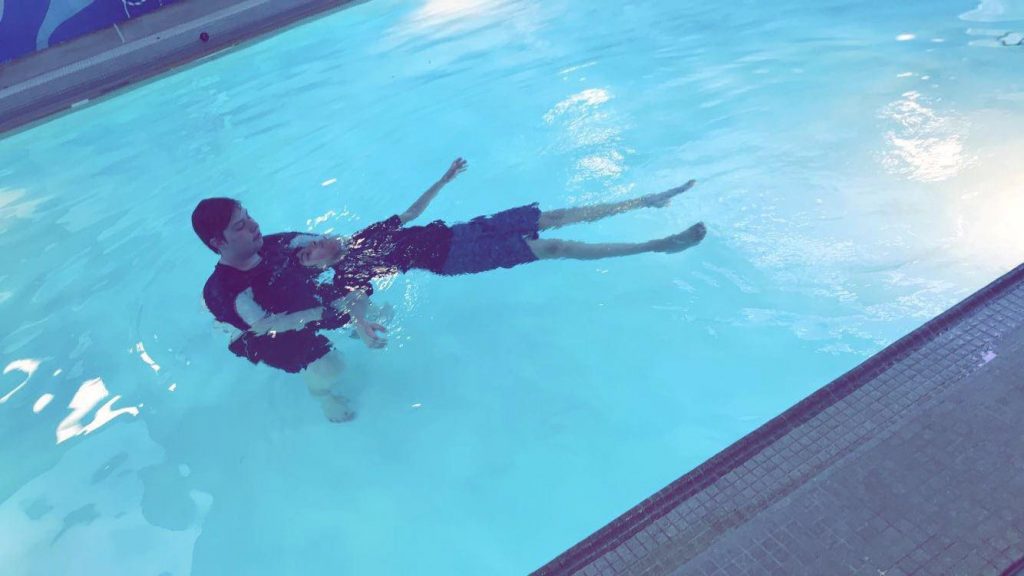 Monday, November 6th came, and we drove to his first class at a new place with new people and many hopes and dreams in our hearts. Alex was nervous but so excited as well. He wanted to see who his new swim buddies were and meet his new teacher. We had been preparing him the days before so he knew exactly what to expect. I took a few seconds before class started to tell his new instructor a little bit about him, what he could do, and what he had learned at the Special Olympics. I also told him what his diagnosis was, and off they went. The class was scheduled for 45 minutes, 45 of which my son was asked to stay in a corner, not let go of the edge of the pool. For 45 minutes he was asked to blow noses bubbles and nothing more, all while the other two children actually were getting a lesson. My son repeatedly asked to swim as well, only to be told time and time again to stay in the corner and blow nose bubbles.
I cried the whole time, and this time it was not happy tears. I knew and felt something wasn't right, this just didn't feel right. At the end of the class, I approached the instructor and asked for advice on how I could help my son prepare for next class. This is when it all started to go downhill. He instructed me to go to the front desk and speak to the assistant who would give me more information regarding future lessons. As I walked with my three kids to the front desk, my heart was beating so fast and my hands were sweaty. I knew something was very wrong.
They Eject My Son Because of His Autism
I asked for the assistant. She started off with, "We feel that your son doesn't fit in well with the class."
I asked her to be more specific as I didn't understand how she came to that conclusion. She told me that the other two children were just too advanced for my son. I then asked her to confirm if I had in fact signed him up for their beginners' class. She confirmed that, yes, it was the beginners' class, but maintained that it wasn't a good fit for us and that we couldn't come back on Wednesday for the next class.
I told her that made no sense to me as my son was a beginner, and he was being asked not to come back to accommodate two other, very advanced, swimmers. She then explained that those boys were in that class because it fit their mother's schedule better and because they had no other beginners. She mentioned they needed 2-3 kids to make a class worth their time. I then offered to sign up my other two kids for the class if all that was needed was more beginners. She asked me for their ages and said, yes, they could join and come to class on Wednesday, but my son just couldn't come back.
At this point I knew exactly what was happening, so I asked directly, "Can you please be honest with me and tell me why my other two kids can come, but my oldest can't?"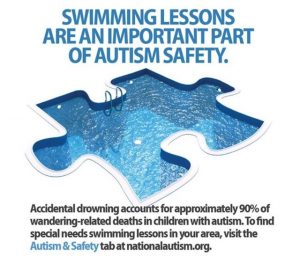 She got closer to me and said, "Just between you and me, the instructor doesn't want to teach him because he has autism."
At that moment I felt my heart break into a million pieces all over again, just like the day I heard those words, "Your son has autism"–the same pain just a different day. I felt as though my body was paralyzed, I couldn't speak, I couldn't believe what I had just heard. All I could do was cry.
I grabbed my kids and left. Thankfully, a friend was with me. He drove us home as I couldn't really function after that. I cried for hours nonstop, I cried because the pain was soo much. It felt like physical pain. My chest hurt–it felt tight. My eyes were swollen, but I just couldn't stop the tears from coming.
We Don't Accept The Discrimination that Violates Their Own Inclusion Policy
I knew I needed to do something, but I just couldn't put my pain into words. I asked a friend to help me as I just couldn't do this alone. It took both of us to put a letter together: I spoke, she typed. We sent a very detailed email to the president of the college, the dean, and the aquatics director.
The next morning I received a phone call from the college. Five people were on the phone. They apologized for what happened and told me they would start an investigation regarding my son's discrimination case. They asked what I wanted, and I said, "I just want my son to swim–nothing more, nothing less." They promised to get back to me with the name of a new instructor and a time for classes. They quickly got back to me with a new class schedule and once again told me they would investigate.
Going back a few days later was very hard, not just for me but for my son as well. He'd heard every word that woman had said to me, so he was nervous about going back. I assured him things would be better this time. I hoped I was right. As we walked in we were greeted by his new instructor, the dean of the college, the disability department director, and the aquatics director. The first question my son asked was, "Where are the other kids? Why aren't there any kids here?" He didn't know he had been assigned to private lessons now. He loved having the other kids around and many times used them as motivation to swim like them.
It's been almost three months since this happened, and the college finally got back to me with their investigation findings, which let me tell you are nothing to be happy about. According to them, because my son was later paired with a different instructor, they found that they did nothing wrong, no laws were broken, no discrimination happened. Nothing. They claim there was " no violation of reasonable accommodation."
Ah, excuse me, my complaint was discrimination based on his disability, which was the reason I was asked not to come back to class. They said autism was the reason we couldn't come back, that their instructor wouldn't teach a child with autism; that is what they did wrong.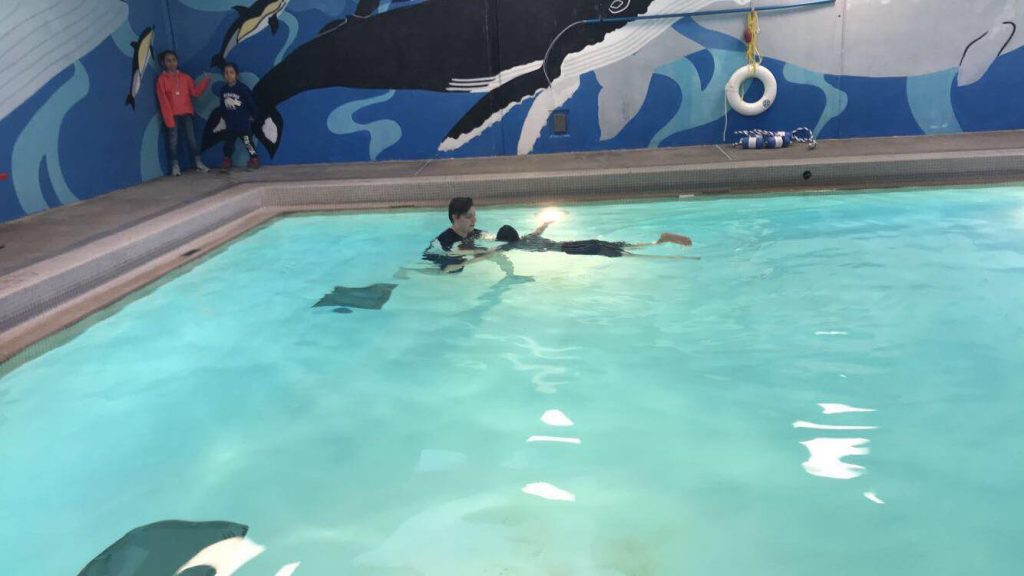 My son just wants to swim. He wants to swim with other kids just like his sister and brother could do, so why not him? I am appealing the college's decision, but I still need support. Today I ask that anyone reading this help me and my son by emailing Debra Derr, the President of Mt. Hood Community College, at [email protected] and tell her that what they did is not okay, not going to be tolerated, and will not go unnoticed.
Please share this post and ask others to help too. For you, it will just take a few seconds out of your day, but for us it could mean my son will get his chance to be a part of something–a part of a group and maybe even a part of a swim team one day, which is his dream. Last night we took him to watch Swim Team, the movie, and all he can talk about now is being part of the swim team too, going to competitions and getting medals just like the boys in the movie.
From one determined autism mother to another, I thank you for your time and hope you find it in your heart to help me make my son's dream come true. After all, shouldn't we all have the same right to just do what makes our soul happy?
~ Lucia Alonso