The alarm clock goes off. It is 5am. I get out of bed and make my way towards to bathroom for my usual morning routine. Today is no ordinary day though. Today I will push my body to the limit. I will attempt to prove to myself that there is nothing a mom can't do if she puts her mind to it.
I have to admit, I prepare with trepidation. I know that if I fail I will be disappointed with myself in a very deep way. I can't fail!!!!!! I won't fail!!!! 
I get dressed and remove my jewelry, only keeping my crucifix ring on which has not left my finger since the 8th grade. I tie the laces on my sneakers tightly and take a deep breath as I head downstairs. No coffee this morning….just water and a banana. 
My friend arrives and we head towards Mountain Creek. We joke and laugh along the way, but we both know that our day will be tough and begin to mentally prepare ourselves by discussing certain strategies. When we arrive, we are bused to a large lot where we are given our numbers and our bodies are stamped with our age and a Spartan mask. 
As I stretch, I think about the 11 grueling miles ahead of me. I think of the 30 difficult obstacles. I think of the uphill climb which seems impossible. I think of the treacherous run through the woods. I think of the cold water I must swim in. Just as my mind starts to wander into the "WTF are you thinking"  territory, my heart takes over again. I close my eyes and think…… "You've walked a million difficult miles. You've scaled mountains and you had many years that were nothing but uphill. You've overcome countless obstacles. You are a warrior mom. If you can challenge Autism, you can do anything". 
I took a deep breath and thought about the countless moms I carried in my heart. The countless kids who I fought for and would never give up on. I thought about my 3. My sun. My moon. My stars. I am ready. 
When the gun went off, I ran full steam ahead. The first mile was fairly easy, but then the steep incline began to get the best of me. My calves were cramping and I was reminded of how much abuse my knees have taken over the years. I climbed and continued and was starting to think that I was nuts to think I could finish this race if I was dying out on mile 2. I made it to the top and ran the next 2 miles or so through the woods. Jumping over fallen logs, avoiding roots and branches, running through mud and dirt was what was challenging in this part of the race. I was feeling good about running. Running has always cleared my head. I thought about my kids…I thought about all the Thinking Moms' kids….I thought about YOUR kids. I was running with ease.
As the obstacles began to appear, I took each in stride. I scaled the 12 ft walls with ease as I thought about the first time I learned of Nicholas' diagnosis. I crawled through the sharp rocks and mud and thought about the shit I had to crawl through to get people to listen to me talk about recovery. I thought about letting myself go and allowing myself to think in a different way, as I dove off the 23ft cliff dive. I climbed the ropes, dove under boats, dragged concrete blocks uphill and back down, pulled up heavy weights on pulleys, flipped truck tires, and carried sand bags on my shoulders up hill…. And thought about the kids. Always on my mind. Always knowing that what they endured each day was so much more difficult than any of this. When I entered the last 2 miles, my body was aching. My elbows and knees raw and bloody, my legs cramped, my shoulders and back twitching and I was extremely dehydrated. I still had quite a few obstacles ahead of me and I was ready to give up. I saw people off to the sides vomiting, crying, rubbing their legs to try to relieve the cramping and a few walk off and say they could take any more. I paused and this time thought of my Thinking Moms. I thought of each day I would read about someone's difficult situation and watch the comments pour in as everyone came in to lend a helping hand, offer a kind word and say "I love and support you". They were there. They were lifting me up. They were cheering me on as they had so many times before. 
I ran…….and ran……and ran. My final obstacle was to jump through fire. Funnyhow it was the last thing I had to do. I have heard myself and so many other moms say how we would jump through fire for our kids. It was a perfect ending to my challenge. I jumped….and I ran through the finish line. I was officially a Super Spartan!!!!!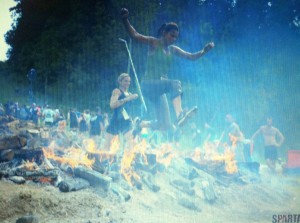 I caught glimpse of my reflection on the glass window of the lodge and saw my muddy, battered body. I was exhausted and looked so defeated. In my heart though…I was stronger than ever before. 
I thought of all of you again. We may appear tired and defeated, but deep down inside burns a fire that is unequalled. We are warriors. We are Spartans. We are parents who fight every day for our children. We endure pain, overcomeobstacles, face our fears and jump through fire on a regular basis. I am so proud of each and every one of you who walk beside me on this journey. I thank you forcarrying me when I need you to. I thank you for being with me every step of the way through my Spartan race, but more importantly for being in my heart each day when life's real challenges appear.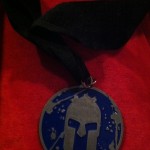 I limped up the steps leading to my backdoor. My kids greeting me with hugs and kisses despite my wet muddy clothes. I handed Lexi my Spartan shirt, Eric my medal and Nicky my battered race number. My daughter looked at me and said "I am so proud of you mommy. You did it".
I did it. I will continue to do it……every day, and I'll carry each of you with me in my heart.
I AM WOMAN. HEAR ME ROAR!!!!!!! 
Love,
Mamabear
To read more blogs by Mamabear, Click Here.