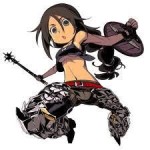 When it comes to researching biomedical therapies for autism, I should have my Google PhD right now.  I've tried many things with the hope that whatever it was would prove to be the magic bullet for us.  And I always promised that if I did find something that was helpful or useful for my son, I would share it far and wide with other moms and dads in the autism community.
So what's gotten me so excited that I have to share with all of you? Drum roll please……. Coconut oil!!  I have to say, I'm loving the stuff and how it seems to be making a major impact on my son's overall health. It's been especially helpful in controlling my son's seizures.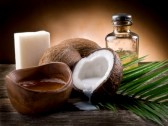 Along with SugahTMR, I've been researching ways to enhance or increase my son's neurotransmitter function and have been really interested in the concept of Functional Neurology.  I've always had coconut oil in the back of my head as something I really need to look more closely at, especially for brain health.  I've cooked with it in the past, but never used it on a regular basis enough to see if it would be of real benefit to us.  This past August I decided to give coconut oil a really good try and use it for at least 6 months to a year before giving my opinion as to whether it was of benefit or not.  What I did was start putting shredded coconut in his morning smoothie and using the coconut oil straight from the jar, not just cooking with it.
It's only been 4 months so far and I'm very optimistic about the changes we are seeing.  One of the biggest improvements–only 1 seizure in the past 4 months, the last one being 2-1/2 months ago!!!  And the good news is that it was very mild, lasting only 30 seconds and there was no long post ictal phase after.  He was up and back to himself within 5-10 minutes.  Normally, we were seeing seizures every two to three weeks and my son would sleep for 30 minutes to an hour after a seizure.  Sometimes he would sleep for a few hours after a more serious seizure and be very irritable for the entire next day.  He is still taking his anti-seizure medication, but I'm hopeful that if we continue using the coconut oil diligently, and remain seizure free for an extended period of time, our neurologist will agree with us to start decreasing the dose of the medication.
Another exciting and great improvement that we are also seeing is increased expressive speech!!  We are now getting spontaneous words on a daily basis, and sometimes he will put two words together.  Just yesterday as I was leaving the house he said, "Bye, bye, Mom."  That was impossible for him four months ago.  Before he really disliked his augmentative communication device, now he will go to it and bring me over by the hand if he wants to communicate something with me.  I asked him what he wanted for Christmas this year, and he happily typed in Wii Fit!!  I believe the increased seizure control is allowing his brain to function "normally" and not be under attack by epileptic activity on a daily basis.
Here's a few other improvements I've noted in the past few months:
* No more pimples around his mouth.
* Formed bowel movement every day.  Distention in stomach is completely gone.
* Increased muscle tone.  His strength and athletic endurance has improved.  When he smiles now, I can see the dimples in his cheeks again.  After his 12-month shots and his immediate regression, he lost a lot of muscle tone in his face.
* Healthier immune system.  Last year he was absent for 30+ days due to illness.  So far this year he has been out of school due to sickness only twice.  (I do use apple cider vinegar also and can attribute his improved health to that as well.)
Why do I think coconut oil is giving us these great benefits?  Medium-chain triglycerides are very important for proper functioning of neurotransmitters in the brain and coconut oil is full of them.  One particular thing I found out about MCTs is that they work synergistically with Omega-3 fatty acids liberating them from fat stores in the body and allowing them to be utilized by the brain more efficiently — definitely a winning 1-2 punch!!
Coconut oil has antifungal, antibacterial, anti-protozoan, and antiviral properties and a high lauric acid content.  I truly believe it is cleansing his inner ecosystem and soothing the inflammation, allowing his body to function better.  In our case, we weren't ready to attack the parasites until my son's detox pathways were open and ready to excrete the nasty buggers.  His bowel function is the best it has ever been, so I'm excited to step up our parasite removal regimen and start seeing even more improvements.
It is recommended that people with diabetes (type 1 and 2) or neurological disease would benefit from up to 8-10 tablespoons of coconut oil daily.  Right now, I'm giving 3-4 tablespoons a day.  I'm going to up his intake and will report back and let all you all know if we're seeing even more good things.
~ Savage
To read more blogs by Savage, Click Here.