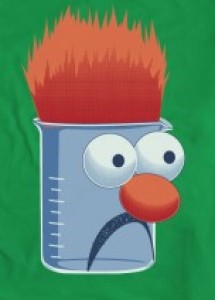 I reluctantly entered this world of childhood chronic illness, pretty much kicking and screaming, with my child who was also kicking and screaming — and hitting and biting, and refluxing, oozing diarrhea, arching her back in pain, and banging her head on anything hard that she could get her hands on. I knew for nearly a year and a half that something was going very, very wrong, but found no one who could tell me what was happening to my sweet girl. Being a curious person, I, mostly in desperation to find some relief for my screaming child, set out to figure out what was going on! And what I found out shocked me. Why? Because I never knew of any of this until I had to, and, well, by then it was too late (or so I thought!).
What am I talking about? Something called "vaccine injury." Heard of it? Yeah, me neither, until I started reading about possible causes for my daughter's "rare and "mysterious" (to the doctors) symptoms. There is a lot of debate about this: "Do vaccines cause autism?" or "Do vaccines cause injury?" And today I would like to suggest the debate is really not if they do or if they don't. But rather, how many have autism due to vaccination? Or how many have been injured (in some other way) by vaccines? Now, I know what you are going to say: "That research from that doctor in Britain has been disproven, debunked, overturned, retracted, etc. So, thus, there is no autism/vaccine link, and therefore vaccines are safe for everyone." Right?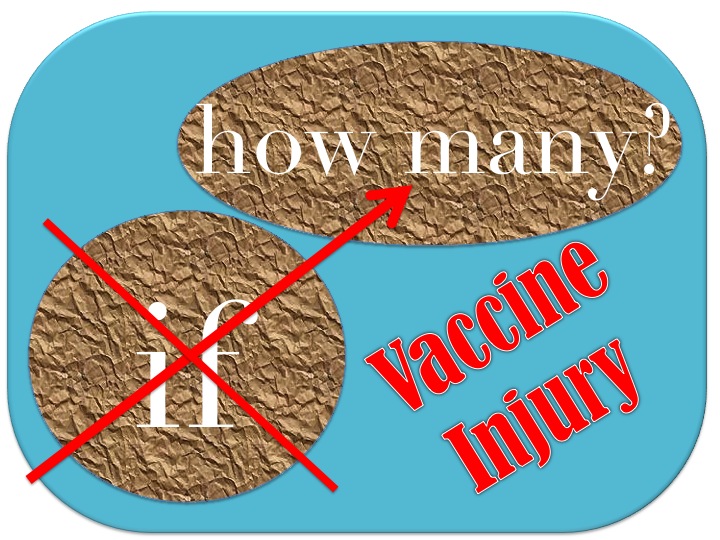 Not so fast.
In the United States, there exists something called the Vaccine Injury Compensation Program (VICP). It was set up in 1986 as part of the National Childhood Vaccine Injury Act. Did you get that? A program set up by the US Government to compensate those in childhood that are injured by vaccines. Okay, so based on the name of the legislation alone, some children must be injured by vaccines, or why else would this legislation exist?? The legislation was actually initiated because so many vaccine injury claims were being filed against the vaccine manufacturers (and many plantiffs won substantial payouts), that the vaccine manufacturers threatened to stop producing vaccines. In response to these threats, this legislation gave the vaccine manufacturer complete liability protection. (If you want to know what that means, read this amazing TMR blog post by LuvBug.)
Ok, so vaccine injury exists, but that is not the same thing as autism, right? Well, not technically . . . but not so fast.
As this article from the New England Journal of Medicine explains,
"To win a VICP award, the claimant does not need to prove everything that is required to hold a vaccine maker liable in a product liability lawsuit. But a causal connection must be shown. If medical records show that a child had one of several listed adverse effects within a short period after vaccination, the VICP presumes that it was caused by the vaccine (although the government can seek to prove otherwise). An advisory committee helps to amend the list of adverse effects as the consensus view changes with the availability of news tudies. If families claim that a vaccine caused an adverse effect that is not on the list, the burden of proof rests with them. Autism is not on the list for any vaccine, and the VICP has rejected about 300 such claims outright."
Are you thinking what I am thinking? "One of several listed adverse effects . . . " What's listed and where?
Well I am glad you asked! That "list" is actually called the "Vaccine Injury Table" and can be viewed here.
Quoting the hrsa.gov website:
". . . the following is a table of vaccines, the injuries, disabilities, illnesses, conditions, and deaths resulting from the administration of such vaccines, and the time period in which the first symptom or manifestation of onset or of the significant aggravation of such injuries, disabilities, illnesses, conditions, and deaths is to occur after vaccine administration for purposes of receiving compensation under the Program . . ."
Again, so many of the debates I read online, or have with peers, seem to revolve around whether this vaccine or that vaccine can cause XYZ. Well here is a definitive list of injuries which, with no further burden of proof (besides medical record documentation), would be compensated under the VICP.
So, again, the debate really is not if children are injured by vaccines, but how many children are injured?
As you scan down"the list" you will not see the word autism listed in the illness, disability or injury column. "Ahhh," you say, "I told you so! Vaccines do not cause autism!"
Not so fast.
For some of the vaccines listed you will see "Encephalopathy (or encephalitis)" listed. Do you even know what that is? I didn't. Until I had to. And then it was too late.
The Institute of Medicine, in their 1994 publication entitled, "Adverse Events Associated with Childhood Vaccines: Evidence Bearing on Casuality" defines Encephalopathy and Encephalitis this way:
"Encephalopathy refers to any acute or chronic acquired abnormality of, injury to, or impairment of the function of the brain. Symptoms can include alterations in state of consciousness or behavior, convulsions, headache, and focal neurologic deficits. Encephalitis refers to an encephalopathy caused by an inflammatory response in the brain."
Hmmmm . . . Now what exactly would that look like in a newborn, 6-month-old or 18-month-old?
Could a child who was sleeping peacefully through the night before his xx-month shots and now, after them, is awake and screaming, back arching all night long have encephalopathy? Most doctors will tell you that it is "just a coincidence" and "probably colic." Could a child who was babbling mama and dada before their xx-month shots, who then goes mute or loses language, motor or social skills have encephalopathy? "I called the pediatrician but they said it was probably just a virus and nothing to worry about, they would catch back up." Could a child who, after receiving their xx-month vaccines, begins to bang their head on any hard surface they can get ahold of have encephalopathy? The doctor says that is pretty normal toddler behavior . . . but if it continues we may need to get said child evaluated for autism.
Wait, what?? I thought vaccines don't cause autism. Right. But they do cause "encephalopathy" and "encephalitis" (as is fully disclosed by the letter of the law, stated above) that can then cause a child to exhibit "autistic-like behaviors," which when viewed through the eyes of a psychologist evaluating a child for autism pretty much looks the same as . . . well, you guessed it: autism.
So next time you debate with someone if vaccines cause autism or if vaccines cause injury, just skip over the if and jump to the heart of the discussion: Just how many children are injured? And could it possibly be an entire generation?
~ Beaker
Beaker started her professional career in the lab as a bewildered chemist who often felt she was a round peg in a square hole! After the birth of her children and the unexpected medical journey that her youngest would take their family on, she found out the EXACT reason she had that chemistry degree and put it to good use as she set out to restore her children's health. Along the way she found her true calling: sharing their family's experience with other mothers and helping them improve the quality of life of their children, by staying true to their guiding light . . . their God-given mother's instinct.