March 23, 2017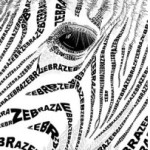 Ahead of CDC's Immunization Awareness campaign in August and the ever-pointless "Light it up Blue" of April, the Ontario Ministry of Health and Long-Term Care has launched their own social media campaign aimed at promoting vaccination by comparing the "bad" of parenting confessions to the "good" of choosing to vaccinate your children using the hashtag #butIvaccinate, implying that vaccination is such a powerful "good" that doing it (presumably every dose outlined in Ontario's suggested schedule) outweighs whatever parenting fail you can come up with. But the humorous tweets about "cheese before breakfast" or "wearing pajamas all day" can't conceal the real issues at stake.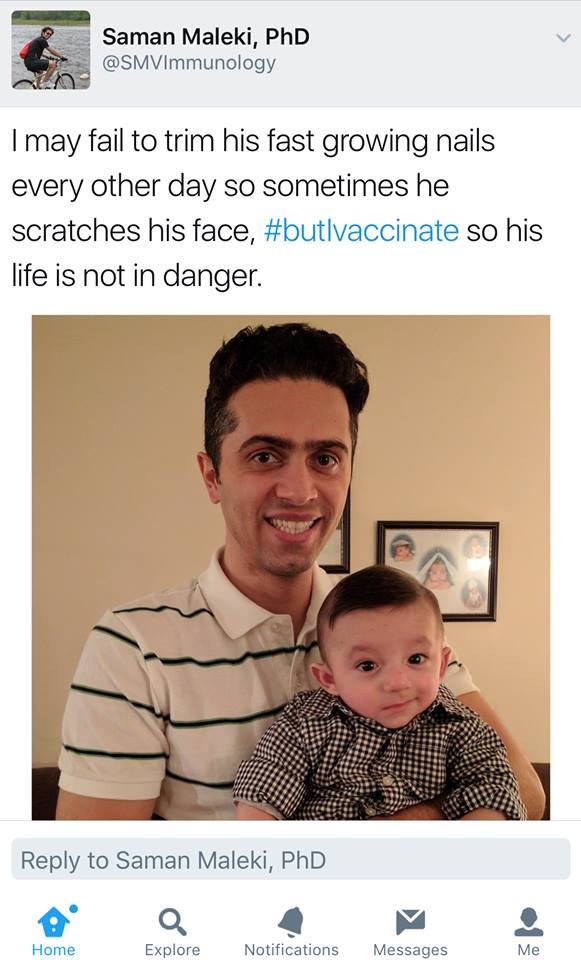 As one dad shared, "I may fail to trim his fast growing nails every other day so sometimes he scratches his face, #butIvaccinate so his life is not in danger."
Another Dad shared his recent illness, hopefully on social media only and not in his community, "I thought I was dying from smallpox, #ButIVcacinate so it must have been #ManFlu." (Ironically, he looks too young to have actually been vaccinated for smallpox as Canada ceased giving smallpox vaccines in 1972. I wonder if he knows that.)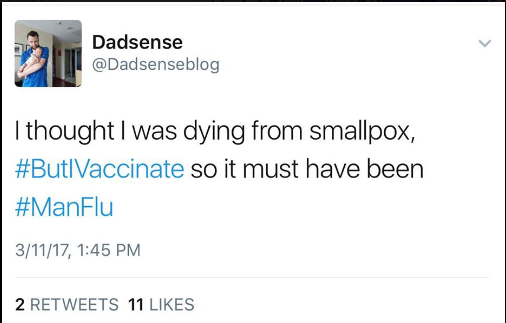 The Ontario Ministry of Health and Long-Term Care's "big things" media campaign is nothing more than emotional manipulation through parent-shaming. They claim the campaign is an "attempt to celebrate the not-always-perfect parenting moments because when you vaccinate you're taking care of what truly matters," but the not-so-subtle implications are that the only horrible parents are those who choose not to vaccinate and that vaccinating (for anything, apparently) is somehow a protection against child molesters, malnutrition, and drunk drivers. This position is such a ridiculous oversimplification of the risks and benefits of giving healthy children dozens of medical treatments that have the potential to cause permanent devastation that it's downright irresponsible.
One bright spot in the campaign is a Canadian writer who pointed out (correctly) that vaccine makers have unprecedented legal protections and that expecting others to vaccinate is selfish when there is risk of significant harm for dong so. And she chose to pair her tweet with a gif of Alicia Silverstone winking, raising the irony level by a factor of two: Alicia Silverstone sits on the board of directors for World Mercury Project.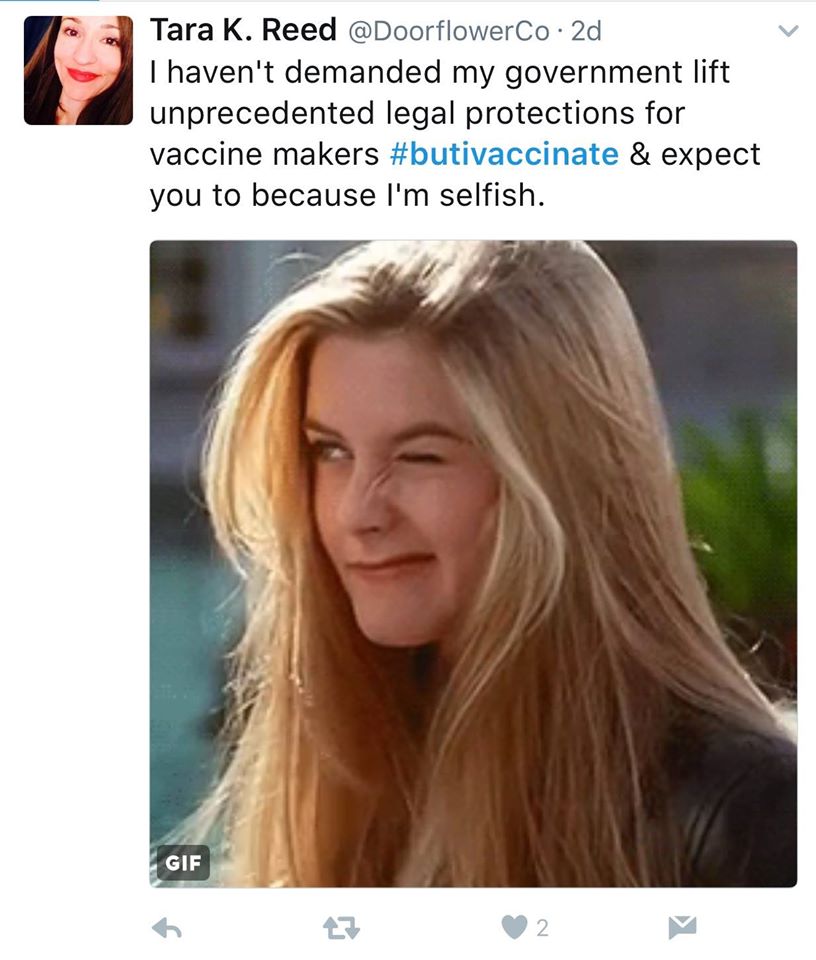 This campaign only serves to further divide, instead of contributing to the vaccine discussion. Truly responsible decision making is based on facts not fear, questions not ignorance, unbiased perspective not incentives. #butIvaccinate is so wrong-headed that it deserves to be completely co-opted with information about real risks of vaccination, like these that I came up with:
Join me!
Share your #butIvaccinate thoughts on Facebook and Twitter — and add a #TMR to get people investigating! Then comment below what you've posted or tweeted  to inspire others.
~ RogueZebra
For more by RogueZebra, click here.