November 23, 2016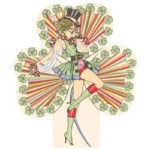 On a freezing Monday morning in New York City, around 100 or so vaccine-safety and vaccine-rights advocates gathered with signs outside NYU Langone Medical Center, to exercise their First Amendment right to free assembly and protest against a lecture that was taking place inside: Dr. Paul Offit, Dr. Richard Pan and Dorit Reiss had come to NYC to lecture young doctors and medical students on "Confronting Vaccine Resistance." Vaccine "resistance" – the annoying buzz in the ear of the pharma-government-medical establishment. What's to be done with us? The well-oiled narrative that all vaccines are safe and effective doesn't appear to be working, so instructing med students on tactics to ridicule campaigns like VaxXed and dismiss vaccine-hesitant parents, seems like their only option.
The coming together of these three iconic vaccine apologists – representing the trifecta of pharma, government, and "skeptic" trolldom – was too good an opportunity for the VaxXed team to pass up. So they travelled all the way from Austin Texas to support the planned rally. With permits in place, the bus was parked right across the street from the main event. You couldn't have asked for a better view . . . of Dr. Offit.
From their vantage point, they noticed Dr. Offit sitting by a window (strange seat selection) having lunch, facing the street in plain view of the VaxXed team and their bus with the names of thousands of vaccine-injured children handwritten on it below. Joshua Coleman, "the camera guy," decided to go and ask Dr. Offit if he would like to chat in the bus and discuss their differing opinions, which seems pretty  reasonable and sounds it in the video. Dr. Offit responded to Josh's polite request with "Get the F*ck out of here!" It took Dr. Offit all of 20 seconds to reach that rage level. The 45-second video has gone viral with hundreds of thousands of views and thousands of shares in 24 hours.
The get-the-f*ck-out-of-here video has caused Dr. Offit somewhat of a post-conference-day hangover which may have put him in some hot water with his employer, Children's Hospital of Philadelphia (CHOP). He posted a statement today in which he said:

Um, ". . .  the 'VAXXED team' denigrates children with autism"? Is he seriously saying that a team of filmmakers with vaccine-injured children with autism are denigrating all children with autism? There is a strange alternate reality existence in play here. Dr. Offit felt ambushed? By Josh "the camera guy's" polite question? (By the way, as you can see from the video, he does not ask if he is being recorded.) How does he imagine Josh felt – and those moms with the strollers outside felt – when their previously healthy children regressed into autism following a round or more of vaccines? And just what did he think those moms with the strollers were going to do to him? The police officers assigned to the rally were the most amazing example of New York's Finest you will ever meet. I'm sure they would have raised the alarm if the stroller-moms were a threat in any way. After watching that get-the-f*ck-out-of-here video, who appeared to be the more antagonistic party?
The content of the lecture appears to have followed a similar pattern of predictable rhetoric, according to Dr. Suzanne Humphries who was "permitted" to attend with a nod of approval from Dorit Reiss. By Dr. Humphries' account, it was "a love fest" of pro-vaccine zealotry and idolization of the speakers, especially the "hero," Dr. Pan of SB277 fame. Dr. Pan is also known for stating as "fact" that the most dangerous thing in a vaccine vial is water. He also brought us the new-and-improved herd-immunity catchphrase – "community immunity." See what he did there?
The other overriding theme of the lecture was the ridicule of their "opponent," ironically the very people Dr. Offit lost his marbles to a couple of hours before. There was lots of mocking and joking about the Vaxxed movie and the predictable vilification of Dr. Wakefield. Offit insensitively derided parents of vaccine-injured children by announcing with hilarity and aplomb that "the MMR cannot prevent autism!" We see what you did there, Dr. Offit. Hilarious.
I hope all those doctors got to see the get-the-f*ck-out-of-here video after the lecture. It shows a different side to Dr. Offit's feelings on "vaccine resistance." Only a man with a lot of built-up baseless defenses could crumble so easily when politely "confronted" by said "resistance." The irony of what happened is not lost on anyone.
The most frightening take-home for me, and one all parents should make note of, is that the idea was put to the young doctors and students quite forcefully, using Dr. Sears' legal predicament as a cautionary tale, that any deviation from the CDC-recommended vaccine schedule was not to be tolerated. They were told that the current CDC schedule is the only schedule of vaccines that has "proven" to be safe and effective. Where? How? By whom? Citation?
Is this a lie by omission? Or does Dr. Offit just make it up as he goes along? In fact when you read page 33 of this CDC "safety" report, it doesn't seem like he's telling the truth at all. The CDC acknowledges that the schedule has never been tested for safety, but they recommend it anyway. And we all know that Dr. Offit is an obedient CDC servant (who happens to have made millions for his servitude over the years).
I struggle with trying to understand Dr. Offit's mindset on a regular basis – actually, each time he opens his mouth to speak on this topic. If every country in the world with a vaccine program has its own unique schedule, and they all say the same thing – that their schedule has been studied "over and over" and is "safe and effective," who is the trusted authority on this? Norway only gives babies 18 doses of six vaccines in their first year of life and their infant mortality rate is significantly lower than ours (2.8 vs. 6.1 per thousand live births). What does Norway know that the U.S. doesn't? It does not recommend the MMR before 15 months and does not give a booster until the child is 12 or 13. It does not have outbreaks of measles of any notoriety. Which schedule is more "safe and effective"?
In fact, how can the U.S. schedule ever be tested for safety when the CDC adds a new vaccine each time the ACIP sits down for coffee? Who is doing this supposed safety testing? Has it been done on babies? Has someone tested the health outcome of babies injected with 32 doses of 14 vaccines in their first 12 months of life versus those who have had zero? Where is the evidence? Someone please post it in the comments if it exists, and I'd be happy to publish a mea culpa to Dr. Offit right away.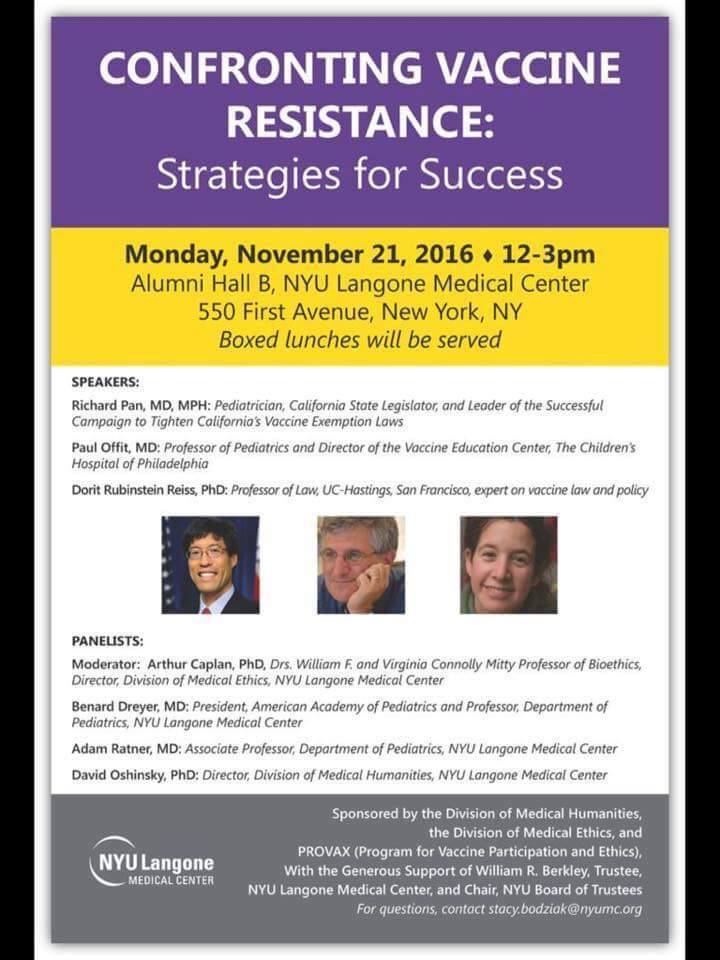 All of us standing outside Langone Medical Center yesterday, battling frostbite, did so for a reason. We are facing legislation removing the religious exemption next year – again – following a successful campaign against such a bill in 2016. Having Offit and Pan come to town to promote the implementation of such legislation as something doctors should get behind was a threat to our parental rights and an affront to the now-idealistic notion of a trusted doctor-patient relationship. It was an insult to our intelligence. It was offensive to our core values, religious and otherwise. If the government tries to force this issue on New Yorkers (remember the soda tax debacle?), it will have the predictable result of the classic backfire.
So as Dr. Offit vehemently tells Josh, the camera guy, to "Get the f*ck out of here" when he politely asked for civil discourse on this radioactive topic, you can bet that that was the underlying tone to his lecture. Dr. Sears? "Get the f*ck out of here!" Parental rights? "Get the f*ck out of here!" Informed consent? "Get the f*ck out of here!" Safety of children? "Get the f*ck out of here!" Medical choice? "Get the f*ck out of here!" Vaccine injury? Double down on "Get the f*ck out of here."
Okay, Dr. Offit, we heard you loud and clear. New Yorkers are an amazingly welcoming and tolerant people, but you need to know: This is New York. Not our rights. Not our babies. Not on our watch. Now you, Dr. Offit, respectfully, "Get the f*ck out of here."
~ Shamrock
For more by Shamrock, click here.