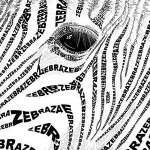 THIS EVENT HAS BEEN POSTPONED TO JANUARY DUE TO UNEXPECTED CIRCUMSTANCES.  STAY TUNED FOR FUTHER INFORMATION
When the chance to add our journey to a TMR project appeared on my social media newsfeed, I responded without hesitation. We launched the Team TMR book at Autism One 2014. I entered a whole new world, recognizing some vendors and topics, but the majority were unfamiliar. Walking the halls and aisles, I happened upon the publisher of All I Can Handle, by Kim Rossi Stagliano. Familiarity. I actively resisted glancing at the Skyhorse table, though; I knew I wouldn't be able to choose just one book.
Lucky for me and you, Health Choice and Skyhorse Publishing are hosting a symposium November 1, 2014 at Radisson Blu hotel in Bloomington, MN.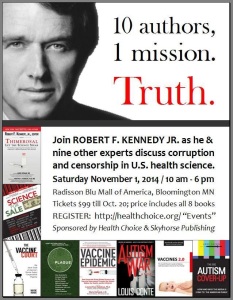 The authors' presentations on science, politics and media are included in the price of registration: eight authors and their books. At the AO 2014 Skyhorse sponsor table, the huge cover poster for The Autism War piqued my interest; it's the fictional tale of a father's journey uncovering the truth, complete evidently with a whistleblower – how implausible a scenario, if reality hadn't proven it true! The Vaccine Court (on the National Vaccine Injury Compensation Program – NVICP), Vaccines 2.0 (safe choices for vaccination), Vaccine Epidemic (on vaccine safety, rights & choices) and The Autism Coverup (on media's role) detail the politics, influences and publicity side of health issues. Other books and authors scheduled to be at the symposium are Science for Sale (on government influence on research), Plague (story about Dr Judy Mikovits and myalgic encephalomyelitis, also known as chronic fatigue syndrome or ME/CFS) and Thimerosal: Let the Science Speak (on the science behind Thimerosal). I can catch up on all these issues quickly; five plus books is a good stack to keep around, right?

I'm looking forward meeting the real people behind the well-known names, in addition to the author discussions and insights. My limited understanding of these topics, after almost a decade in undiagnosed and mito community, shows. Reading the first TMR book, The Thinking Moms' Revolution: Autism Beyond the Spectrum, something clicked: the mission, the "why" questions, leading to more "how" questions, Moms (and Dads) researching and asking, "How did my child develop serious medical issues?" and expecting truthful answers. Parents trust when research is right, celebrate recovery and INSPIRATION, share truths of our stories and support those who support us. Each of these authors supports TMR and Thinkers. I expect several of these books to also click and hope you will consider attending!
~ RogueZebra