At 18 months of age, my son got sick. Really sick. After he recovered from that illness, the five words he could speak before he got sick were gone. Totally. Gone.
This isn't a chronicle of the medical procedures that preceded his illness. Nor is this a judgment of the Early Intervention services that were in our home 3x weekly who, although noted on his annual assessment, did not feel his loss of language was a warning sign of anything more serious. For now, I will even spare berating myself for blithely accepting all providers' assurances that it was "nothing to worry about."
This is about one of the ways we communicated with our child who had no speech. It's about discovering language outside the typical boundaries.  Left with no speech, our son was more than a little frustrated. We immediately started bringing sign language into our daily routine.  You know – baby signs – the basics: more, eat, cup, ball.
Fast forward to my son at age 4. Receptively, he could understand all language (sign/spoken/pictures), he just had very little to almost no expressive language other than grunting, crying, screaming, and laughing. He could not get his little hands to obey his commands,  so he wasn't able to sign.
At his fabulous out-of-district pre-school (which actually serves pre-school through 22 years of age), he was given the opportunity to use expressive language in any manner possible. Always available were pictures (PECS), teachers that knew ASL and used it throughout the lesson, and spoken language. He gravitated to pictures because he only had to point. FINALLY! We had a consistent mode of communication, even if my hands bled from printing, laminating and cutting out pictures to go into his communication book…I mean 1" binder…Um – I mean 3" communication binder. We carried that binder everywhere.
Right around this time, with the introduction of Essential Fatty Acids (EFAs) and other supplements, my son was consistently able to sign the basic signs. He started working on signs at school and we would not know what he was signing when he got home – mainly because ASL is not a language we speak and his signs were not clear at all. So school started sending home pages of signs that he was learning at school, and we added those signs to a binder so we could learn them, in hopes of understanding when they were used. His teachers also mentioned "Signing Times" videos. "He loves watching it at school," came the report from his teachers. We popped Volume 1 into the DVD player and it was obvious that the teacher was talking about some other kid when she spoke of his love for the show. OMGosh – the SCREAMING. He hated it. I have no idea why, except that signing was still very hard for him and it may have felt like "homework" to him. But we kept trying and eventually, one day, he stopped screaming. The school sent home Volume 2, which was a little more "slick" in it's production, and we all watched it together. My daughter was about a year old at this time and was enthralled as well.
Because I can't be trusted to borrow anything from anyone, I dug around in the couch cushions and found money to purchase a few volumes of Signing Times. It was life-changing. I sat and watched the videos with the kids, learned the signs from the DVDs and in the process, learned a couple of my son's "other" signs. During this time, MORE verbal approximations popped up and we all learned to distinguish those sounds, as well as some of the signs. We almost did not need that HUGE binder of pictures.
The beauty of the videos is that they have everyday words in them – animal words, school words, home, community…And then when we wanted a sign that was not included in a video we went to ASLPRO.com – which is an online ASL VIDEO sign dictionary – for those times we absolutely NEEDED to find the sign "elevator" and "subway"…!
I know it sounds antiquated and we wonder if people still think this way,  but I think it always bears repeating: signing does not hinder language development. Sign language IS a language. I like how Rachel Coleman describes the difference. She says "Speech is not a language. Speech is one way to deliver a language. English is a language, American Sign Language is a language, but speech… speech is a skill."  She likens speech to a skill to develop over time, something to get better and better at over time – like dancing or playing an instrument. Rachel feels pretty darn strongly that a child be given a language with which to communicate ASAP – and who could disagree. Anyone with a child who struggles to speak would concur that the most powerful thing you can give a child is the power to be heard – to be understood.
I don't mean to be a Signing Times commercial – they just were our vehicle and therefore hold a very special place in our hearts. Six years after their introduction into our household  I am finally permitted to remove them from our big book of DVDs (but not given away – you never know…).
I love the idea for video because most kids are drawn to videos and these are a fun way to learn a language. The whole family can learn too. Rarely did I actually sit and watch an entire video. Most of my Signing Times sign language was picked up as I folded laundry in the room with the kids, picked up toys, did research nearby and yes, sometimes just sitting and watching. It most certainly provided a connection between my son and me,  one that I so dearly wanted.
This song still makes me cry: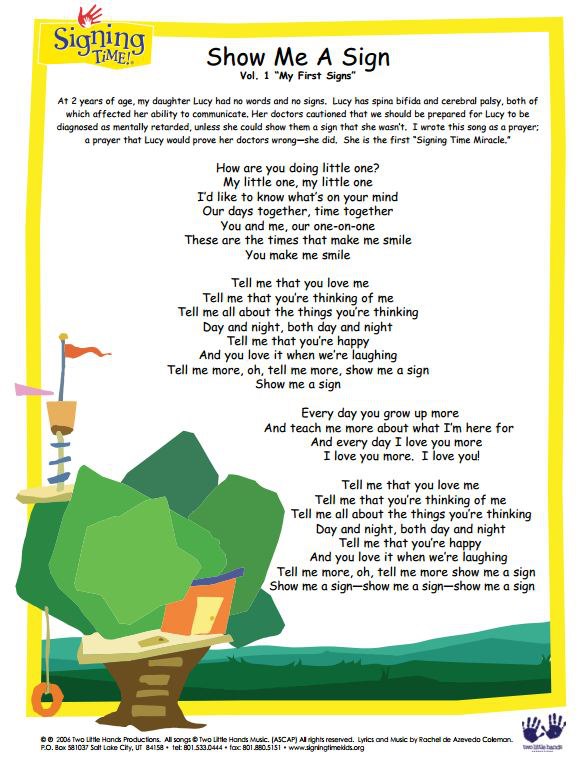 There are a couple of other DVDs for children for learning sign, but there are a ton of video clips on YouTube and WatchKnowLearn that you can have fun with and not spend a dime.
Have fun and Happy Signing!
~LuvBug
For more blogs by LuvBug click here.