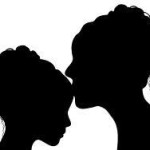 Last week along with Goddess, Professor and a few of our mini-thinkers, I had the honor of being interviewed by Cindy Nolte from "FreshLook On Life."
Along with offering a full array of services in her office such as hypnosis, Reiki, animal Reiki, Integrative Energy Therapy and Jin Shin Jyutsu, through her weekly television show, Cindy strives to bring the alternative to the mainstream.  Once a member of the corporate America rat race, Cindy left it all behind for her true passion.
The Thinking Moms' Revolution was so humbled when Cindy asked to speak with us about our upcoming book and all things TMR.  Since Professor and I live fairly close to where Cindy tapes her show, we had the pleasure of being up close and personal with her.  Goddess joined us via Skype from a slightly warmer location.  The best part (for me) is that Cindy performed Reiki and treated me with essential oils when I arrived with a migraine.  She had me up and running in no time.
As you can see when you watch the interview, we really enjoyed our time together and had more than a few laughs.  Although Cindy had questions for all the kids, Professor's son and my daughter chose to play the "strong and silent" role.  Luckily, Prof's thinking daughter saved the day and made it clear that we ARE raising a stronger and smarter generation.
I hope you enjoy the interview, and the opportunity to get to know us just a little bit better.
Love,
~ Saint
*For more by Saint, please click here