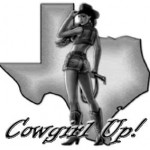 AutismOne.  Chicago.  2011.   Were you there?  Were you looking forward to seeing Jenny McCarthy deliver the keynote address on Saturday?   I was.  About a thousand other people were as well. But the actress/author/sex-symbol-turned-autism-activist didn't give a speech that day.   She didn't rally the troops and inflame us with passion and purpose and pride in our noble cause.  There was no battle cry or call to arms against Big Pharma and The Machine of governmental bureaucracy.  Instead, the woman credited with coining the phrase "Mother Warrior" introduced writer and speaker, Byron Katie.  Disgruntled, we asked ourselves and each other the same question, "Who is Byron Katie, and why isn't Jenny giving a speech?"  This Byron Katie woman better be good!
Ms. Katie had us all fill out a "Judge Your Neighbor Worksheet" on which there were four questions designed to help us gain insight into a situation where you and another person are in conflict.  These questions and Ms. Katie's method of taking them and "turning them around" is more commonly known as "The Work."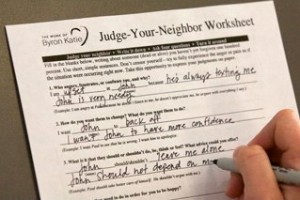 "The Work" is a method of self-inquiry that helps people explore the sources of their unhappiness and change their perspectives.   Jenny wanted to share some of the peace and joy she's experienced as a result of doing "The Work."    We weren't there for peace and joy. We liked our righteous indignation just fine, thank you very much.  Humph.    But it was Jenny.  Whether you love her and respect her for her advocacy and the way she's put herself out there for the cause, or find her controversial and can't get past the fact that an ex-Playmate is now arguably the most famous face of autism, there's no denying she is a force of nature. So we did "The Work."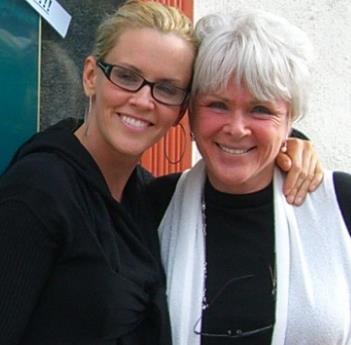 Byron Katie asked for volunteers.  I remember watching my girlfriend's mother-in-law going up to the stage and thinking how embarrassed poor Princess must be.  Jenny's guru took my friend's mother-in-law through the questions and then had her "turn them around."   Turning the questions around and exploring them from a completely opposite perspective is part of "The Work."  "Hmmmm," I thought,  "Maybe there's something to this."   Jenny wouldn't have brought Byron Katie here if she didn't think this would be huge for us.  Mother-in-law sat down, and Ms. Katie asked for questions.  I raised my hand.   The centerfold-turned-crusader approached me.  Jenny McCarthy. I have to admit I was a little more than starstruck.  As she held the microphone I was struck by the surreal contrast of her warm, down-to-earth nature and her unnerving, larger-than-life celebrity energy.
"What if the person you're struggling with is you?" I asked.  Byron Katie seemed intrigued and unfazed at the same time.  It was a good question, but clearly one she'd come across before.  She asked me for an example.   "I don't get things done," I told her.  "I procrastinate."  Together, Ms. Katie and I explored the validity of that statement and my own reactions to that bit of truth about myself.   Yes, I procrastinate.  Yes,  I spend way too much time on the computer, and I ignore my laundry and home.  No,  I don't think I should be doing that.   Katie helped me "turn it around."   Suddenly a light bulb went on for me.  What if I'm actually supposed to be on the computer?  What if it's okay for the laundry to pile up and the house to get messy?   What if I'm actually doing what needs to be done? Suddenly "I shouldn't be on the computer" became "I should be spending as much time on the computer as possible."
Revelation!!!  I was having a major personal breakthrough right here at AutismOne. "Yes!" I said, full of confidence and with newfound enlightenment.  Boldly and with happy certainty, I nodded my head in childlike wonder and proclaimed for all to hear, "Because **Facebook is important!!**"  The audience roared and cheered.  They identified.  They understood. What had been a source of guilt and remorse was actually a lifeline that could preserve our sanity, recover our children, and lead to esoteric spiritual enlightenment. It could be a new religion!!! FACEBOOK IS IMPORTANT!!!! The phrase was repeated over and over again all weekend. Imagine my surprise to see it scrolling on my newsfeed for weeks to come.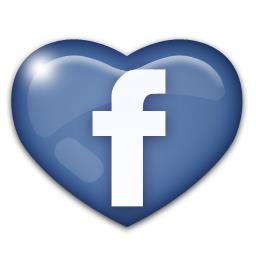 Being a parent of an child with autism is not only a daunting task, but a lonely one as well.  You lose friends.  Your family can't relate.  Your relationships change.  Your sense of who you are evolves, and a lot of times you're uncomfortable in your new skin.  Most of us log onto the computer to seek answers.  We research therapies, biomedical protocols, homeopathic alternatives, and what seems like a thousand other options in hopes of finding something to help our children make gains.  What happens on the computer is miraculous.  We link in.  We find each other.  We share information.  We share heartaches.  We share tears.  We share victories.  We share laughter.  We become a community.  We find friendship and family.  That's what's happening right now as you read this.
The Revolution isn't just a bunch of moms and dads who rage against the machine. It's a brotherhood and sisterhood of like-minded parents who find friendship and love while working towards a common goal.  We are taking care of our children and incidentally find we are also taking care of ourselves and each other.  This is a group of people with whom I can identify and share life.  In a world that isn't capable of getting it, I have a virtual community that embraces me and understands.
Yes my friends, Facebook is important.  Today, the laundry can wait.
~ Tex
For more by Tex, click here.