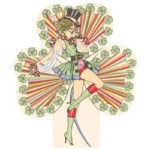 Ireland, a small country on the westernmost edge of Europe, has been the focus in the last few months of an unprecedented international media storm around the subject of Gardasil and the staggering number of side effects which have been reported. We have been covering the story since last June when I wrote about the then newly formed group R.E.G.R.E.T. which had 25 members at the time. It has now sadly grown to over 150 as more and more girls are coming forward as a direct result of these brave parents sharing their girls' stories. This is something we at TMR believe in strongly, sharing the truth so that others may be helped.
And their stories are truly heartbreaking. So much so that one of Ireland's national TV stations, TV3, approached R.E.G.R.E.T. a few months ago seeking to do a documentary with some of Ireland's most prestigious documentary filmmakers and producers. Once the filming wrapped, the group was inundated with TV, newspaper and radio requests before and after this groundbreaking show was aired. One such radio interview brought me to tears. This kind of uninhibited press coverage is unheard of in the U.S., where the topic of vaccines continues to be a radioactive one.
The documentary aired on December 14th, and the reaction worldwide has been staggering. I don't know how you could watch it and not be moved to tears by what you were witnessing. Could this be the end of Gardasil? It may not happen overnight, but I think we can all agree that this is no longer a fringe issue; it has been catapulted into the international arena of mainstream scrutiny.
I wrote about the growing Irish political reaction to this situation in October of this year, asking when the government was going to respond to the girls' plight. The pressure began to mount on the Health Products Regulatory Agency and the Heath and Safety Executive to respond to Paschcal Mooney's (Fianna Fáil) request for a debate and an investigation. The health committee finally heard the families, and they were invited to give testimony on December 3rd.  The parents' opening statements are truly impressive, leaving the rational viewer in no two minds as to the urgency of this issue.
To date, the Minister for Health, Mr. Leo Varadkar, has refused to meet with the affected families, instead hiding behind the corporate rhetoric given by Merck that the vaccine is safe. He also claims that the almost 1,000 reported adverse reactions are within the expected range and are of no concern.
Added to this was the publication on November 30th of a report by the European Medicines Agency (EMA) that "confirmed" that there was no causal link between the vaccine and the development of Postural Orthostatic Tachycardia Syndrome (POTS) and Complex Regional Pain Syndrome (CRPS), a stance being used by the Irish government to strengthen its resolve on this position to take no action. The EMA committee set up to look into the adverse events of the HPV vaccine is fraught with conflicts of interest, and their ties to the pharmaceutical industry were not properly disclosed to the public. However, we can see their backgrounds in this translated news article here, which was released by a Danish publication seeking to expose the truth on this issue.
Since POTS and CRPS do not have internationally standardized diagnostic criteria, there are many questions unanswered as to the way in which the EMA committee drew its conclusions. We also do not have a clear indication of the prevalence of such disorders in the population before 2007 when the vaccine was approved. In fact, of the 150 sick girls in Ireland, only a handful have any diagnosis at all, despite the devastating nature of their illnesses, as Irish doctors have yet to understand and recognize their illnesses (to the point that many of the girls have had their appendixes removed, hoping to resolve undetermined abdominal pain). Many members of R.E.G.R.E.T. were among those who submitted testimony to the EMA. Was their testimony taken seriously or simply ignored as there was no associated diagnosis? The findings of the EMA will be sent to the European Commission for a "legally binding" decision next year. I guess that will settle that, and another vaccine door will be closed to further scientific inquiry (how very unscientific!) . . . Or will it?
What the vaccine industry and its advisors fail to understand is that these are real issues for real people. Vaccine injury is a growing international concern, which Gardasil is highlighting in neon yellow. Why Gardasil? There have been hundreds of thousands of reported vaccine injuries for the last 26 years, and little has been done to address parents' fears except to repeat ad nauseam that "vaccines are safe." This mantra is drilled into our minds despite of the fact that the government has paid out $3.5 billion to compensate victims and their families since 1989. So why should Merck be worried now since they have legal immunity in most countries where they do vaccine business? Well the simple answer is that these teenagers and their mothers are pro-vaccine. They were the industry's best customers. They vaccinated their kids all the way up the line and thought nothing of vaccinating their healthy, athletic teenagers with the new vaccine. They were sold a vaccine against cancer (not a virus), and who wouldn't want to protect their kids, no matter how remote the risk that they would develop the specific cancer the vaccine is intended to prevent? But unlike infants who suffer horrible reactions, these girls can articulate their pain, describe their symptoms, and are on social media. In addition, they, their parents, and their communities know that these girls were robustly healthy prior to the shot, and no one can say that they or their parents "just didn't notice" an "underlying" debilitating condition. That's a truly scary scenario for the makers of this multi-billion-dollar product.
I'm sure organizations such as the Vaccine Confidence Project (VCP), who track all our social media impressions on these topics, must be in a major panic right now.  The VCP's head of research is Heidi Larson who put pen to paper last week for Nature and confidently declared that "The world must accept that the HPV vaccine is safe."  She believes, through her training in anthropology and extensive research to date, that these girls are suffering from some kind of contagious "psychogenic illness" which can cross oceans and continents and break down cultural and language barriers – all thanks to YouTube and "activist women's groups." She thinks that their symptoms have nothing whatsoever to do with the vaccine, but the Internet, "so long as it is around," will proliferate these "rumors" and cause this psychogenic illness to spread. Ms. Larson makes no reference to fact that some cases could indeed be genuine reactions to the vaccine, as Merck has acknowledged is entirely possible in 2.3% of those who receive it. On the contrary, she merely states as fact that it's all in their heads, a coincidence, something Dr. Connolly of the National Immunisation Advisory Committee (NIAC) repeated over and over in the Irish documentary.
She gives an extensive account of her theories around this, based largely on the "Japan Situation." Ms. Larson co-authored a fascinating report, funded by Merck, with the Center for Strategic and International Studies (CSIS). From its website: "CSIS has become one of the world's preeminent international policy institutions focused on defense and security; regional stability; and transnational challenges ranging from energy and climate to global development and economic integration." After reading this report, I think Ms. Larson has earned a place on the honor roll of the Cognitive Dissonance Hall of Fame.
The preferred VCP tactic in addressing these issues is to communicate "more effectively" with the population who is deemed to be "vaccine hesitant." Ms. Larson talks at length in this presentation to CSIS of surveillance systems, local listening networks, informants, targeting health workers and people on the ground – all reporting back to her group on local sentiment and rumors so that they are better equipped to get ahead of the "situations." Her focus is on persuasion of the 3 Ps: the public, the providers, and the politicians. She sees trust as being the main barrier to convincing certain populations that vaccines are safe. She refers to vaccine critics groups as either "over-informed"(!) or "under-informed" and focuses on the need to convince the fence-sitters in between to fall to their side. The one thing she will get props for in our community is that she is not pro-mandates; however, this is only because she thinks forcing people to vaccinate against their will may backfire on the industry. I don't think you need a doctorate in anthropology to figure that one out.
To date, there have been many Gardasil "situations": in the U.S., Denmark, South America, Spain, France, Australia, New Zealand, India, and now Ireland and the U.K. It is unclear how each government will respond to the growing level of negative public sentiment over this mass vaccination program. To assume that people would be convinced that what they are seeing is psychogenic and wouldn't speak out is ludicrous.
Sanevax may top VCP's "over-informed" hit list for a number of reasons that I doubt includes their stellar reporting of HPV injuries worldwide and the support they give to families. They have irked the industry so much that they have been publicly blamed for inciting many "vaccine hesitancy situations" all over the world, in particular in Japan. In reading Sanevax's insight into how the vaccine industry operates to manipulate public perception, I think that the VCP has finally met its match with regard to the HPV vaccine narrative. I believe that Sanevax is a purveyor of truth and integrity and many girls' lives will be spared because of their tireless efforts to raise public awareness of the potential harm this vaccine can cause.
So we now know that there is a dedicated team reporting to Merck on all our vaccine-related social media impressions, which is amazing but not surprising. We are getting to the heart of the beast, which is a good thing.
So what is next for Ireland? I seriously hope they put aside this nonsense on how to tackle "vaccine hesitancy" and instead focus on the thousands of very real adverse events worldwide. If they are psychogenic in nature, then I have to say it's the first worldwide outbreak of an "Internet-contagious disease" in history, which – despite the best efforts of the VCP, the World Health Organization, GAVI, or Merck to convince us otherwise – defies common sense and logic. Denying reality is becoming harder and harder for pro-vaccine zealots. Just watching the Irish documentary is evidence of that. These girls are sick, and their numbers are growing. As long as we bury our heads in the sand, refusing to acknowledge what is happening before our eyes, we will not be able to avert a catastrophe of unimaginable consequences.
These families' lives have been destroyed all because they thought they were doing the best for their kids, just as we assume every parent is when they agree to a medical intervention. When people dismiss their injuries, as we have seen on social media, saying "there is no causal link between their symptoms and the vaccine," what they don't say is that there is no evidence of a causal link because no one is studying what happened to these girls. And that is exactly what the members of   R.E.G.R.E.T are asking for: investigation and government assistance in identifying what happened to their girls after they received the Gardasil vaccine.
As in Japan, I believe that there is a strong case to be made for withdrawing the school-based vaccine program in Ireland. There is also a case for a moratorium to be issued, pending an investigation into the side effects, independent of the EMA ruling. In fact, The Netherlands and Denmark have committed funds to such an independent investigation, so I fail to see why Ireland doesn't do the same.
The only argument against halting the school program or pulling the vaccine is that, in theory, the girls would be denied access to a potentially life-saving vaccine. That's an interesting perspective since this vaccine has never been shown to save a single life. We won't see any perceived benefit for another 20 or 30 years, and according to a mainstream study the benefit is likely to be quite small even then. Also, pap smears are the most effective way to detect abnormalities of the cervix which could potentially lead to cancer in rare cases and will continue to be necessary for vaccinated girls as the HPV vaccines don't cover all of the many strains of HPV that could potentially cause cancer. As in most developed countries, Ireland has a robust cervical smear program in place which is accessible to all women aged 25-60.  If they really didn't want to "deny a potentially life-saving vaccine," they could halt the school program and allow parents to take their children to get the shots at their GP's office, an entirely appropriate place to receive a vaccine where reactions can be properly observed and treated.
So I call on the Irish government to do the right thing and use a common-sense approach based on the WHO's European Precautionary Principle. The parents of R.E.G.R.E.T. are not going away, and they will not be silenced. Their numbers are growing daily. They will never give up looking for answers and treatments for their girls, who need immediate medical help and support.
Finally, I say to the Irish Minister for Health, Mr. Leo Varadkar: Now that you have finally met the R.E.G.R.E.T. girls, albeit through this documentary, please do not fail them. Gardasil is fast becoming the "Vioxx of vaccines," and it will be on your head if any more of Ireland's girls come to harm. The world is watching.
~ ShamROCK
For more by ShamROCK, click here.