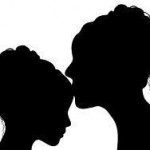 My daughter graduated 8th grade last night. Everyone I know is a weepy mess. They keep envisioning their children in their 14-year-old bodies wearing a cap and gown and reflecting on years of pigtails and gingham dresses. They are wondering where the time went and sobbing as their kids have to say good-bye to their beloved classmates and go their separate ways to at least seven different high schools.
 Not me.
 I am angry.
When I am not feeling angry, I am enjoying a great sense of relief that it is over. Thank God. Praise the Lord! Alleluia. Seriously –- THAT relieved.
Middle School has been nothing but a series of miserable events and social rejection for my daughter. You may recognize her. She is the one with inadequate social skills who is often called a "sped" and a "retard" by her peers. She can't read a social cue to save her life and is inept at knowing how to integrate herself into hallway conversation. Having expressive language skills at the 1st percentile certainly does not help, but in the "dog eat dog" world of middle school it is survivor take all, and the different are quickly left behind.
She had friends once. She had lots of them. That all changed in Middle School, and now I get the joy of watching the same girls who used to spend practically every weekend at my house, celebrate these wonderful milestones together, while my daughter celebrates with me. She has not been invited to ANY graduation parties, but has the pleasure <insert sarcastic tone> of hearing about the parties in school, and seeing pictures of them plastered all over Facebook.
It is so painful that I am considering shutting down my account for the next month so neither of us has to even be aware of the festivities going on around us. My electronic way of putting my fingers in my ears and saying "la la la la, I can't hear you".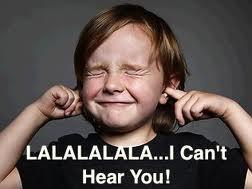 What is happening to my daughter is not unique; I wish it were. It speaks to the lack of acceptance and tolerance to differences. As much as I want to shake my finger at these kids and say "shame on you," it is really the school AND their parents that deserve it. These parents allowed their children to dismiss my daughter because she is different. They did not encourage their children to include and accept. They watched their children climb the popularity ladder as my daughter was left in the dust. Kids are kids, but the parents? They should have known better.
Oh, wait –- they did. They knew everything. They knew of the brain damage my daughter sustained as a result of her birth mother's drug/alcohol addiction. They knew of the seizures that further attacked her brain. They knew of the extensive developmental delays and significant language deficits. They knew of the tragic losses she faced. Yet, they chose to become just another loss. Shame. On. Them.
Shame on the school, too. Each time my daughter reported the latest cruelty bestowed upon her, I would report it to the school. I never wanted the student who committed the "crime" to get into trouble, but hoped the school would make an effort to educate the student body and teach acceptance. Nine times out of ten I was told that the incident did not happen. All parties were interviewed and all witnesses backed up the other person. Really? What a shock? Okay, school, let me get this straight… She was not called a sped? Then, tell me, where did she come up with that term? I certainly do not call her that at home, so I am pretty sure she picked it up at school. How about the time the kids at her lunch table made her recite the alphabet to prove she was not a retard? Did she make that up too?
Not only did they not support her, and deny to me that any sort of bullying was going on, but they also did everything in their power to make sure she was a social liability. Now, in fairness, I do not think that is what they set out to do, but it sure as hell is what happened. Indulge me as I share a little story with you…
In January, my daughter brought to school a pocket manicure kit that I had put in her Christmas stocking. It was adorable: a zebra-print case filled with zebra-handled manicure tools.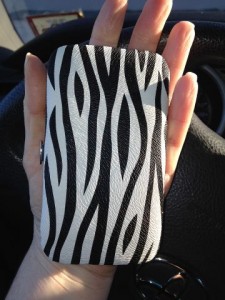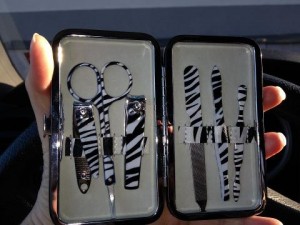 She took it to school to show off in hopes of having something interesting to finally get the attention of her peers. Although I was not aware she took it, I would not have thought anything of her taking in the iPhone-sized kit to school. Well, that would have been a mistake. I received a call that afternoon informing me that my daughter was being suspended from school for having a weapon. Yes, you read that correctly. A weapon. Apparently, the nail file and cuticle scissors contained in the kit are extremely dangerous weapons and you should enter nail salons at your own risk.
This was the beginning of the end. Until this moment I had enjoyed a wonderful relationship with my daughter's school. Nine and a half years of sheer bliss were over. Not that she was new to difficulties, but that I always felt as if we worked as a team to solve them. She returned from her suspension (which I appealed and lost) to a life of middle school hell. She was no longer permitted in the hallways at the same time as her peers, and, when she was, she was accompanied by an aide (prison guard).
I emailed, I called, and I fought. I was assured that at her IEP meeting — right around the corner — a plan would be put into place and this would be rectified. They lied. For the first time in close to ten years, I refused to sign the IEP and made an appointment with an attorney and an advocate for advice. I COULD NOT believe I had to do this. I write IEPs for a living. I knew what was legal and what was not. What they were doing was most definitely NOT. I requested another meeting armed with good advice. More promises of change. More lies.
I am not going to bore you with the details of the daily struggle that ensued over the next few months. Let me just tell you that it was awful and an experience I would not wish on my worst enemy. I am not a fighter by nature and struggled with having to do so. Part of me was so insulted that I had to go through this. If they did this to ME -– someone who has been in the field for 16 years and knows special education law –- then what were they doing to the parents who blindly trusted them to do the right thing? As the daily fight continued, things got worse and worse for my daughter. Not only did they insist on the prison guard, but their choice of staffing left a bit to be desired. They could not find a consistent person to do the job, so each day my daughter was subjected to someone different who had varied expectations of her. Good idea. Let's make the special ed kid adjust to us, and penalize her when she cannot. Awesome job!
The aides du jour created an even more difficult social atmosphere for my daughter, and it got to the point where kids would turn their backs on my daughter if she were with certain aides. They made it clear that she was not welcome in their groups during classes or field trips if Ms. "X" was with her. My daughter grew more and more depressed and became school phobic. During this time I would give her a day off from time to time because she just could not handle going to school and facing the pressure. When she was there, I would receive upwards of ten texts a day begging me to pick her up. One day, she simply wrote that she wanted to shoot herself and wished she had a gun. I immediately texted back but did not get an answer. I called school to find out what was going on. You are never going to guess what the schools response was. Go ahead. Guess. I dare ya… Okay, ready? They assigned her detention for using her cell phone during school.
Ummmmmmm… Yo, Asshat school! Did you consider the content of the message? SHE SAID SHE WANTED TO SHOOT HERSELF. In January, when she brought in a manicure kit I had to take her for a crisis evaluation to make sure she was not a danger to herself or others and could return to school. Now that she has stated she wants to shoot herself, you do not so much as ask her if she is okay and issue a detention slip. Again, GREAT JOB!
My daughter survived middle school and so did I. I am angry it went down the way it did. I am angry that her birth mother took away my daughter's chance for normalcy when she could not control her addictions. I am angry that all but one of her former friends turned their backs on her. I am angry that their parents allowed them to. I am angry that school only fanned the flames. I am angry that, for all of the above reasons, I am not a sappy mess. I should be, but that is just another thing that has been taken away from us. Although I am relieved it is over, and pray I never have to fight like this again in my life, my daughter knows that I will if I have to. It is important for our kids to know they can count on us when the rest of the world turns their backs on them.
'Onwards and Upwards' is our new motto. My daughter is lucky because she has the opportunity to go to a high school where she will get a fresh start. No one there knows her as a "sped," "retard," or the one with the crazy aide. Although it is a public school, it has a very large percentage of special needs students. She will go from a "bottom feeder" to middle of the road. She will be surrounded by kids LIKE HER.
Onwards and Upwards!
In closing, I would be remiss if I did not give a shout out to my TMR family who has supported me and my girl 100%. They listened to me, encouraged me and gave me strength when I was ready to stop fighting. They validated me and cheered me on. They reached out before each meeting to make sure I remembered to wear my "bitch boots," and sat anxiously at their computers waiting for the play-by-play when it was over. It may have looked to the naked eye as if I walked in to those meetings outnumbered, but I never did. NEVER. Now I look forward to sharing with them stories of new friendships and successes in high school as my daughter gets to start a new chapter in her beautiful life.
Onwards and Upwards.
Love, Saint