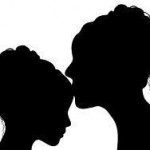 Officially, it is National Cheese Pizza Day (don't ya just love the tidbits of information you can get by reading TMR), but in my household today holds far more weight than pizza. Today is Jazmine's birthday AND her first day of high school… And, no, I am not breathing.
You may recall how excited I was just two-and-a-half short months ago at the possibility of new beginnings. Onwards and Upwards! I couldn't wait. Not anymore. Now the reality has set in and I am panicked. The "what ifs?" will make you crazy. What if she struggles in her classes? What if she does not make friends? What if she doesn't have anyone to sit with at lunch – again? What if she cheats on her food restrictions? What if she never finds another teacher she connects with like Mr. Medina? What if she proves her former school right in that SHE really is the problem? What if she really gets in trouble –- 'cause now she is doing it where I work? Have I mentioned that? Jaz is attending the high school where I am a member of the Child Study Team. I guess, on the positive side, I will not twitch every time the phone rings worrying if it is her school calling. Instead, I will have a front row seat to all of the action.
All summer I have listened to my friends struggle with the lack of structure that time out of school brings. Personally, I think they are nuts because I love it when Jaz is not in school. No homework, no studying for impossible tests, no projects that are more of a test on my arts and crafts ability than anything else, and — most importantly –- no phone calls and no fights with the administration. BLISS. They have been counting down the days until opening day and, for them, I get it. Our kids are different and thrive in different settings. Mine just happens to thrive when I seal her in imaginary bubble wrap and she is not in an overly stimulated setting. However, over the past few weeks I have noticed a trend — some of these same friends who have been chomping at the bit for school to begin, have joined me in an anxiety-ridden state. I asked some of my fellow thinkers to tell me what worried them the most about sending their little lovies off to school. This is what they told me:
Luv Bug – "I worry about the van crashing and not being able to help him myself, a big kid lashing out at him (because Carson is allowed to travel through the school unaided at this time) and him getting hurt. I'm pretty lucky this is all I have to worry about. I know it won't last for long."
Blaze — "Will this person who is with him every day make him a challenge in her mind or a VALUE… a benefit, a worthy part of the class, or a drawback?"
Mamacita — "Most concerns revolve around Ronan's communication needs and his mitochondrial disease. If he can't communicate effectively, then he might not be able to have every opportunity to learn, to be social or to be heard. If Ronan's mito issues flare, and no one recognizes them (temperature regulation, for example) then he could end up in a serious medical situation.
 Making sure the teachers remember all the details and the helpful hints to help make Ronan's school days more successful is a worry, so I keep constant communication with his team. A big goal of mine is to reduce my worry and to give the teachers every helpful piece of info I can help make their days successful as well. That is always a priority with every new school year and with any changes during the year."
Professor — "Trinity applies to high schools this year. I'm afraid she won't get into a school that can capitalize on her strengths, which are formidable, and work with her weaknesses, which can be highly frustrating."
Savage – " I have a TON of anxiety. Michael travels with two emergency medications at all times, one for blood sugar and one for seizures. Nurse on the bus to and from school who is fully prepared and only four kids are on his bus. I had to email the superintendent to get the same personal aide as last year because they wanted to stick him with the person I DID NOT like at all, and Michael didn't get along with her. Thank goodness that got worked out. His personal aide knows the ins and outs of what to do in case of a medical emergency, but I worry, too, about them not being able to read him and pick up on his nonverbal cues. The teacher he had last year finally accepted the assignment to sub again for the perm teacher, so sign of relief there. The nurse calls me every day with his blood sugar readings, and I tell her how much insulin to give him. She's pretty bitchy to everyone but me, because we go to the same place to get our hair done, and I wore her down over a root job 🙂 🙂 So basically I'm a hot mess from when the kids leave until they come home. Oh, Brooklyn's bus stop is about 1/4 mile up the road now instead of a few houses down like last year. Something else just to complicate my life."
Sunshine — "I get the most nervous about the other kids being mean to or making fun of Rob. Then I get second most nervous about the teachers being okay. I am third most nervous about how far behind he is academically… I could go on and on."
Mountain Mama – "I worry that seizures and/or Tourette's is going to come back full-force with fluorescent lighting. I worry that kids will be mean and/or make fun of him. I worry that he will not be able to do the work and won't make progress. I worry that his younger brother — who is starting school for the first time — will be told by other kids that there is something wrong with his brother."
Snap – " I have anxiety because I don't like how the school segregates the kids — ASD kids and Gen Ed kids — I really hate that. If the teachers and other adults in the school treat my kid differently, they are teaching the students that this is how we treat people that are different. Plus, I have never met one teacher who really understands what autism is."
So… what's the point of all this you ask? Am I just trying to make you nervous? Plant seeds? Noooooooo. A key for me being able to get through each and every day is the knowledge that I am not alone. Not in my back-to-school anxiety, my daughter's medical struggles, behavioral issues, dietary restrictions – none of it. Neither are you.
Over the past six months since Thinking Mom's Revolution came into being, a few of my fellow thinkers have come up with some really great ideas that I think are worth repeating:
You may want to take Blaze's advice and be proactive by writing a letter to the parents of the kids in your child's classroom. Lord knows it is something I wished I had thought of – or had the nerve to do.
Just last week Sugah reminded us to focus on the here and now instead of becoming overwhelmed by what the future may bring. We get so worked up thinking about the entire year ahead of us. Maybe we would all be better off if we just looked at this week.
If your anxiety is too full blown to even think about putting a letter together, I definitely recommend that you check out what Savage had to say about the Emotional Freedom Technique.
As for me, I just may be doing a bit of emotional-freedom tapping at my desk as we embark on this new journey. I will try to keep my worries at bay knowing that I have chosen the best possible placement for my girl. Her teachers are my colleagues – many are my friends. She is in excellent hands. This new day – this new beginning — may be the best birthday present I could ever give her, and, as far as it being National Cheese Pizza Day goes, I did tell her she could cheat on her gluten, dairy and yeast-free diet (no judging please) in order to celebrate this momentous occasion. Although I am not sure of her final decision yet, pizza is definitely in the running.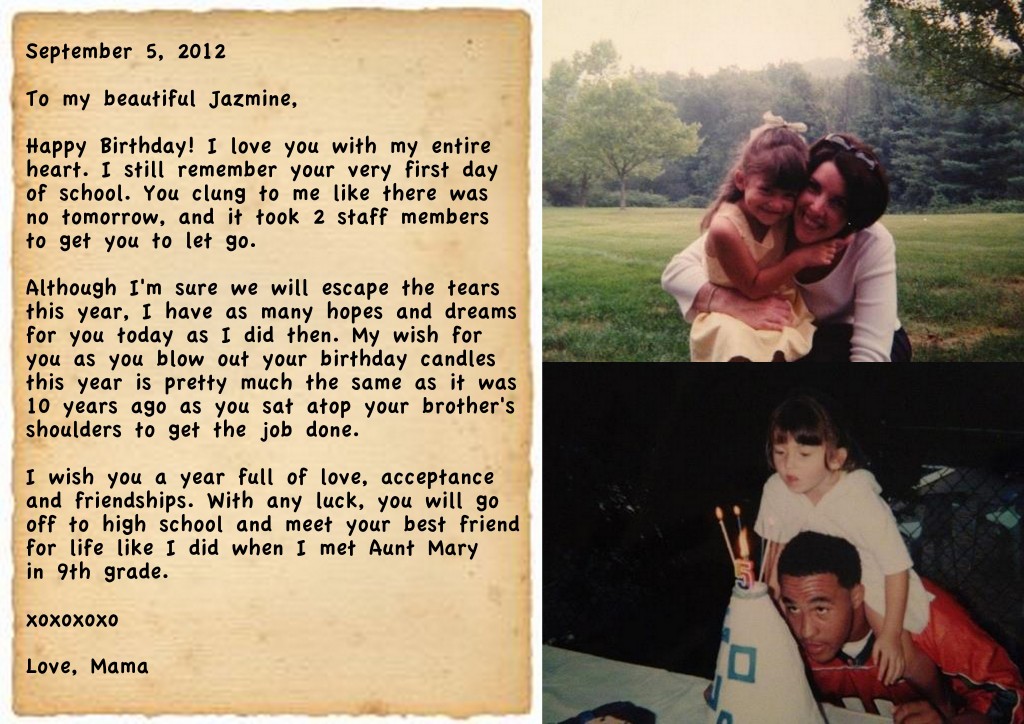 ~Love, Saint
* For more blog posts by Saint, please click here.